An initiative allowing teachers to carry firearms moves forward. What's next for Barry Beach? The former President of Rocky Mountain College calls out Senator Tester for supporting the Iran Deal. Is former Senator Baucus to blame for the high cost of prescription drugs? The next Steve Jobs is going to come from one of these 13 surprising schools (and one is in Montana). And, Montana Democrats step out officially against a proposed mine near White Sulphur Springs, while the head of the Rocky Mountain Elk Foundation calls out the Alliance for the Wild Rockies. Those stories are in this week's Political Trough.
But first…
The Antiplannner: Fire Budgets and Fire Season
Despite all the concern over the drought, these claims aren't borne out by the 2015 fire season. It is true that, as of August 14, more acres have burned this year than any year in the previous decade. What those numbers don't show, however, is that 5.1 million of the 6.8 million acres burned as of yesterday were in Alaska.

One reason Alaska fires are so big is because no one spends much effort trying to control them. For example, the BLM spent a mere $2.8 million on fires that covered more than 400,000 acres near Ruby, Alaska.

Any fire study that only looks back as far as 1979 ignores huge fires that resulted from major droughts in earlier decades. The 1970s were one of the wettest decades on record, with an average of just 3 million acres a year burned. By comparison, there were 9 million acres of annual fires in the 1950s; 23 million in the 1940s; and 39 million in the 1930s. While there are some problems with data from those early decades, they are valid enough to show that recent changes in droughts and fires are due to cyclical variations in climate, not to human-caused warming.

Any look at fire data since 2000 must also take into account a major change in firefighting tactics. Before 2000, the Forest Service and other agencies put firefighters to work at fire edges to contain fires. Too many firefighters died, so now they start huge backfires thousands of feet, and perhaps miles, away from the wildfire fronts. As a result, fires are larger today, but only because a third or more of the acres burned were actually lit by firefighters.
David Allen with The Rocky Mountain Elk Foundation had this in The Missoulian: Alliance for Wild Rockies should work on projects, not lawsuits
Michael Garrity recently (Aug. 15) attacked U.S. Rep. Ryan Zinke about forest reform, claiming Zinke thinks we have spotted owls in Montana. Zinke actually wrote: "Frivolous lawsuits are at the heart of forest reform. The Alliance for the Wild Rockies launched more than 150 predatory lawsuits targeting legal and healthy forest projects in just the last 10 years alone. During one such project they litigated on the grounds of preserving spotted owl habitat, the forest actually caught fire and burned down for a second time during the time it took to try the case, destroying the entire area, along with the owl's habitat." Why would Garrity misrepresent Zinke?

You don't have to look far to find motive. The Helena Independent Record published an article last year about the high level of litigation in the United States Forest Service Northern Region. The USFS revealed that over half the region's timber harvest was encumbered by litigation. The leading litigant was the Alliance for the Wild Rockies — with 212 lawsuits against the USFS, Bureau of Land Management and U.S. Fish and Wildlife Service since 1989. The General Accountability Office revealed AWR filed more appeals of USFS projects than any other organization in the nation —putting them on par with Earthjustice and the Sierra Club — which collected millions of taxpayer dollars suing the government.

The AWR playbook is always the same. Last month they stopped a fire fuel reduction project near Red Lodge and a collaborative stewardship project near the Clark Fork River. Both lawsuits claimed the USFS failed to address economics and impacts to certain species. Of course, they also seek attorney fees.
Is the Montana Democratic Party officially opposing a proposed mine near White Sulphur Springs, Montana? Sure looks that way…check out this email they sent out across the state: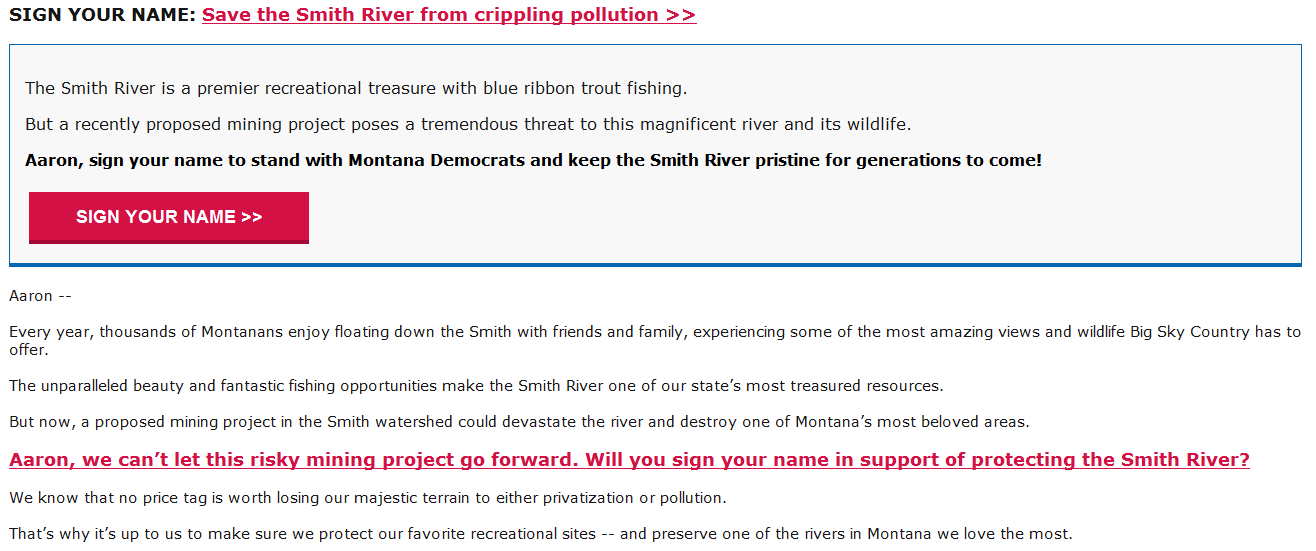 While the Montana Democratic Party opposes new jobs in Montana, Mic.com ponders this question: The Next Steve Jobs Is Going to Come From One of These 13 Surprising Schools
9. Montana State University

In 2012, the school's Advanced Technology Park got a makeover, including a new name — the Montana State University Innovation Campus — and a new director, Teresa McKnight, who envisions it as a go-between for research and the private sector. In 2015, it has a variety of fields to its name — optics, biotechnology, agriculture, information technology — as well as number of projects, like the Center for Bio-inspired Nanomaterials and the Thermal Biology Institute.
The Hill- Former Dem Rep: Obama and colleagues to blame for high cost of prescription drugs
Prescription drug prices are soaring, and the ranking Democrat on the House Oversight Committee wants majority Republicans to hold hearings. He has pointed to a Kaiser Family Foundation poll showing 72 percent believe drug prices are unreasonable.

The problem for Cummings is that drug prices have risen dramatically under the Affordable Care Act (ACA) since President Obama broke his 2008 campaign promise to support drug reimportation. E-mails revealed Nancy-Ann DeParle, the White House lead on healthcare reform and future healthcare private equity guru, cut a deal with the pharmaceutical industry (PhRMA). The lead PhRMA lobbyist, Bryant Hall, was able to triumphantly report, "Nancy-Ann DeParle just called to say that the WH [White House] is opposing import on this bill, specifically linking to our willingness to be cooperative on HCR [healthcare reform]." He had been able to earlier report on Obama's rhetoric against drug prices that "Pres's words are harmless. He knows personally about our deal and is pushing no agenda."

With the customers guaranteed unconditionally by the ACA, is it any wonder drug companies have felt emboldened to raise prices? According to The Hill, "U.S. prescription drug spending increased 13 percent in 2014, the largest increase since 2003[.]" Ironically, that was the same year some Democrats warned Medicare Part D, the gift President Bush Jr. gave the drug industry, would result in skyrocketing prices. The law banned Medicare from negotiating lower prices. A commonality is that Jim Messina, who had a self-proclaimed father-son relationship with Sen. Max Baucus (D-Mont.), who broke from Democrats in supporting Part D, was also instrumental – as Obama's deputy chief of staff – in working with the drug industry in 2009 in combating calls for reimportation in the ACA.
The former president of Rocky Mountain College in Billings is calling out Senator Jon Tester (D-MT) for his support of the Iranian nuke deal. Michael Mace is now the CEO of Mace Holdings LLP, and had this to say in The Helena IR: Tester support for Iran deal is unconscionable
It would appear to all that we are represented by a Democratic senator who would rather serve a venal, capitulating White House than fulfill his oath of office, which reads, in part: "I do solemnly swear that I will support and defend the Constitution of the United States against all enemies, foreign and domestic."

Why should this oath provoke me to think of our esteemed Sen. Jon Tester? Could it be because Tester is on the Senate Homeland Security and Governmental Affairs, Veterans Affairs, and Banking Committees? All three have heard plenty of testimony about the threat Iran presents to our country and the world, yet Tester has declared that he is going to ignore all the testimony he has heard and support an unsigned, unverifiable nuclear and terrorism finance agreement with a declared enemy of the United States? Why would he do that?

Could it be because Tester, now chairman of the Democratic Senatorial Campaign Committee, is fundraising and running Democratic candidates for Senate races, and so is vulnerable to White House pressure? Has White House pressure replaced what the people of Montana want, what is best for the people of the United States, and what anyone with any common sense wants?
KTVQ-TV: Initiative to allow Montana school employees to carry a concealed firearm moves forward
KTVQ.com | Q2 | Continuous News Coverage | Billings, MT
The Great Falls Tribune: Beach's attorney to file clemency petition
House Bill 43, passed in the most recent legislative session and signed into law March 20, allows the governor to grant clemency after it has been denied. It's a bill that seemingly defied partisanship as it passed 50-0 in the Senate and 88-12 in the House.

However, no applications will be accepted before Oct. 1, state officials said. Once filed, the petition goes to a hearing panel with the Board of Pardons and Parole, which then can request an investigation and make a recommendation, according to the law.

If it denies a hearing, the application is moved to the governor, who decides whether a hearing is appropriate. If the governor favors a hearing, it goes back to the panel, which will request an investigation.