Press release from the MSU-Billings Foundation
Story by Jennifer Ries, MSUB Foundation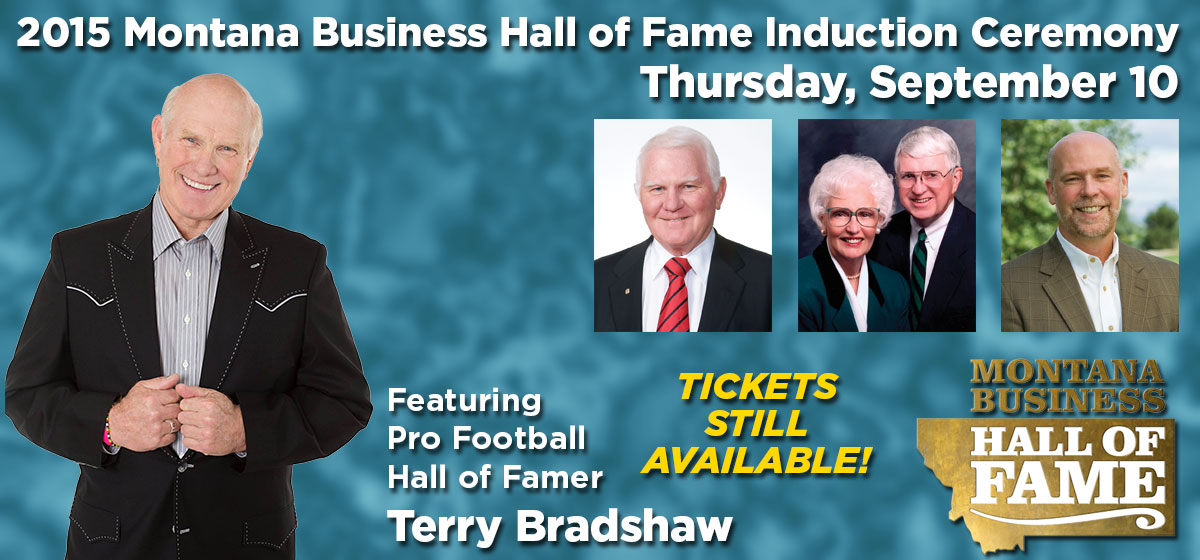 Montana Business Hall of Fame announces honorees for 2015
View this story online at: http://www.msubillings.edu/urelations/releases/2015/2015Sept01MTHOF.htm
MSU BILLINGS NEWS SERVICES — A ceremony featuring Pro Football Hall of Famer Terry Bradshaw is slated for Thursday, Sept. 10, at the Holiday Inn Grand Montana, 5500 Midland Road, to honor the ground-breaking vision of three Montana business leaders.
"Building on our new tradition, the MSU Billings Foundation will once again partner with the College of Business to honor the 2015 class of Montana Business Hall of Fame inductees," said Chuck Wendt, president and CEO of the Foundation.
The College of Business announced earlier today the following Business Hall of Fame honorees: Greg Gianforte, founder of RightNow Technologies; Don and Marilyn Floberg, of Berkshire Hathaway HomeServices Floberg Real Estate; and Tom Scott, chairman of First Interstate BancSystem of Montana.
The Hall of Fame recognizes outstanding businessmen and women who have made significant and enduring contributions to their business, industry, and communities through extraordinary leadership.
College of Business Dean Barbara Wheeling said Hall of Fame inductees exemplify the entrepreneurial spirit of Montana.
"Their accomplishments and innovations serve to inspire others to make the best of their chosen careers while being thoughtful of the people in their organizations and communities," Wheeling said.
To be inducted, nominees are selected based on a number of criteria, such as their level of business leadership and ethics, willingness to take risks, concern for customers and employees, innovation and impact on their community and the state's economy.
Selected from 11 nominees, the three Hall of Fame members will be honored during An Evening with Terry Bradshaw dinner event. During the event, Wheeling will present inductees with portrait watercolor paintings painted by Joe Heins, of Heins Creative.
Large portrait oil paintings featuring each inductee, also painted by Heins, will be housed at the Business Hall of Fame in MSUB's College of Business.
Bradshaw, the evening's keynote speaker, is successful in many areas: four-time Super Bowl champion quarterback with the Pittsburgh Steelers, two-time Super Bowl MVP, Pro Football Hall of Famer, multi-Emmy and award-winning broadcaster (Fox NFL Sunday), popular actor (the only NFL player with a star on the Hollywood Walk of Fame), gospel/country singer, motivational speaker, New York Times best-selling author, and breeder of championship quarter horses. His inspirational style, charisma, and personality have made him one of the most energizing sports personalities speaking today.
Tickets for the ceremony are $100 per person. Attendees interested in meeting Bradshaw and taking a photo with him can make a $1,000 tax-deductible gift to the Foundation to join the Chancellor's Circle. Seating is limited.
Earlier in the day, inductees will share the challenges and insights that built their success as part of an Executive in Residence program. This panel discussion is open to the public and will be held in the Montana State University Billings Library, Room 148, from 2-3:30 p.m.
Last year's inaugural class included five outstanding business leaders: Ian Davidson (Great Falls), Sam McDonald (Billings, posthumously), Chris Nelson (Bozeman), Bill Oftedal (Miles City), and Mike Schaer (Billings). These individuals were honored at a banquet Oct. 2, 2014, featuring guest speaker former New York City mayor, Rudy Giuliani.
Nominations for hall of fame inductions will reopen this fall for the 2016 class.
For more information, visit http://www.msubillings.edu/MBHOF/2015/Bradshaw.htm