Aaron Flint
posted on September 18, 2015 11:43
:: 447 Views
Campaigns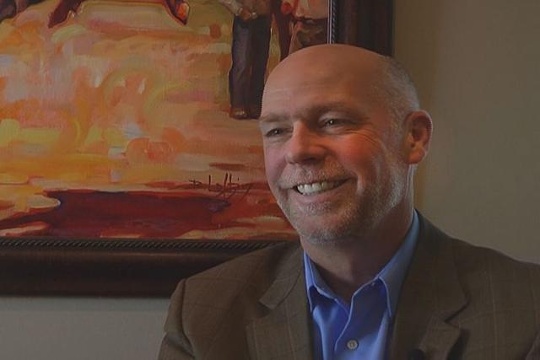 (Greg Gianforte file photo courtesy NBC Montana)
Montana Commissioner of Political Practices Jonathan Motl dismissed a complaint filed by a union activist this week against probable Republican gubernatorial candidate Greg Gianforte after finding that Gianforte had not violated any laws in traveling the state promoting technology and telecommuting for months before filing official paperwork exploring a run for governor.
Democrats in the state had alleged the statewide travel to promote his Better Montana Jobs program was veiled campaign activity.
"Until Mr. Gianforte says he is a candidate he is spending money as an individual and not as a candidate. This means Mr. Gianforte has not 'made expenditures…to secure nomination or election…' under $13-1-101(6) MCA," Motl wrote in his decision. "Likewise, there is no evidence showing that Mr. Gianforte solicited or accepted contributions prior to August 17, 2015. Instead, the evidence shows that Mr. Gianforte stated his candidacy and then promptly filed with the COPP."
Critics had complained that the complaint filed by Richard Labreche of Butte, which was only a few sentences long, did not meet even basic standards set by the Political Practices offices. Motl's own materials for constituents that instruct citizens on how to file complaints states, "the complaint must describe in detail the alleged violation," and "it must cite the statutes or rules under the Commissioner's authority believed to have been violated."
Motl, however, told the Bozeman Daily Chronicle that the complaint was not frivolous because it allowed the commissioner "resolution of this issue for this campaign and for future campaigns."
The traditionally liberal editorial board of the Chronicle which includes Democratic party donors even went so far as to call the complaint "silly," "petty," and a distraction from more important work for Motl in the Sept. 3rd edition of the newspaper.
Labreche is President of the Southwestern Montana Central Labor Council, an affiliate of the Montana AFL-CIO.
Gianforte met with Motl on Sept. 11th with his attorney and staff to discuss the complaint. Gianforte agreed that he took the actions in question, but argued they did not meet the standards of requirements for reporting, since Gianforte had neither declared his candidacy, nor solicited donations before the time he filed his paperwork.
Motl agreed, writing "for future reference, this Decision determines that a candidacy requiring COPP registration or filing cannot be created by inference. Montana law requires that an individual take an objective step into candidacy and this leaves room for flirting with candidacy before taking a definite step into becoming a candidate."
Motl has been proactive in the past to try and address the many legal grey areas that exist in current campaign finance law. Motl was instrumental in drafting Senate Bill 289 which later became law with the help of liberal Republicans and Democrats. Despite objections of Republicans and non-profit groups who believe the new campaign finance laws go too far in restricting speech, Motl has maintained the new code and rules are necessary to regulate so-called "dark money" spending by non-profit groups in the state.
However, as Media Trackers has previously reported, some liberal groups are now expressing concerns with the rules by Motl on the grounds they go too far and would require extensive reporting by anyone who might fall under the reporting requirements. The State Administration and Veteran Affairs' committee is currently postponing adoption of the new rules until November.
Although this is Gianforte's first run for political office, it is not his first victory over Democrats and their allies in the state. In October of 2012 Gianforte filed a lawsuit against the Montana Democratic Party after mailers sent out attacking now Senator Steve Daines claimed that RightNow Technologies, where both Gianforte and Daines worked, had accepted government contracts and laid off workers to outsource jobs to India. The lawsuit was dismissed at Gianforte's request after state Democrats issued a public apology in February 2013 admitting the claims were incorrect.
"When people publicly say things about others without any reason for believing their statements to be true, they deserve to be held accountable," Gianforte said at the time.
Media Trackers Montana is a conservative non-profit, non-partisan organization dedicated to promoting accountability in the media and government. Read more at mediatrackers.org/montana. Follow Media Trackers on Twitter @mediatrackersmt.