Aaron Flint
posted on August 04, 2015 20:42
:: 400 Views
Policy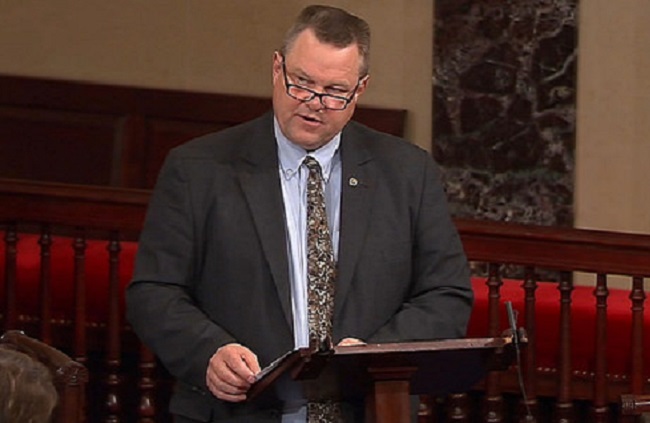 photo: tester.senate.gov
After praising a bipartisan compromise which provided Montana veterans who live long distances from the nearest VA facility greater access to care by allowing them to seek treatment outside of the VA system merely one year ago, now it seems U.S. Sen. Jon Tester (D-MT) is back pedaling on that praise.
Just this week Tester publicly proposed raiding the fund keeping the "VA Choice Card Program" going in order to help pay for the whopping $2.5 billion budget shortfall in the overall VA budget this year.
According to the Billings Gazette, Tester—a member of the U.S. Senate's Committee on Veterans Affairs—"proposed slashing restrictions on the $3 billion for Choice and allowing the VA to spend that money as needed to provide care." The VA Choice card program is budgeted $3 billion and restrictions written into the bill when it was passed prevent that money from being used for anything other than the program. Tester cited lack of demand as his primary motivation for wanting to dip into the funds.
When the VA Reform Bill, which contained Choice Card Program, was initially introduced, Tester's office lauded the system's portability, stating in a release that the program would "increase veterans' access to care and put the VA on notice that our military men and women deserve better."
"This bill is good for veterans in Montana and nationwide, and I look forward to seeing it become law" stated Tester in July of 2014.
The Choice Card Program's effectiveness has been greatly hampered by bureaucratic wrangling at the VA, which has greatly restricted access to the program which was designed to allow veterans to seek medical treatment — paid for the by the VA — at private facilities if they lived at least 40 miles from VA hospital. Democrats began attacking the Choice Card program almost immediately after its inception.
The Senator, known for his long history of playing politics with veteran's issues, now states that Choice Card needs reforming and blames the VA and Veteran Service Organizations for failing to properly educate veterans about their benefits. Tester also blames Republicans for problems with the system, claiming that the majority party "under-funds the agency by close to a billion dollars."
With Montana being the fourth largest land mass in the United States and having the highest number of military veterans per-capita, the state has a large population who stand to benefit considerably from the portability offered by the Choice Card program.
It is still too soon to tell what the future holds for Choice should Senator Tester's proposal to lift restrictions of raiding the program's funds actually be enacted. The Senator's proposal did not gain enough support to pass earlier this week but according to the Gazette Tester has "received assurance from his colleagues that they will develop a bill to fix the funding crisis" soon.
Phil Rolen is an Independent contributor to Media Trackers Montana. He is a current doctoral candidate in the field of Strategic Security and holds an MA in Intelligence Studies from American Military University. He served during the 110th and the 111th U.S. Congress in Montana as a U.S. House of Representative Wounded Warrior Fellow and is an active-duty Veteran of Operation Iraqi Freedom and Joint Taskforce Katrina.
Media Trackers Montana is a conservative non-profit, non-partisan organization dedicated to promoting accountability in the media and government. Read more at mediatrackers.org/montana. Follow Media Trackers on Twitter @mediatrackersmt.