Aaron Flint
posted on August 04, 2015 16:58
:: 384 Views
*Note from Aaron Flint with The Flint Report: While Senator Jon Tester (D-MT) was apparently not at the fundraiser with President Obama in NYC, he was scheduled to be there and remains the co-host of the event. I contacted Senator Tester's communications director, and received no response. It should also be noted that Senator Tester's office never returns any correspondence, nor answers any questions sent their direction. In this instance, the only correspondence I spotted was between his office and an anonymous liberal dark money funded blog. It also should be noted that his office spent nearly a week before reporting that he in fact was not in attendance at the fundraiser.
FULL STORY BY MEDIA TRACKER'S RON CATLETT
Montana
Policy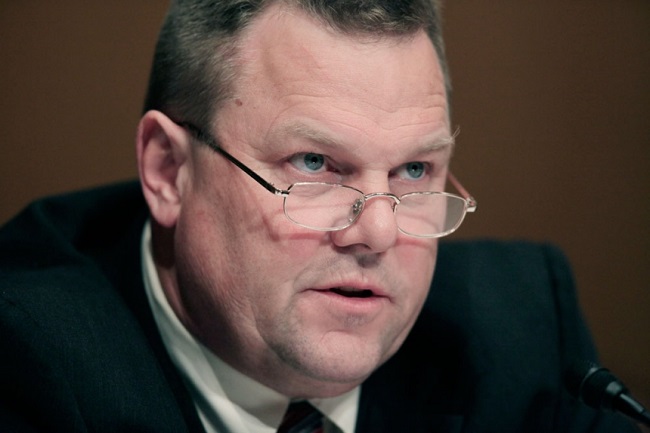 U.S. Sen. Jon Tester (D-MT) (photo courtesy of watchdogwire.org).
Last Friday, we published a piece about U.S. Sen. Jon Tester (D-MT) omitting a New York City fundraiser with President Barack Obama from his public schedule. However, new facts have come to light showing that Tester did not, in fact attend the fundraiser. Tester's attendance at the fundraiser was noted – and we based our story on – a White House press pool reporter's filed reports for the event.
While a July 21 White House press pool report stated that Tester was scheduled to attend the event that evening, he apparently ended up staying in Washington D.C last minute on Senate business, which the President noted in his remarks to the audience that were made public by the White House.
"I want to make sure people know Tom Lopach, who's heading up the DSCC. He's flying solo tonight because the senators had to vote, and so duty called. So they called in me as a stand-in, basically, (Laughter.)," the President said.
Tester's supposed attendance was first reported reported in a tweet Kyle Tyrgstad, a features editor at the Capitol Hill publication Roll Call, and was discussed on Friday Morning's edition of "the Voices of Montana." We then went back through White House press pool reports and found a report — which we linked to in the original story — from Steven Mufson of the Washington Post sent at 6:21 PM Eastern Time on July 21 stating that Obama and Tester were attending a Democratic Senatorial Campaign Committee (DSCC) — which Tester chairs — event at the home of Drew and Rachel Katz.
The report states: "POTUS is attending a DSCC fundraiser being held at the apartment of Drew and Rachel Katz. A DSCC official said that tickets for the event range from $10,000 to $33,400. DSCC Chairman Jon Tester is also attending, the DSCC official said."
All erroneous reports on Tester's actual attendance — including our own — stemmed from that press pool report. While White House press pool reports are usually reliable, the fact that schedules can change at the last minute should have caused us to do more work — including attempting to reach Tester's office — to ensure that the senator was in attendance at the fundraiser.
Media Trackers Montana is a conservative non-profit, non-partisan organization dedicated to promoting accountability in the media and government. Read more at mediatrackers.org/montana. Follow Media Trackers on Twitter @mediatrackersmt.
ORIGINAL POST ON THE FLINT REPORT can be found here and here.