Aaron Flint
posted on March 30, 2015 00:21
:: 1068 Views
Media Trackers Montana: Buttrey, Bullock Team Up on Montana Medicaid Expansion
Policy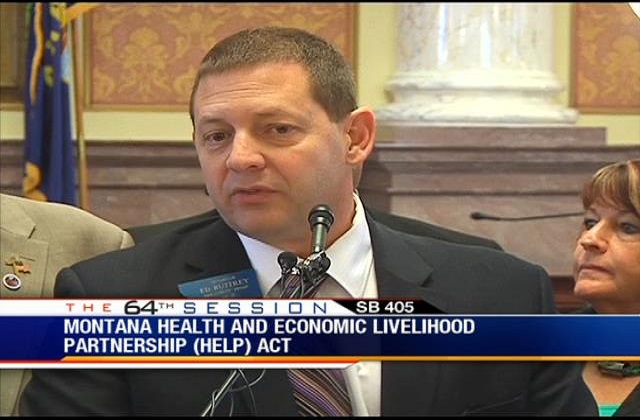 Montana State Sen. Ed Buttrey (R-Great Falls) officially introduces the HELP Act on March 17 (photo: KRTV).
Montana State Sen. Ed Buttrey (R-Great Falls) and the office of Democratic Gov. Steve Bullock have been working together over the last month on SB 405, Buttrey's Medicaid expansion "alternative" that would still use federal dollars to expand Medicaid in Montana as part of Obamacare.
After dogged efforts by his own party successfully halted the governor's initial Medicaid expansion proposal on March 6, Buttrey announced he was moving forward with his own plan – SB 405, also called the Montana Health and Economic Livelihood Partnership (HELP) Act — that very day.
While it still takes new federal dollars and expands Medicaid to people with incomes up to 138 percent of federal poverty level (mostly able bodied, childless adults), the HELP Act differs from the governor's plan in that it would require new Medicaid recipients to pay a small premium — up to 2 percent of their yearly income — for the service, offering "workforce development programs" that are meant to help recipients out of poverty, and providing greater protections against fraud and abuse.
From the very beginning, Buttrey's plan received a warm response from the governor's office.
"It's about bringing our tax dollars home to expand health care to 70,000 Montanans and throw a lifeline to our rural hospitals. This bill would do just that," Bullock said in a statement to the Associated Press on March 17, the day Buttrey officially unveiled SB 405. "Montanans expect us to put partisanship aside and focus on solutions. That is what I'm committed to doing."
Buttrey also emphasized in his March 17 press conference that he had worked with members of both parties, "including the governor, as well as industry officials and others," according to Montana Public Radio.
According to an email conversation on SB 405 obtained by Media Trackers, Buttrey worked with the governor's budget office director Dan Villa, and healthcare industry lobbyist Bill Warden on the HELP ACT during the drafting phase.
The email is dated March 13 show Buttrey forwarding an amendment received from Villa through Warden to the bill drafter.
"Here is the amendment to incorporate from Dan Villa," Buttrey writes.
The amendment involves payment schedules for healthcare services, included in Section 9 of the bill.
According to lobbyist filings from the Montana Commissioner of Political Practices, Warden is registered to lobby for three different healthcare organizations during the 2015 legislative session: Benefis Healthcare, St. Peters Hospital, and Bozeman Deaconess Hospital.
So far, at both of SB 405's committee hearings, a representative of the governor's office has been the first to speak in favor of the bill.
Buttrey's breaking of ranks with most in his own party on Medicaid have complicated matters for Republicans as the leadership continues to push for their own healthcare agenda — called the Big Sky Health Plan — which offers a much scaled down expansion of the Medicaid program under HB 455.
HB 455 failed to pass 2nd reading in the House last week, falling on a razor thin vote of 49-51 with 10 Republicans joining every Democrat to vote against it.
Sources within the House GOP tell Media Trackers that Buttrey was initially part of Republican working group that was in charge of putting the legislative program together, but decided to stop attending meetings and create his own plan. They also say that leadership is uncomfortable expanding Medicaid at the level Buttrey is proposing.
The Republican Big Sky Health Plan would have expand Medicaid to 10,000 new recipients, rather than the projected 70,000 under the governor's plan or the 40,000 under Buttrey's plan. It keeps enrollment numbers down by focusing the expansion on the disabled, veterans, and families rather than allowing able bodied, childless adults to enroll. The plan is also far less reliant upon federal dollars than the larger expansion proposals.
Despite opposition from more conservative Republicans, SB 405 very much alive as it was blasted out of Senate Finance and Claims Committee and placed on 2nd reading with the support of every Democrat and 6 liberal Republicans.
Sen. Buttrey did not respond to Media Trackers' requests for comment on this story.