Aaron Flint
posted on March 30, 2015 00:31
:: 582 Views
Media Trackers Montana: Montana AG Works to Block GOP Privacy Legislation
Policy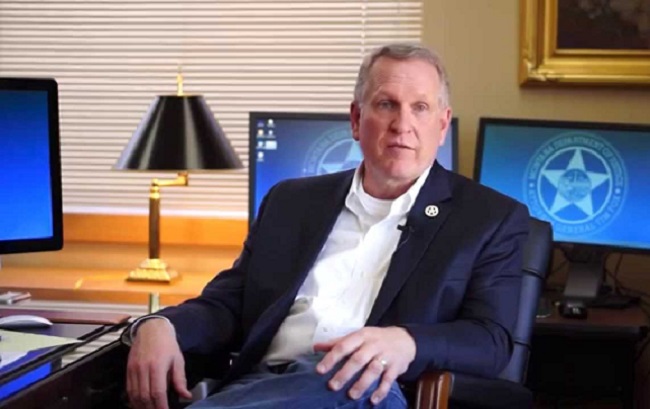 Montana Attorney General Tim Fox (photo: Montana Dept. of Justice)
A rift has emerged over digital privacy legislation championed by Republican State Rep. Daniel Zolnikov of Billings, as the office of Republican Attorney General Tim Fox has worked to block the proposals.
Despite Republican legislators regarding HB 444 and HB 445 — bills that would require a warrant to retrieve data from third party administrators and require a search warrant for electronic devices, respectively — as an important part of their legislative agenda during the 2015 session, the Office of the Attorney General has continually opposed the bills. Both bills passed the House with widespread support, but were tabled by the Senate Judiciary Committee last week on razor thin votes.
In an email to Media Trackers, Zolnikov said that he was placing the blame "squarely on the shoulders of Attorney General Tim Fox."
"The Montana Department of Justice, headed by Attorney General Tim Fox, has been the most consistent opponent to a number of bills that would protect Montanans' basic privacy, property, and due process rights," Zolnikov stated. "The DOJ testified against House Bills 444, 445, 463, and several others in committee. They also lobbied behind the scenes, targeting individual legislators to kill these bills. As a result, these bills were recently tabled in the Senate Judiciary Committee, despite passing the House with wide support."
HB 444 and HB 445 passed the House on decisive final votes of 69-31 and 62-38, respectively, with each receiving bipartisan support.
The bills also received support from a wide array of businesses and political interest groups including Google, Facebook, FreedomWorks, ACLU of Montana, and the American Library Association.
While Zolnikov and other proponents have used a number of federal court cases to cite confusion about applying constitutional protections to electronic devices and the need for legislation to more clearly define digital privacy rights, the state Department of Justice, represented by Assistant Attorney General Ole Olson in the committee hearings, has argued the bills are unnecessary for Montana and would simply add to the confusion.
Olson was joined by representatives of the Montana Sheriff's and Peace Officer's Association and the Montana Association of County Attorneys. They argue that Montana already follows many of the mandates regarding warrants and digital privacy rights thanks to federal law. They also argue that the bills were poorly written and would create complications for judges interpreting the proposed laws as they relate to existing federal laws and Constitutional issues.
In an email to Media Trackers, DOJ spokesman John Barnes emphasized that the Office of the Attorney General is committed to protecting privacy rights, but reiterated concerns about the bill.
"The Attorney General's Office is committed to protecting privacy and has advanced a number of privacy-protection measures this session," Barnes wrote. "The Montana Department of Justice, local and state law enforcement, other trade associations, and a bipartisan group of legislators were skeptical of HB 444 & 445 because these pieces of legislation were poorly crafted, confusing, and did not address Montana-specific problems."
Barnes also stated that Zolnikov did not take the bills to the Department of Justice or the Attorney General beforehand to discuss potential issues with the legislation.
"Unfortunately, the sponsor did not attempt to discuss these measures with the law enforcement agencies and prosecutors prior to the legislative session," Barnes continued.
For their part, GOP legislative leaders are saying that they remain supportive of HB 444 and HB 445 and Zolnikov's efforts to enhance Montanans' digital privacy rights, though they stop short of publicly blaming the Attorney General for the bills being tabled.
"The leadership stands behind the ideas in HB 444 and HB 445 and agrees with Rep. Zolnikov that steps should be taken to protect our privacy," House Leadership said in a collective statement to Media Trackers. "Privacy issues will only become more important as time goes on and we are sure to be faced with these issues in futures sessions. The Senate chose not to advance these bills and we hope Rep. Zolnikov will continue his work."