Aaron Flint
posted on August 18, 2015 12:28
:: 759 Views
Policy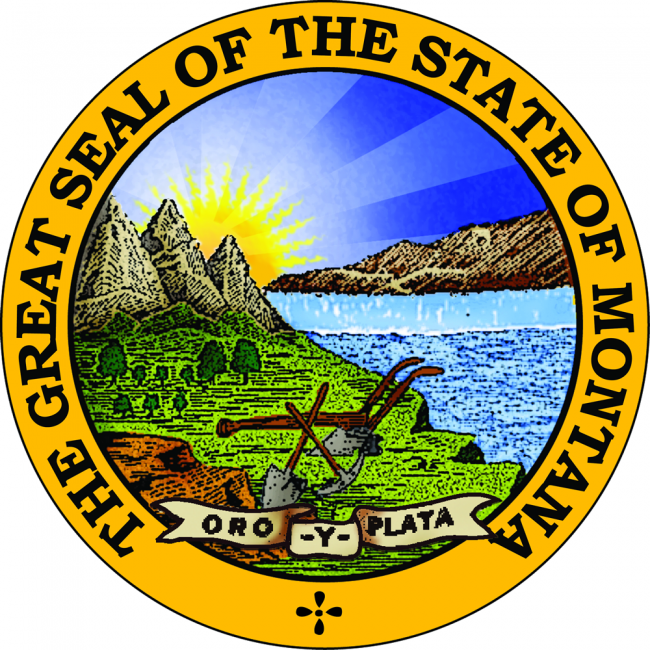 Biennial maintenance by the state's county clerk and recorders has resulted in more than 52,000 voters — or 7.7 percent of the total number of registered voters — being removed from the state's voter database, a Media Trackers investigation has found.
Montana's liberal voting registration laws mean that significant segments of the state's voter rolls include voters who are no longer active and have missed between one and three of the last three federal elections. Counties are required to attempt contact with voters who miss a federal election several times by mail, but voters may not be removed completely from the system until the odd-numbered year after they miss their third consecutive federal election.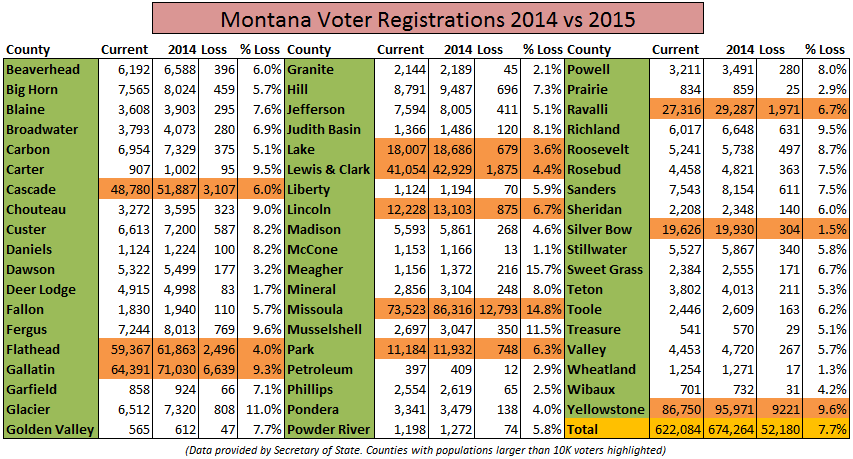 Not surprisingly, Missoula and Gallatin counties, home to the state's two largest universities account for almost 40 percent of the loss of voters. Liberal groups have focused much of their support on registering college students to help boost votes for Democratic candidates in the state's urban population centers.
Some conservative county clerks and recorders have complained in the past about the thousands of dollars the counties must pay each year to mail registration letters to voters who are registered and vote in one election, never to be heard from again. Additionally, some college students have faced adverse consequences through their voter registration signups in Montana. For example, Alaska residents who are attending college in Montana would lose thousands of dollars from their state's Permanent Fund Dividend given out to all Alaska residents if they were to register to vote in Montana. Montana voter registration requires an oath of residency in Montana, which disqualifies them from receiving any benefits from claiming Alaska residency.
The removal of voters could have serious implications for state Democrats. The removed voters last voted in 2008, when Barack Obama came within 2 percentage points of winning the state against Republican John McCain. Statewide that year Democrats gained 50 seats in the State House, enough to control the body with governor Brian Schweitzer's control of the executive branch.
Those voters did not participate in the subsequent 2010, 2012 and 2014 elections in which Republicans did comparatively better. In 2012 Republican Mitt Romney grew McCain's 2 percent win margin statewide to almost 14 percent, and widened McCain's 11,000 vote margin of victory to more than 66,000. Republicans also gained back control of a tied legislative House to win more than 60 seats, and wrestled back control of the state Senate from Democrats who captured the chamber in 2004.
The removal of voters also undermines a common Democratic narrative that legislative losses in 2014 were due to low voter turnout. President Barack Obama, the New York Times, and even veteran political correspondent Mike Dennison pointed to low voter turnout as keys to Democratic losses last year. However, turnout numbers in Montana include inactive voters, which may increase the appearance of low turnout, when many voters may have moved away as many as 6 years prior to the election. State law allows a voter to stay on the voter rolls up to 7 years before being removed for failing to vote in federal races.
Turnout may be difficult to predict statewide in 2016, since both major political parties will again have new presidential candidates on the ballot. While most political prognosticators nationwide expect Montana to support the eventual Republican nominee, the state's track record of split-ticket voting may still keep Democrats who won by thin margins in 2012 in office, or allow Republicans to wrest control of several statewide offices away from Democratic control.