Aaron Flint
posted on August 10, 2015 16:05
:: 1411 Views
"Call your Senator. Tell him: no deal with Iran."
That's the message from a new group called "Veterans Against the Deal" in this ad going on the air in Montana. The group is urging Sen. Jon Tester (D-MT) to oppose the nuclear agreement with Iran. Tester previously gave the nuke deal "a qualified thumbs up."
The first ad will go up in Montana, aimed at Democratic Senator Jon Tester. Subsequent ads will air in North Dakota, West Virginia and elsewhere. The group will also send veterans to speak at events in key states.
"We are going to challenge those people who are on the fence," Executive Director Michael Pregent, a former intelligence adviser to Gen. David Petraeus and Gen. Ray Odierno who served in Iraq, told me. "Our main argument is that veterans know Iran better than Washington, D.C., does. You've got a lot of veterans out there who are pretty upset about this, so we are looking to capture their voices and make sure they are heard."
PRIOR POST
Policy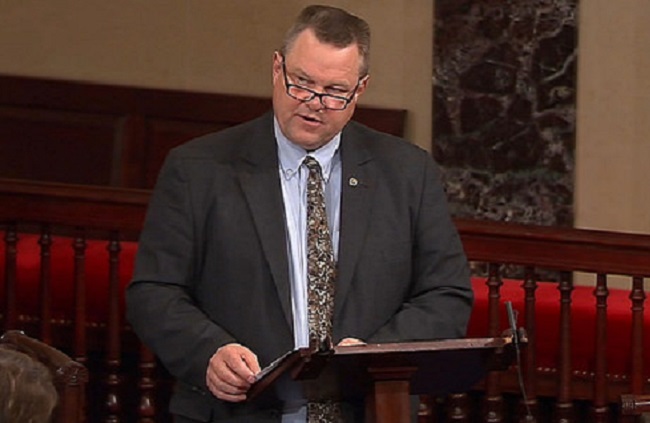 photo: tester.senate.gov
U.S. Sen. Jon Tester (D-MT) stood behind President Barack Obama this week as details emerged regarding the historic nuclear agreement between the Islamic Republic of Iran and a global consortium of nations consisting of the United States, France, China, Russia, the United Kingdom, and Germany.
As other members of the Montana congressional delegation were busy lambasting the deal as a mistake, Tester maintained support for the President, giving the deal a "qualified thumbs up."
While the Senator's office has not yet released a formal statement, Tester was quoted last week by Billings news affiliate, KTVQ, voicing his support for the deal. To avoid taking a firm stance, Tester maintained that he was "withholding his full support until he can read the entire deal." However, he also noted that "the world will be a safer place if Iran can be prevented from developing a nuclear weapon."
Montana Congressman, Ryan Zinke (R), a Former Commander with Seal Team 6, blasted the deal calling it "a bad mistake of historic proportions—Iran has not proven to be a reliable and trustworthy negotiating partner" stated Zinke.
"Their behavior is not of a responsible nation, as they continue to fund Hezbollah, a terrorist group, in their war against Israel," Zinke stated. The verification parameters of this 'deal' are not robust enough to ensure Iran plays by the rules."
Montana U.S. Sen. Steve Daines (R) struck a similar note to Zinke noting that he remained "unconvinced that this agreement will prevent Iran from building a nuclear weapon" and that the "agreement paves the way for Iran to further direct its resources in leading the way as the world's greatest state-sponsor of terrorism."
The five permanent members of the U.N. Security Council, all who happen to be signators to the agreement with Iran, officially endorsed the deal this week, calling it a step in the right direction but promising that the agreement "provides a mechanism for U.N. sanctions to "snap back" in place if Iran fails to meet its obligations."
Independent analysts however, voiced grave doubts with experts from risk assessment firm the Orient Advisory Group stating explicitly that because of the deal "The wars in the region will intensify, the warring parties will become even more violent and the chances of ending this crises will be dimmer."
Aaron Flint, the host of Montana's statewide talk radio show Voices of Montana –who is a military veteran of Iraq, Afghanistan, the Horn of Africa and elsewhere — posted several statements by pundits on his website The Flint Report which expressed concern that the deal might lead to an arms race in the Middle East.
Former Saudi Ambassador to the United States, Prince Bandar Bin Sultan, who served as that nation's Intelligence chief from 2012 to 2014, seemed to support Flint's suspicions this week when in a statement to Lebanon's Daily Star he was quoted as saying that the deal would only lead to Iran acquiring a nuclear bomb and reciprocal responses from the Islamic Republic's neighbors. "Saudi Arabia and the Gulf powers are prepared to take military action without American support after the Iran nuclear deal" stated Bandar.
The U.S. Congress has 60 days to review the agreement before voting on whether or not to remove the sanctions regime which is the centerpiece to any cooperation from the Iranians. Though approval of the deal faces stiff bi-partisan opposition in Congress, it is not yet known whether congressional leaders have the two-thirds vote required to overturn the certain veto from President Obama.
Phil Rolen is an Independent contributor to Media Trackers Montana. He is a current doctoral candidate in the field of Strategic Security and holds an MA in Intelligence Studies from American Military University. He served during the 110th and the 111th U.S. Congress in Montana as a U.S. House of Representative Wounded Warrior Fellow and is an active-duty Veteran of Operation Iraqi Freedom and Joint Taskforce Katrina.
Media Trackers Montana is a conservative non-profit, non-partisan organization dedicated to promoting accountability in the media and government. Read more at mediatrackers.org/montana. Follow Media Trackers on Twitter @mediatrackersmt.
J. C. Kantorowicz – Great Falls
Wednesday, August 12, 2015 7:58 AM
Oran's Dictionary of the Law (1983) defines treason as "…[a]…citizen's actions to help a foreign government overthrow, make war against, or seriously injure the [parent nation]." In many nations, it is also often considered treason to attempt or conspire to overthrow the government, even if no foreign country is aiding or involved by such an endeavor.
Outside legal spheres, the word "traitor" may also be used to describe a person who betrays (or is accused of betraying) his own political party, nation, family, friends, ethnic group, team, religion, social class, or other group to which he may belong.
In my opinion, both Obama and Kerry have committed Treason and are Traitors to this nation, its people and this nation's allies.
It is pretty clear what the penalty for these crimes against the United States and Israel are…… Will Tester unabashedly join them? 'Fraid so…… Tester's head hasn't seen the light of day for seven years.