Aaron Flint
posted on August 31, 2015 08:56
:: 644 Views
Organizations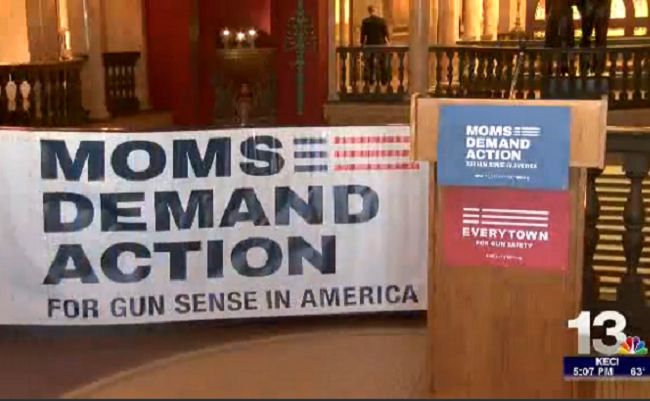 Podium for anti-gun rally in Helena on March 13. (photo: NBC Montana)
Seeking to advance an anti-gun agenda in the wake of the tragic murder to two journalists in Virginia yesterday morning, the Montana chapter of Moms Demand Action for Gun Sense in America announced in a press release this morning that it is holding a rally and giving a "condolence" message to Missoula's CBS affiliate, KPAX-TV.
Activists are using the event to push for stricter gun laws.
"Members of the Montana chapter of Moms Demand Action for Gun Sense in America, a part of Everytown for Gun Safety, and local gun violence survivors, will deliver a condolence card today to KPAX, the CBS affiliate in Missoula after the killing of reporter Alison Parker, 24, and cameraman Adam Ward, 27, who were reporting live for a CBS station in Virginia," states the press release.
"The moms and gun violence survivors will gather outside of KPAX-08, clad in Moms Demand Action and Everytown for Gun Safety apparel, to deliver a condolence card and demand that political leaders take action to prevent the senseless gun violence that kills 88 Americans and injures hundreds more every day," the release continues.
The action is being taken in response to the horrific on-air killing of reporter Alison Parker and her cameraman Adam Ward of WDBJ-TV — the CBS affiliate in Roanoke, Virginia — allegedly by a "disgruntled" former employee of the station, Vester Lee Flanagan.
While investigators are still trying to understand what exactly caused Flanagan's rampage, the alleged killer sent a rambling manifesto to ABC News yesterday morning in which he claimed that he "faced discrimination" as a gay black man, was mistreated by employees and management at WDBJ-TV, and wanted to give Dylann Roof — the white terrorist who has admitted to murdering 9 black churchgoers in Charleston, South Carolina in June — his "race war."
WDBJ-TV has stated that they dismissed Flanagan in 2013 over chronic anger issues.
Across the nation, left-wing groups and media outlets have attempted to put the focus of the killing on the availability of guns in the United States, claiming that stricter gun laws would prevent such shootings, and have faced criticism for attempting to us the shooting to advance a political agenda so soon after it occurred.
Rather than try and spread blame, others have, in the wake of the tragedy, called on others to recognize and appreciate the work done by television journalists across the country. Denise Dowling of the University of Montana School of Journalism expressed that sentiment in a Facebook post yesterday that was first shared on The Flint Report.
Despite Montana's reputation as a gun-friendly state, Moms Demand Action for Gun Sense in America has been increasingly active in Montana politics. The group is part of Everytown for Gun Safety, which was launched as an umbrella group last year by billionaire media mogul and former New York City Mayor Michael Bloomberg to oversee both Moms Demand Action and the former mayor's other anti-gun campaign, Mayors Against Illegal Guns.
Moms Demand Action held a rally at the Montana state capitol during the 2015 legislative session of oppose a number of pro-gun bills and continued to organize opposition to efforts to loosen firearms restrictions throughout the session. According to lobbyists filings with the Montana Commissioner of Political Practices, Everytown for Gun Safety Action Fund spent more than $64,000 on lobbying efforts during the 90 day session.
Overall, former Mayor Bloomberg has pledged $50 million to Everytown and its subordinate groups to fight for stricter gun-control laws at the state and local levels.
Media Trackers Montana is a conservative non-profit, non-partisan organization dedicated to promoting accountability in the media and government. Read more at mediatrackers.org/montana. Follow Media Trackers on Twitter @mediatrackersmt.