Policy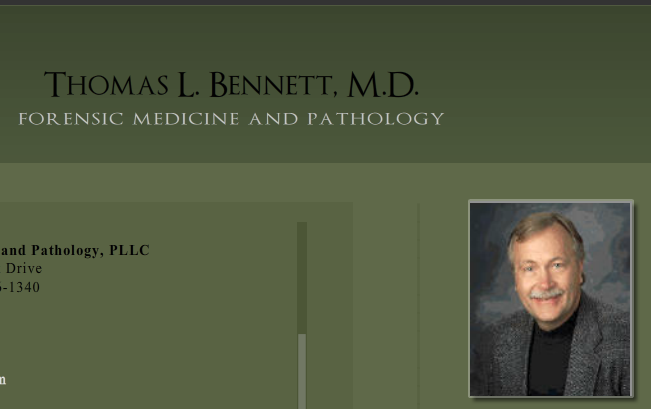 A Billings pathologist who has lost his position with the state over a "problematic past," is the ex-husband of the wife of former U.S. Sen. Max Baucus (D-MT), a "friend" of former Montana Attorney General and current state Chief Justice Mike McGrath, and has donated to numerous liberal Montana politicians.
The Billings Gazette reported Sunday that forensic pathologist, Dr. Thomas Bennett, was not having his contract as an associate medical examiner renewed by the state after officials at the Montana Department of Justice became aware of multiple requests from Montana's Chief Medical Examiner that Bennett stop performing autopsies on children, due to a propensity to misdiagnose causes of unexplained deaths of small children.
"Prior to coming to Montana in 1998, Dr. Bennett rendered problematic opinions regarding alleged non-accidental traumatic infant deaths in Iowa," Montana Chief Medical Examiner Gary Dale wrote in a 2005 letter to county coroners and attorneys. "Despite verbal and three written … instructions by me to 'refrain from conducting Montana coroner-requested autopsies on children,' Dr. Bennett has continued to perform these examinations."
Despite problems with Bennett's work going back to his time as a medical examiner in Iowa and his apparent denial of the requests by Chief Medical Examiner Dale, Bennett continued to perform autopsies for Montana county coroners through his private practice for for 17 years.
As first noted by Aaron Flint, of the Northern Broadcasting System, Bennett is the ex-husband of former Baucus staffer Melodee Hanes, the now wife of the former U.S. Senator and current Ambassador to China. Hanes and Bennett divorced amicably in 2008 according to the Associated Press, and Hanes and Baucus married in 2011.
Hanes was embroiled in her own controversy in 2010 — due to her close personal ties with the Senator — when Baucus sought to have her appointed as the U.S. Attorney for Montana.
Dr. Bennett has also donated thousands of dollars to Democratic politicians over the years. According to data from the National Institute for State Money in State Politics and the Center for Responsive Politics, notable recipients include Baucus, Chief Justice McGrath, U.S. Sen. Jon Tester, current Gov. Steve Bullock, State Auditor Monica Lindeen, former Gov. Brian Schweitzer, former State Auditor John Morrison, and former Congressional candidate John Lewis. He also donated to numerous Democratic state legislative candidates.
The Billings Gazette obtained a deposition of Bennett — taken by critics of Bennett's other, non-state work involving deaths in automobile accidents — where he states that "he continued to perform autopsies on children because he had run the matter past his 'friend' McGrath," who told Bennett that he did not work for the state medical examiner.
McGrath served as Attorney General from 2001-2009 before assuming the post of Chief Justice of the State Supreme Court.
Bennett has served as an associate medical examiner with the state — generally performing autopsies for county coroners in Eastern Montana — since 1998. According to the Gazette, the issues with Bennett appear to be a factor in the recent resignations of Chief Medical Examiner Gary Dale and his deputy Walter Kemp, who mentioned Bennett in his letter of resignation.
Bennett came to Montana from Iowa, the same year the Gazette notes, that a couple were released from prison after a judge ruled that their conviction has been based on "false or misleading forensic evidence." Bennett had ruled the death of their child a homicide.
Media Trackers Montana is a conservative non-profit, non-partisan organization dedicated to promoting accountability in the media and government. Read more at mediatrackers.org/montana. Follow Media Trackers on Twitter @mediatrackersmt.