AN UPDATE TO THIS STORY CAN NOW BE FOUND HERE
Screenshot: Sen. Steve Daines (R-MT) on CNN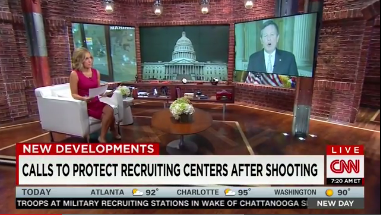 While Senator Steve Daines (R-MT) and Congressman Ryan Zinke (R-MT) have been calling out President Obama for a bad nuclear deal with Iran, Senator Jon Tester (D-MT) is busy raising money with the president in New York City.
.@POTUS & @jontester raising some funds on the Upper East Side, per WH pooler.

— Kyle Trygstad (@KyleTrygstad) July 21, 2015
.@MarneeBanks Weird, this isnt on July 21 schedule RT @KyleTrygstad: .@POTUS & @jontester raising some funds on the Upper East Side.. #mtpol

— Chris Shipp (@CJShipp) July 23, 2015
Tester has by and large stayed quiet on the Iranian nuclear deal. I also haven't seen anything from Tester regarding an effort to allow military service members to carry weapons and defend themselves in the wake of the Chattanooga shootings. (Drop me a link if you've seen otherwise, as I have been on the road)
Meanwhile, Daines has been making the rounds on cable news promoting new legislation that would allow our soldiers, sailors, airmen, and Marines to defend themselves.
ACLJ VIDEO: We Must Arm the Military
Jay Sekulow: Our Troops Must Be Able to Defend Themselves
But the push for common-sense reform is bipartisan, with even Rep. Tulsi Gabbard, a Democrat from Hawaii who is an Army National Guard captain, calling for the Pentagon to consider reforms.
Daines also joined on to another important effort- calling for an investigation of Planned Parenthood.