Policy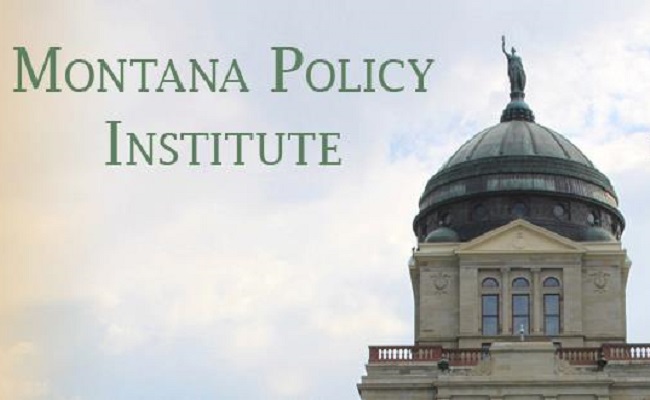 Despite falling unemployment and recent economic growth in Montana, the state continues to lag behind its neighbors in take home pay (ranking 49th in the nation), places a relatively high tax burden on poor families, and was recently ranked by MoneyRates.com — as noted in USA Today – as the 7th worst state to make a living in 2015.
The Montana Policy Institute (MPI) is a Helena-based free market economic think tank and has been a consistent presence in recent years in Montana's public policy debates. MPI's stated goal is to "promote the principles of free enterprise, government transparency, and individual freedom." It has continually advocated for less government intrusion in the economy and less dependence on the federal government, particularly on issues such as Medicaid expansion under ObamaCare.
MPI also successfully advocated for the creation of an "online checkbook" for Montana that allows citizens to track state expenditures and salaries in 2013.
It has also drawn criticism from liberal groups and activists for its ties to organizations – such as the State Policy Network and the American Legislative Exchange Council (ALEC) – that promote conservative, state level public policy ideas.
In the wake of the 2015 Montana legislative session, Media Trackers interviewed MPI's executive director Brent Mead on the highs and lows of the session, as well the largest economic obstacles facing the state, and the best way forward to maximize prosperity in the state.
Mead is originally from Sidney, MT. He attended Boston University and joined MPI in 2014.
1. What are Montana's biggest economic obstacles?
"The biggest issue is without a doubt the fact Montana ranks #49 in take home pay. This should be a top concern for everyone. However, you go around and ask state officials and they seem okay with it and write it off as well, people take a discount to move to Montana and live in the mountains. I cannot believe that as a state we are willing to accept being ahead of only Mississippi. It is an embarrassment.
"The reasons for that abysmal showing are many, and related. Montana has a legal climate that punishes businesses and rewards litigation. We have a large sect in the state that wants to move away from relatively high-paying jobs in the resource industry to relatively low-paying jobs in the tourism industry. Finally, we have a tax structure that is one of the most complex in the country that is based on picking winners and losers, not creating a level playing field.
"The good news is that Montana is full of entrepreneurs and new small businesses pop up every day in the state."
2. What, in your opinion, were the best laws to come out of the legislative session, and the worst?
"The Legislature came close on a lot of good bills that were vetoed by Bullock. Sen. Tutvedt's tax reform legislation and Rep. Don Jones' Education Savings Account bill were two big ones. Of the bills that did get through, you had the "Uber" bill to start chiseling away at government sponsored monopolies and open the state to innovation and Rep. McCarthy's civil asset forfeiture legislation was a great step forward, not just in Montana but as a model for other states.
"The worst bills are more numerous and more impactful. On the balance, the session was a loss because of how these bills expanded the size and scope of government. The two most harmful were the regulation of speech and Medicaid expansion.
"SB 289 will have a chilling effect on Montanans' First Amendment rights. The law is designed to target organizations in the same way the IRS has targeted conservatives. It is a massive expansion of the state and it will make it more difficult for individuals and groups to challenge the status quo because the state has more tools to harass people into silence.
"Medicaid expansion is a billion dollar a year Obamacare program. After SB 405, Montana is looking at committing almost 40% of its budget to Medicaid by 2019. Costs have exploded over the past ten years and expansion will only continue the trend. Quite simply, Medicaid is eating up the state budget at such a rate that soon we are faced with tax increases to pay for it, or we will have to cut into the other two major budget items of K-12 education and public safety programs."
3. Governor Bullock is always touting ratings that show that Montana has a favorable business and tax climate. However, a recent study by the National Center for Children in Poverty notes that Montana has the third highest tax burden on poor families. What are some reforms Montana can take to better its business, tax, and regulatory environment?
"Governor Bullock vetoed SB 171 that would have flattened out the state income tax, reducing rates by eliminating certain credits and deductions. He did this to protect one small, politically-favored industry, at the expense of the state economy as a whole.
"So what needs to change? We need leadership that stops picking winners and losers through the tax code. SB 171 is a good start, the state can also look at ways to reduce compliance and filing burdens (which 171 also did), and finally, our top income tax rate of 6.9% kicks in at $16,700. That is one of the highest rates at such a low income in the country.
"I will also point out that Governor Bullock routinely cites the Tax Foundation Business Climate Index when he vetoes pro-growth tax legislation, but the Tax Foundation was supportive of the goals of SB 171. If the Governor wants to cite these rankings, he should at least acknowledge his vetoes are holding the state back from being even better."
4. MPI has been consistent in voicing concern for Montana's heavy reliance on federal dollars in the state budget and Montana consistently ranks as one of the top 10 states in federal reliance as measured by the proportion of federal dollars to other revenue sources for the state. Why should Montanans be concerned about over reliance on federal dollars? How can Montana lessen its reliance on federal dollars without seeing vital state services affected?
"Montana Policy Institute released a study in January concerning the state's reliance on federal funding. Montanans should be concerned because we have multiple interruptions in funding of core programs in recent years. At the local level, SRS funding lapsed this spring costing counties tens of millions of dollars. At the state level, we see it with the debates over highway funding. The federal government is an unreliable partner at best and we need to plan for how to fund priorities in the state.
"The path forward is a plan called Financial Ready. We need to have an accurate catalogue of federal funds coming into the state and the conditions placed on those funds. More importantly, we need to look at the vulnerabilities caused by the reliance on federal funds so we can prepare for future federal funding cuts."
5. One of the most controversial issues during both the 2013 and 2015 legislative sessions was the expansion of Medicaid as part of Obamacare, which MPI opposed. Now that Obamacare Medicaid has happened in Montana, is there a way for the state to protect itself from the long-term fiscal dangers of Medicaid expansion? Is there a way to work within the new system to improve healthcare for poor Montanans without overspending? Or do you see the state needing to undertake another major healthcare reform in the next several years?
"MPI did and does oppose expansion because much like Obamacare, SB 405 fails to reform the health care system. 1 in every 6 dollars spent in this state goes towards health care. That is higher than any other industrialized country. Medicaid expansion's solution is to bump that up to closer to 1 in 5 dollars and hope for the best. MPI has always thought the money exists within the current system to care for all Montanans.
"SB 405 sunsets in four years. If the program fails to meet its objectives, I hope the Legislature has the political courage to end it and push for real reform in the state.
"In the meantime, expansion is more or less governed by the will of CMS in Washington, D.C. Montana's Medicaid program must operate within the guidelines set by the federal government and because it is a fee-for-service program there are not any real incentives to keep costs under control.
"Regardless of what happens in 2019 with expansion health care as an issue is not going away. Long-term care, especially with Montana's relatively older and more rural population, will become a huge issue in the future. Insurance costs are continuing to climb under Obamacare at a rate exceeding inflation. The big reforms will be when the state faces choices between paying for public health programs and education or public safety. As Medicaid eats up more of the budget that will happen."
7. What pro-free market measures (at both the state and federal levels) can be undertaken to make healthcare better and more affordable for Montanans?
"The biggest change that needs to occur is changing how we pay for Medicare and Medicaid. Fee-for-service is a broken model that leads to skyrocketing costs. Moving towards capitated payments is the right path – which is in an overly simplistic explanation, a per patient per month payment to a hospital regardless of what procedures are ordered for that patient. Because payments are capped, providers have an incentive to seek efficiencies in care and reduce cost drivers like readmittance, or over-ordering expensive tests like imaging services."
7. A major issue in the economy of Montana is the ongoing (and seemingly never ending) battle between the natural resource industry (logging, mining, oil, farming, etc.) and increasingly entrenched and well-funded environmental groups. Do you see a way to find common ground? Or does one side need to "lose" the battle?
"I think it is vital to separate the obstructionist environmental groups from the conservation organizations.
"There are conservation groups who recognize for local communities to succeed they cannot rely on bird-watching. Natural resources can play an important part in building out that economy. Industry should and does work with those groups to find common ground to develop our resources and preserve Montana's beauty.
"The problem lies in the lawsuit mills and obstructionists. They are funded by hedge fund managers in Manhattan, NY who could not find Manhattan, MT on a map. Those groups profit off of obstruction, so to be honest, I am not sure what common ground exists because they do not have the interests of local Montanans at heart."
8. Many also blame "federal overreach," particularly through the EPA, for stymieing activity in the natural resource industry. What is the best way for Montanans to deal with this issue?
"The various EPA rules, either last month's waters rule or last year's clean power plan, go beyond the agency's authority. The simple answer is that states need to assert their legal rights in managing the natural resources, including the air and water within their borders.
"Attorney General Tim Fox did just that on the Waters rule this month.
"In the bigger picture, states need to do a better job communicating that we do a good job protecting the environment. Montana has clean water laws on the books. Our farmers and ranchers have a legacy of protecting the land they work. Quite frankly, the EPA has a pretty awful record in the state so I am not sure who thinks they will do a better job than Montanans."
9. Given the recent drop in oil prices and the lack of a single active drilling rig in Montana, should the state continue to look at the Bakken as an important driver of future economic growth?
"Yes.
"Rig counts give a flawed view of the economic activity on the Montana side of the Bakken. The rigs will come back, barring new onerous regulations, but where Montana has thrived is in small business creation in the area. Plenty of service related businesses have popped up and that is why the Bakken leads the state in income growth.
"I also remember, being a Sidney kid, when the boom first hit around 2005 that people said it would only last a year or two. Well, we are a decade in and still going strong."
10. Another major issue that did not get resolved during the 2015 legislative session was increased infrastructure spending, which is much needed in oil affected communities in Easter Montana. Gov. Bullock wanted to borrow for a large scale infrastructure bill, while Republicans wanted to pay cash for a more focused bill. How should Montana handle infrastructure needs, particularly in the oil patch?
"These towns need help; however, most knew a bonding bill was not the right vehicle, especially not the bonding bill presented to the legislature. That bill contained some help for Eastern Montana, but it was really about constructing new government buildings in Helena and Bozeman.
"I think the right thing to do going forward is to reduce the state share of production taxes to divert some of the money to impacted cities and towns. If the Legislature takes another crack at helping these communities they need to do it on a cash-only basis and only for the impacted communities."
11. Finally, can we expect to see MPI take a more prominent and vocal role Montana public policy debates going into the 2016 elections?
"MPI, as a (C)3, does not engage directly or indirectly in candidate elections. Montana Policy Institute will provide the intellectual ammunition for Montana citizens and decision makers to better argue for state policy options that respect our citizens' freedoms, that force the bureaucracy to act responsibly, and that unshackle Montana's economy from a government that's too big, too powerful, and too condescending."
Media Trackers Montana is a conservative non-profit, non-partisan organization dedicated to promoting accountability in the media and government. Read more at mediatrackers.org/montana. Follow Media Trackers on Twitter @mediatrackersmt.