If we're going to put Jeannette Rankin (or any other distinguished woman for that matter) on a bill, why not replace Andrew Jackson from the $20 bill? Speaking of bills, how many bills have you saved thanks to the American shale revolution? Those stories are in the Political Trough. Plus, the Pope and GMOs. Some young folks from Montana are heading to Iraq. Dave Skinner follows even more of the Swiss billionaire's environmentalist money (talk about recycling). And, The New York Times takes a walk down the Mullan Road.
But first…
ECT.coop: BNSF Sees 'Stranded Assets' on Coal Lines (h/t The Montana Chamber of Commerce)
A top railroad executive gave a bearish assessment on coal's future, warning that changing energy policies will leave his company with "stranded assets" on Powder River Basin lines.

Matthew K. Rose, executive chairman of BNSF Railway Company, said that in 2006, his railroad moved about 287 million tons of coal out of the Powder River Basin (PRB) in Wyoming and Montana.

"Less than 10 years later, I don't anticipate that we'll see that level of coal volume again. That leaves us with millions of dollars in investment in what will eventually be stranded assets," Rose said. He also doubted that will be the case with crude oil "because other commodities benefit from the expansion of these crude routes."
The Big Sky Business Journal "Hot Sheet:" Shale Energy Saves Each American $780
The shale energy boom has saved Americans about $90 billion according to a report by Michael Porter of the Harvard Business School. By using the high-tech combination of big data analytics, horizontal drilling, and hydraulic fracturing, the energy industry has boosted domestic oil and natural gas production in an abundance that has lowered energy costs, saving each American about $780 dollars.

In addition, the industry created 2.7 million jobs and added $43 billion to the U.S. economy in 2014.
Speaking of bills…instead of the $10 bill, why not put the Montanan who served as the first woman in Congress, Jeannette Rankin, on the $20 bill? (or pick someone else like Sacajewea)
Quin Hillyer has this for National Review: The Decision to Replace Hamilton on the New $10 Bill Is Outrageous and Ignorant
Sacagawea or Harriet Tubman or Abigail Adams or Susan B. Anthony or Rosa Parks on a $20 or a $50? Yea! Go for it! But take Hamilton off the $10? No way. Not now. Not ever.

Alexander Hamilton pretty much created our monetary system out of thin air. He also did yeoman's work during the Revolution as a soldier and as a co-instigator of the Constitutional Convention and as organizer of the Federalist Papers. The idea of putting him in a secondary role on a bill, rather than having a whole bill to himself, is, well, idiotic. It matters not that the $10 bill is "next" for a redesign, and that therefore it is the first chance to honor a woman on a bill. So what? If the next bill up for a redesign were the $5 one, would Lincoln be removed or made secondary? Of course not.
Speaking of Jeannette Rankin…I guess the idea to place Rankin on the $10 bill went over well with the Jeannette Rankin Peace Center. The Jeannette Rankin Peace Center? Who are they? Oh yeah, they're that group that protests wars when Republicans are office. We don't seem to have heard much from them since Barack Obama was elected president in 2008 (even though we're still at war).
KTVQ-TV: Billings pair plans travel to Iraq to highlight ISIS human trafficking
Now Visibly Unseen, a Billings group working to end human trafficking, is going to Iraq to interview victims of human trafficking in order to highlight the carnage left behind by ISIS.

Britney Higgs and Ryan Mix are going to Iraq to interview female victims of ISIS's human trafficking because they say these women need a voice.

"My heart has always been to bring a voice to the voiceless," said Higgs. "And that's one thing we will get to do in Iraq is interview women who have been sex trafficked by ISIS. And really bringing their stories back home."
Oh brother…(Father?)
From Politico's Morning Ag: THE POPE AND GMOs
Val Giddings, an outspoken advocate for biotechnology, let his disappointment be known Sunday for comments made late last week by Pope Francis. In case you missed it, the pontiff – in his 82-page encyclical – said he doesn't think there is any "conclusive proof" that genetically modified grains are "harmful to human beings," but he does have concerns about the effect GMO crops are having on the ecosystem, their introduction resulting in productive land being "concentrated in the hands of a few owners" and the way farmers are forced to buy seeds from large producers.

Gidding's response: "This is complete nonsense. The trends lamented here existed before GM technology was conceived, let alone introduced, and would continue if GM vanished overnight. In fact, GM is remarkable among recent agricultural innovations in that it is scale neutral. This is why, of the 18 million farmers growing GM seeds this year, 17 million are smallholders in developing countries. It is astonishing the pope's advisors missed this point, which merely confirms my assessment above that their scholarship in this area is profoundly lacking." Read Pope Francis' encyclical here: http://bit.ly/1FuRwBO Read Andrew Revkin's take on the paper for the New York Times here: http://nyti.ms/1SAVKBo See what Mark Lynas, Ted Nordhaus and Michael Shellenberger had to say here: http://bit.ly/1QKRZvR
Some of you may have noticed that The Great Falls Tribune did a big puff piece on the American Prairie Reserve over the weekened, and with no mention of Swiss billionaire Hansjorg Wyss. (Added note on 6/23/15: The GFT apparently did a follow up story covering Wyss and more- click here for that story. I will have more in a later post)
Well, if you want some solid reporting- check out the summer edition of Range Magazine. Here's an excerpt of Dave Skinner's piece: Follow the Money
Hans Wyss graphic courtesy Range Magazine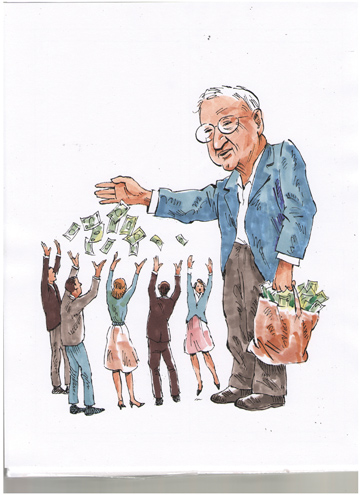 Press release from Range Magazine:
Besides direct support of activist environmental groups, Swiss billionaire Hans Wyss is taking another tack—"working to protect open spaces on public and private lands" in the West by making large loans for nonprofits to buy ground and flip it to government agencies. Most of the flips so far involve forest held by timber and real estate investment trusts, but ranch land is on his agenda, according to investigative journalist Dave Skinner, writing in the current issue of RANGE magazine. RANGE is an award-winning publication devoted to food producers and the political issues they face, including property rights, and is recipient of two consecutive Freedom of the Press awards.
Skinner follows Wyss' money and political dealings, which this time around, began when Wyss signed Microsoft billionaire Bill Gates' Giving Pledge, promising to give $5 billion of his money to "charity." In preparation for the move, Wyss is streamlining and restructuring his tax-exempt infrastructure.
Flipping property is nothing new for Wyss' Delaware shell entity called Western Land Holding LLC, which in 2007 "loaned" the Western Rivers Conservancy (WRC) $7 million in "bridge funding" in the form of an interest-free mortgage. Skinner reports the money bought the 8,000-acre Murtha Ranch, 16 miles on Oregon's lower John Day River in Cottonwood Canyon. In a prearranged, phased deal with the Oregon Parks & Recreation Department, WRC "held" the ranch until the OPRD paid it off in phases; then WRC repaid the Wyss Foundation. Transaction complete.
In 2008, his LLC had transferred the mortgage to the books of the Wyss Foundation, which held the mortgage, secured by the ranch. In case of a default, ownership would have gone to Wyss Foundation. A no-risk deal.
A similar "flip," involving a purchase made Jan. 15, 2015, is in the works—this time Wyss' WRC hopes to sell the land to the Bureau of Land Management.
A digital version of "Money Talks, Freedom Walks" in the Summer issue can be viewed by visiting www.rangemagazine.com.
You may recall our special Voices of Montana show just before Memorial Day, as we took you to Fort Benton, Montana for the Mullan Road Conference. Montana historian Ken Robison mentioned that The New York Times was also going to be in attendance.
Here's the report filed from the Mullan Road (for some reason I am humming "get me to church Cumberland Road")
The New York Times from May 24th: On a Trip Through Time in Montana, a Name Demands Notice
With a crew of about 240, Mr. Mullan began the work in 1859 and spent three years building the path. The crew cut through side hills, whacked its way into dense landscape, skirted lakes and built bridges. Crew members were maimed by axes and killed by falling trees. They spent a winter camped at a place in Montana named Hell Gate, where the temperature reached 40 degrees below zero.

At the end, Mr. Mullan was promoted from lieutenant to captain. Within months, his road became a crucial passageway for people traveling to gold-mining camps. He quickly petitioned for a promotion to governor of the newly formed territory of Idaho.

But President Abraham Lincoln, a Republican, rejected the request from Mr. Mullan, a Democrat. Later, Mr. Mullan tried to establish two train lines; both failed. Family businesses collapsed in nasty lawsuits that pitted him against his brothers. Mr. Mullan eventually studied law and moved to California, where he joined a firm that bought up vast tracts of land intended for small farms, taking advantage of lax state law.