For Ron Catlett's interview with Jeff Essmann, click here.
For Ron Catlett's interview with Dan Happel, click here.
Campaigns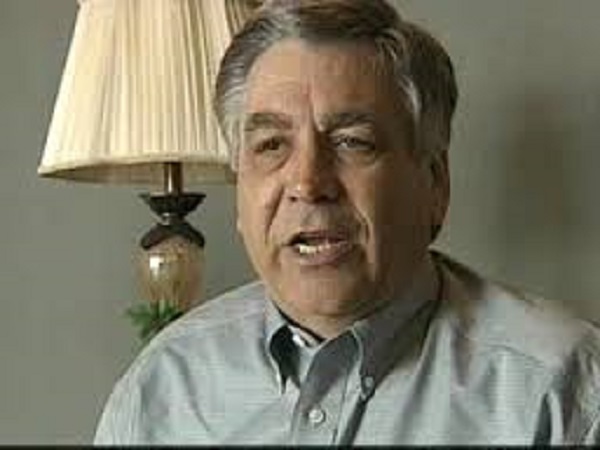 Montana Republican Party Chairman Will Deschamps (photo courtesy of KPAX).
When the 2015 Montana Republican Party Convention convenes on June 26th in Helena, delegates will be tasked with electing a chair who will be faced with the difficult job of uniting a party currently mired in factionalism and building a base from which the party can win races — particularly statewide races — in 2016.
There are three candidates vying for the position in 2015, including the incumbent chair, Will Deschamps of Missoula. The two challengers are Dan Happel of Madison County, and State Rep. and former State Senate President Jeff Essmann of Billings.
Media Trackers conducted interviews with all three candidates. Our first interview is with the incumbent Will Deschamps.
Deschamps has led the party since 2009. While the party had strong electoral performances in 2010 and 2014, it struggled to win statewide offices in 2012 and failed to unseat U.S. Sen. Jon Tester (D-MT). While Deschamps has worked to emphasize unity, his time as leader has seen continued acrimony and very public infighting between conservative and so-called "responsible" Republicans that has, at times, hampered the party's effectiveness. Deshamps has also faced criticism from the party's conservative activist base over being "too moderate."
We provided each candidate with the same ten questions and allowed each to write out their answers. The answers provided come straight from the candidates themselves. We have not altered the answers in anyway.
1. Why are you seeking the position of Montana GOP Chair? What would be your goals for the next term if you became head of the party?
The party needs continuity moving toward 2016. I have a solid relationship with the RNC, something I developed over the past six years. I have successfully directed the party in winning an average of 6 new seats every cycle. I wish to continue building upon success.
My goals over the next 18 months are the same as they have been for the past 6 years. Elect more Republicans. We have an excellent chance to win at least two of the constitutional offices, if not all three, as well as retaining all the incumbents, such as Congressman Zinke, the three PSC seats up for re-election. We have an excellent chance to oust a weakened Governor with the right candidate. The party needs to be prepared to support those candidates where needed, just as we have done in the past cycles.
2. Can you provide a brief biography of your background and work in politics?
I started dropping literature for my father in late 1950s. After serving in the USMC and College, I became engaged in the Missoula County Planning Commission, as the only conservative. I spent 20 years as Chairman of the Board for the County owned golf course in Missoula. In early 1990 I ran for County Commissioner, then ran for , then House District 98. I was elected to offices in both Pachyderm and Central Committee, rising to chair in both. I attended many state conventions and was appointed to the executive board, then later to the rules committee and then chair of the rules committee. I spent 13 years on the Hellgate Elementary School board and was appointed to the MUST board( Montana Unified School Trust), leaving there as chairman of the board.
3. The Montana Republican Party has seen great electoral success in the last two mid-term elections (2010 and 2014), yet had a difficult time winning statewide offices in 2012. How can the party be successful in presidential election years that are typically more favorable to Democrats?
I disagree with your premise concerning 2012. Let's recap. Rehberg lost because of a Libertarian candidate who ran to defeat Rehberg. Daines won in spite of a Libertarian candidate. Hill lost due to the same reason as Rehberg. Tim Fox won the AG, first Republican in 20 years. Sandy Welch lost by 3000 votes to a well funded statewide known candidate for OPI. Bob Lake won PSC District 4. Koopman won PSC District 3 and Bushman won PSC District 2. Not too bad for a presidential election year outcome. I'll take those results as success, but we cannot take our eye off the ball, We have work to do to take more seats on the Land Board and build upon our bench of viable candidates.
4. What is your strategy for building a ground game (i.e. raising money, hiring staff, managing volunteers, knocking on doors, etc.) that can win elections?
The state party usually has one asset to aid candidates; money and staff services. First of all, we are a data storage repository, secondly we support candidates with uncoordinated mailings, calls, and knocking on doors. We do not manage candidate's volunteers, but do manage office staff that can respond to state party directions in aiding candidates.
5. Rumors of financial troubles continue to follow the Montana Republican Party. How will you as chair, get the party on solid financial ground?
While we do have debt at this time, by the convention, I expect we will have all the past due bills paid. It is not unusual for a party to shoulder debt in big elections such as 2014. We spent what was needed to win races, and we won races. We continue to fundraise, as that is the number one job of the party and to have those funds available to help promote the Republican brand. By the way, we have been on solid financial footing since early 2010. We will be again very soon. We have not missed one payroll or one rent payment, contrary to abounding rumors.
6. What are the most important issues facing the state of Montana and the nation?
In Montana, the biggest issue from the party standpoint, is the incessant disagreements within the party. While disagreements are typically an example of health, in that many diverse ideas are being discussed, these disagreements are damaging the party brand, and not allowing the state to benefit from those bills that can move the state forward regarding taxes, economic growth and higher wages, which in turn can reduce taxes.
The nation is also facing significant financial concerns which end up affecting states.
7. Differences between the party's "conservative" wing and the so-called "responsible" Republicans persist and have undermined GOP legislative efforts, particularly in the last two sessions. How will you as chairman work to unite these factions? What is your plan to grow the party in coming years?
While I agree with lack of "some " legislative efforts being stymied, not all were stopped. There were and are areas of concern that both wings can and have agree upon. It is difficult to come up with a master plan that will guarantee all issues will be agreed to. The concern I have is that neither wing is willing to budge on certain issues. These are elected officials, elected by their local voters to represent them. As I see it, barring a removal of an incumbent, by election, their respective voters are happy with their current representation. Sidney has different concerns that Missoula, and therefore their respective representatives will have different marching orders. The only people that can heal this rift is the very people that are involved. The state party and it's chairman/woman do not operate a dictatorship, at least not yet. It would be of help to get principles from both wings in a single room, but the rhetoric has been such, that no one is willing to coordinate or even meet.
The best way to grow the party and heal disagreements is to continue winning elections. Nothing breeds success like success. The party needs to be inclusive, not an exclusive, closed minded, cloistered group, My opponent's both have supporters that believe in removing elected officials from the part that they disagree with. That does not build a party, it becomes smaller.
8. How much emphasis should the Republican Party continue to put on social issues such as abortion and gay marriage? Should the party move its central focus more towards economic issues?
While the two social issues are bedrock issues of all of our Republicans, and should be, the economic issues are what drive the majority of voters to the polls. Without a paycheck voters are going to ask" what can you do for me?". The social issues can and will continue to be issues all Republicans can agree on. I we want to continue to build our majorities so we need more elected Republican officials.
9. Do you support current efforts to institute closed primaries in Montana? Why, or why not?
I do support the efforts. The lawsuit is right on the law, particularly concerning the right of association. Here is another issue that has divided the party and I have concerns about what fallout may befall the party in the near future. The issue has hampered some fundraising efforts, but I continue work to overcome that concern. In the long term, a successful outcome in the case will be long forgotten and life will go on.
10 Given that Democrats often win majorities of younger voters, how does the Montana Republican Party increase the involvement of young people? Also, why has the Democratic Party had more success in recent years attracting female activists and candidates?
The party has been leading from behind on the issue of evolving the younger voters. But, we also have made gains in the legislature. We elected the youngest female in history, and we have five legislators under the age of 30. Two of them are females. The party tends to wear younger voters out by having them do many of the lit drops, calls and candidate support. We need to move toward a program that gives the younger set a card in the deck, and work on issues that are important to them, such as tuition costs, debt and job creation in Montana. If we could be successful in attracting better paying jobs, the younger set could stay in Montana, rather than going where the income is.
Editor's Note: Corrected a formatting issue with the 7th and 8th questions at 12:26 PM on 6/22/2015.
Media Trackers Montana is a conservative non-profit, non-partisan organization dedicated to promoting accountability in the media and government. Read more at mediatrackers.org/montana. Follow Media Trackers on Twitter @mediatrackersmt.