Organizations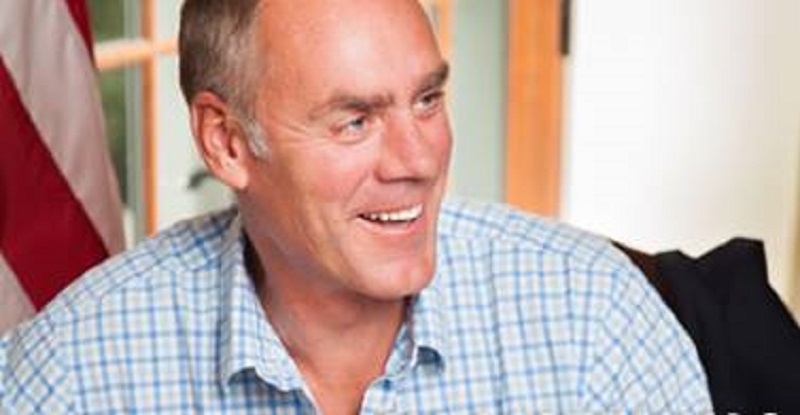 Montana U.S. Rep. Ryan Zinke (photo courtesy of the Ryan Zinke Exploratory Committee).
U.S. Rep. Ryan Zinke (R-MT) is enjoying the praise of a number of left-wing environmental groups after his vote last week against a Congressional budget bill because it included an amendment regarding the study and process of possible transfers of certain federal lands to state and local control.
Playing into the current liberal narrative that equates any discussion of more state and local control of federal multiple use lands to wholesale public lands "sell-offs," Zinke characterized his vote as one to "defend public lands" and stated, "Montana is not for sale."
"This conference process resulted in the revised budget resolution that included a provision that, as a fifth generation Montanan, I simply could not vote for," Zinke stated in a press release. "It included vaguely-written language to allow the sale of public lands. I have said before, and I will say again: Montana is not for sale."
Zinke's vote and statement received high praise from a number of liberal environmental groups, including Backcountry Hunters and Anglers (BHA), Montana Wildlife Federation (MWF), and the Montana Wilderness Association.
"In the spirit of Theodore Roosevelt, he showed leadership by doing what is right, not only for Montana but for America," John Sullivan, co-chair of BHA's Montana chapter said in a statement.
Both BHA and MWF have been labeled as "green decoys" by conservative groups, which accuse them of using "sportsmen advocacy" as a front for more liberal and environmentalist causes.
Through its executive director Land Tawney, BHA is tied with another so-called "green decoy," Montana Hunters and Anglers (MHA) which worked extensively to get Democratic U.S. Sen. Jon Tester re-elected. Using its associated political action committee, Montana Hunters and Anglers Leadership Fund, and the 501(c)(4) non-profit group Montana Hunters and Anglers Action!, MHA spent nearly $1.2 million on ads opposing Tester's 2012 Republican opponent, then-U.S. Rep. Denny Rehberg.
The actions of MHA in 2012 caused the non-profit watchdog Pro-Publica to declare in a headline, "In Montana, dark money helped Democrats Hold a Key Senate Seat."
Montana Wildlife Federation has taken over $1.2 million from the foundation of liberal Swiss billionaire Hansjorg Wyss. Wyss is a board member for the left-wing Center for American Progress.
The amendment in question was added to the budget bill by U.S. Sen. Lisa Murkowski (R-AK). Here is the full text of the amendment:
The Chairman of the Committee on the Budget of the Senate may revise the allocations of a committee or committees, aggregates, and other appropriate levels in this resolution for one or more bills, joint resolutions, amendments, amendments between the Houses, motions, or conference reports relating to initiatives to sell or transfer to, or exchange with, a State or local government any Federal land that is not within the boundaries of a National Park, National Preserve, or National Monument, by the amounts provided in such legislation for those purposes, provided that such legislation would not raise new revenue and would not increase the deficit over either the period of the total of fiscal years 2016 through 2020 or the period of the total of fiscal years 2016 through 2025.
The amendment comes amid a growing controversy in the Western United States over the federal management of public lands. In a region of the country where large portions of states are owned by the federal government — 30 percent in Montana — many have become dissatisfied with federal land management practices and a movement has grown in several states calling on the federal government to transfer control of, in particular, federal multiple-use lands to the states.
However, this movement has given raise to an equally vocal — mostly environmentalist opposition — who see the transfer idea as unconstitutional, unfeasible, and a kind of "trojan horse" for the sell-off of public lands to private interests.
Montana's Republican U.S. Senator, Steve Daines, voted for the amendment and was bashed by liberal environmental groups and editorial boards for his vote.
Sen. Murkowski has hit back against critics of the amendment noting that groups were "misrepresenting the facts." The amendment itself actually transferred no land, exempted large categories of federal land, and stipulated that exchanges were to be with state or local governments.
"This amendment doesn't sell, transfer, or exchange any piece of property. It provides a general budgetary mechanism that would apply to future legislation, Murkowski stated in a press release. "Any actual transfers or exchanges of land would still need to go through the regular order legislative process and be signed into law. Also, this amendment specifies that lands within a national park, national preserve, or national monument do not qualify."
"This simple one-paragraph amendment enables, with proper safeguards, the types of exchanges, sales or transfers with states or local governments that are often used to craft balanced, comprehensive land policies that facilitate economic development, empower states and local governments, and improve conservation efforts," Murkowski continued.