Campaigns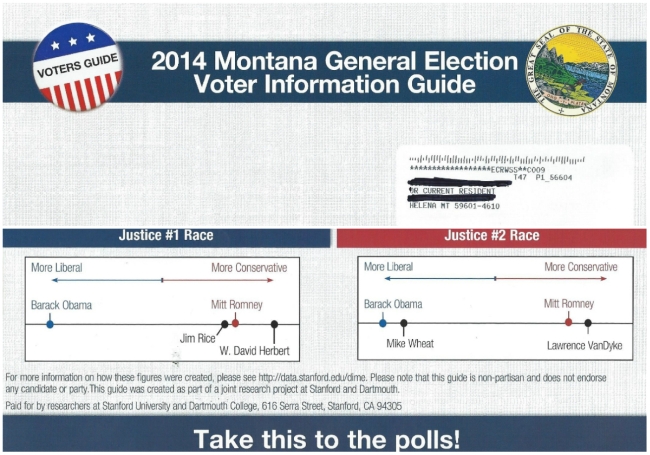 The controversial "research mailer" (photo courtesy of KRTV).
In his ruling against researchers from Stanford University and Dartmouth College for controversial mailers regarding the 2014 Montana Supreme Court race, Montana Commissioner of Political Practices (COPP) Jonathan Motl noted that the project sent far more mailers to likely liberal voters as conservative voters.
Motl stated in his findings that 64,256 of the mailers were sent to voters in liberal/Democratic precincts, while just 38,515 were mailed to voters in more conservative/Republican precincts.
"The researchers mailed the Montana flyer to more liberals than conservatives because '…the researchers determined that turnout of liberal-leaning individuals would be so much lower than than of conservative leaning individuals,'" the decision states.
The findings fly in the face of accusations that the mailers were a deliberate attempt by researchers to sway conservative voters to vote against Supreme Court Justice Mike Wheat.
While State Supreme Court races are typically low-key affairs and are officially non-partisan, the 2014 race between former Montana Solicitor General Lawrence VanDyke and incumbent Justice Mike Wheat had an unusually partisan edge. Both candidates benefited from hundreds of thousands of dollars in outside spending, with conservatives — such as pro-gun and pro-business groups — typically rallying around Van Dyke and liberals — such as trial lawyers, pro-abortion, and environmental groups — typically rallying around Wheat.
In October of 2014, Stanford and Dartmouth researchers sent mailers to 102,771 Montana voters with information on the Supreme Court race. Using Stanford's Database on Money, Ideology, and Elections (DIME), the ratings placed the candidates on a scale from "more liberal" to "more conservative," along with President Barack Obama and 2012 Republican presidential candidate Mitt Romney to give recipients partisan benchmarks on the scale.
The point, according to the researchers, was to see if giving typically strong conservative or liberal voters partisan benchmarks would increase voter turnout for a non-partisan election.
What caused a major controversy is that the mailer listed incumbent Justice Mike Wheat on the "more liberal" end of the scale, just to the right of Obama (who is widely unpopular in Montana) while placing VanDyke, on the "more conservative" end, just to the right of Romney, who easily won Montana during the 2012 presidential election.
The mailers also included the Great Seal of Montana, which cannot be used without the permission of the Secretary of State, who filed a complaint with COPP.
In his 36 page ruling, Motl stated that the mailers violated state law, because, while they did not specifically endorse a candidate, they were specifically targeted to partisan voters — mainly liberals — to elicit a partisan response. Voters in the liberal precincts would be inclined to vote for Wheat, while voters in the conservative precincts would vote for VanDyke. According to Motl, this qualifies as candidate advocacy and the organizations sending the mailers are subject to reporting requirements.
Stanford and Dartmouth officials are disputing Motl's ruling, stating that the mailer clearly clearly indicated it was part of a research project and did say that it was "paid for by researchers at Stanford University and Dartmouth College."
Despite the unusual amount of attention that the Supreme Court race received, and the controversy generated by the mailers, the race was ultimately not close as Wheat easily retained his seat.
Media Trackers Montana is a conservative non-profit, non-partisan organization dedicated to promoting accountability in the media and government. Read more at mediatrackers.org/montana. Follow Media Trackers on Twitter @mediatrackersmt.