Aaron Flint
posted on April 24, 2015 14:31
:: 854 Views
Media Trackers Montana is a conservative non-profit, non-partisan organization dedicated to promoting accountability in the media and government. Read more at mediatrackers.org/montana. Follow Media Trackers on Twitter @mediatrackersmt.
Policy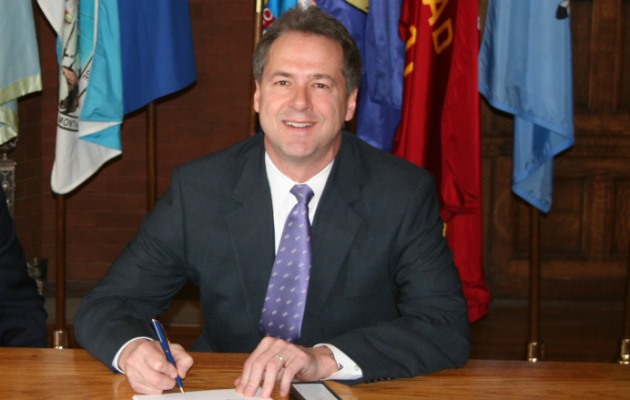 Montana Democratic Governor Steve Bullock signed a high profile bill yesterday that aims to rid Montana elections of so-called "dark money." However, critics of the governor are calling him a hypocrite over his role as Chair of the Democratic Governor's Association (DGA).
"It's simple: when you spend money to influence Montana elections you need to disclose how you're spending that money and where it came from. This is what is expected of voters who donate to a candidate, so we should expect the same from interest groups," Bullock stated in a press release. "This law will make Montana elections the most transparent in the nation."
However, as critics were quick to note, the primary job of the DGA chair is to raise unlimited amounts of money in support of Democratic gubernatorial candidates.
"Governor Bullock signed the DISCLOSE Act into law today but even with this legislation, Bullock will still be able to raise and spend undisclosed, unlimited corporate cash as Chair of the Democratic Governors Association (DGA)," stated the Montana Republican Party in a scathing press release. "This undisclosed cash that he's raising out of state can even be used to fund his reelection campaign right here in Montana."
Bullock took over as head of the DGA in December of last year.
SB 289 — also called the DISCLOSE ACT — aims to require all groups that spend money on elections to disclose the source of the money spent. Currently groups that as "education" or "advocacy" organizations according to their federal tax status are can avoid disclosure requirements.
Bullock has made fighting this so-called "dark money" a major issue during his time in office, consistently railing against "secretive" groups and the "corrupting" influence of money in politics.
However, Bullock himself was a major beneficiary of DGA cash during the 2012 election. Through its associated Montana Jobs, Education, and Technology (JET) PAC, the DGA spent nearly $3 million supporting Bullock. According its filings with the Montana Commissioner of Political Practices, the DGA received the large majority of the money it spent in Montana from PAC's associated with large national labor unions such as the American Federation of Teachers and the AFL-CIO.
All told, the DGA has spent at least $126 million on elections over the last 20 years according to the National Institute on Money in State Politics.
Bullock's 2012 campaign also remains under investigation by the Montana Commissioner of Political Practices over allegations of illegal coordination with third-party groups. In early 2013, Media Trackers reported that the Bullock campaign held conference calls and meetings with a Washington, D.C.-based political consulting firm — Hilltop Public Solutions — while the consulting firm was managing third-party independent expenditure campaigns on behalf of Bullock.
Bullock has deflected criticism of his fundraising role with the DGA by noting that the Republican Governors Association (RGA) raises more money than the DGA.
"Given that the Republican Governors Association raises well over twice as much as the DGA … I think (Republican) criticism of me probably rings a little hollow," Bullock told the Helena Independent Record in December.
The debate over the DISCLOSE Act was one of the more contentious during the 2015 Montana legislative session. Despite strong opposition from Republican leadership, the bill was introduced by "moderate" Republican State Sen. Duane Ankney of Colstrip and carried on the House floor by fellow moderate Republican Frank Garner of Kalispell.
Conservatives argued against the law, worrying that law was too vague about how it defines political activity, and gives too much power to the Commissioner of Political Practices to define what constitutes political activity.
SB 289 cleared the Senate on a 30-20 margin with a handful of moderate Republicans joining all Democrats. It had a much more difficult time in the House where it passed on a 51-48 margin with just enough Republicans joining Democrats to pass the bill.