Aaron Flint
posted on March 09, 2015 13:17
:: 544 Views
Policy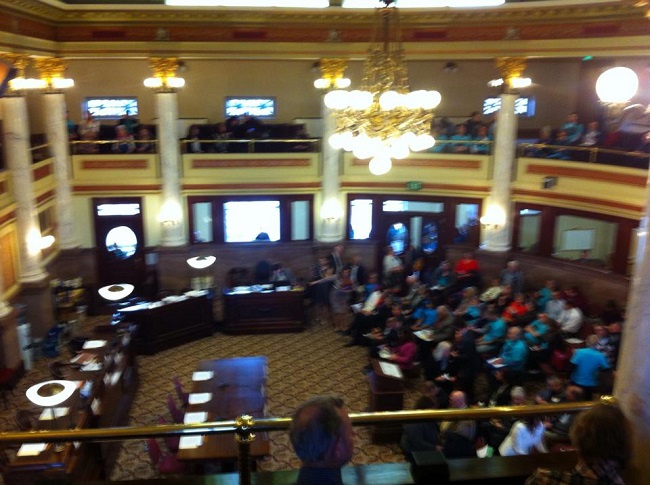 Around 200 people pack the Old Supreme Court Chambers at the Montana State Capitol for a hearing on Medicaid expansion.
After a more than six hour hearing that stretched well into last Friday Night, the Montana House Health and Human Services voted by a 10-7 margin to adopt an adverse committee report on Democratic Gov. Steve Bullock's bill that would expand Medicaid as part of Obamacare.
By taking executive action and adopting the adverse report, the Republican committee members ensured that the bill — HB 249 — will now need a three-fifths vote to go before the full House, making it much more difficult for Medicaid expansion to happen in this legislative session.
Democrat committee members, most notably State Reps. Ellie Hill (D-Missoula) and Jenny Eck (D-Helena), objected strongly to the executive action with both Hill and Eck arguing with committee chair Art Wittich (R-Bozeman) for several minutes over the constitutionality of not giving the House the ability to vote on the bill by majority vote and the fairness of taking action on the bill so quickly after the marathon hearing.
Sources tell Media Trackers that there is talk of Democrats appealing to the House Rules Committee
The marathon hearing featured dozens and dozens of proponents' testimony as liberal groups such as AARP Montana and Montana Women Vote packed the hearing with upwards of 200 people, many sporting "70,000 Can't Wait" t-shirts. Only a handful of opponents testified.
Media Trackers compiled some of the top social media responses as the hearing unfolded.
Click here to see the full list of top social media responses from Media Trackers.
J. C. Kantorowicz – Great Falls
Tuesday, March 10, 2015 8:23 AM
The democrats have a crafty new ploy in packing the hearing chambers.
The room number published for the hearing is actually the "overflow" room number. The unsuspecting opponents of the bill go to the "wrong" room leaving the correct room to be packed by the supporters (all wearing the correct T-shirts of course) of the bill.
In that manner, the news media only sees and transmits video of "supporters" of the legislation and the opposition is left "speechless"!