Aaron Flint
posted on March 17, 2015 07:32
:: 1794 Views
Already filled out your March Madness brackets? No you haven't…at least not until you fill out your 2015 Montana Pizza Championship Bracket.
Seriously, you have got to check out this March Madness-style Montana pizza bracket by the crew at The Montana Mint. You can already vote for who you want to send to the Sweet 16.
My only complaint? I wanna know who the heck was on the selection committee- Eugene's Pizza in Glasgow very clearly should have been a #1 seed in the Pepperoni Division. At least they got it right with Moose's Saloon in Kalispell being a top seed in the Extra Cheese Division though. Click below to tell us who you think should go to the Sweet 16. If you want to see the full selection of brackets, I've got a look at the actual brackets below the voting mechanism.
Stay tuned to The Flint Report and the statewide radio show Voices of Montana as we keep you up to speed as the tournament progresses. We'll let you know if your favorite pizza shop makes it to the Sweet 16. (I also plan on using this as an overlay for the actual NCAA brackets, and see which pizza shop would come out on top according to this bracket setup)
Screenshot of actual brackets: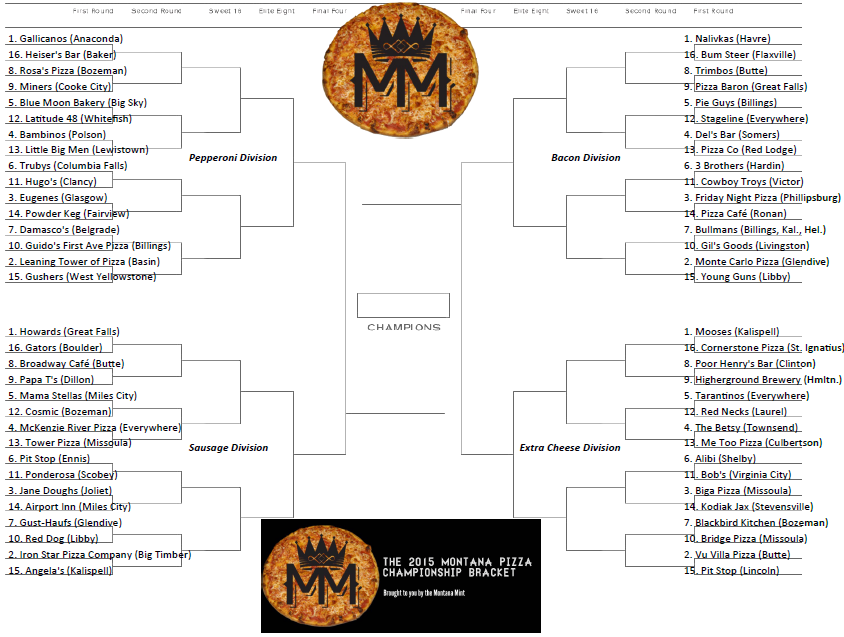 Tom O'Neill
Tuesday, March 17, 2015 10:43 AM
The Vu in Butte was specifically mentioned by a SEAL Team 6 member on his Fox News special. And they get a TWO SEED? Blasphemy.
Sharon
Tuesday, March 17, 2015 10:57 AM
As far as I am concerned, the best pizza is not even on this bracket. Charlie's Pizza in Sweet Grass/Cut Bank is the best pizza there is.
Lynn Newnam
Tuesday, March 17, 2015 11:00 AM
What about Fergie's pizza in Plentywood. Best. Pizza. Ever. I lived in LA for 17 years and NEVER had a pizza like the one at Fergie's!
Tamera
Tuesday, March 17, 2015 1:18 PM
WHAT?? No Columbo's in Bozeman?! I can't vote at all, so my no vote is a protest vote, Columbo's beats any other pizza joint in Bozeman, a definite oversight…
J. C. Kantorowicz – Great Falls
Wednesday, March 18, 2015 7:10 AM
There is only one truly great pizza in Montana……
Howard's Pizza