Aaron Flint
posted on March 17, 2015 11:22
:: 636 Views
By: Ron Catlett Media Trackers Montana|
Organizations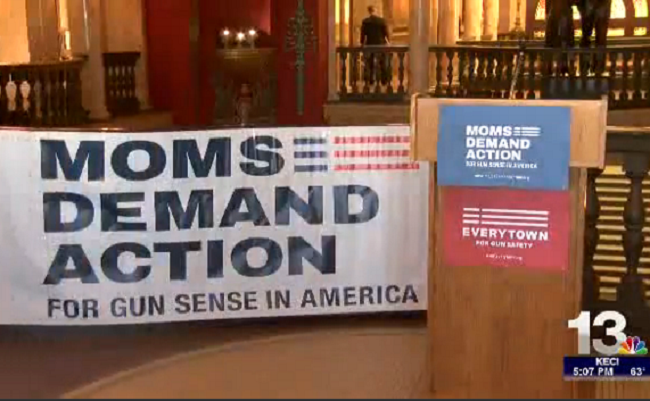 Podium for Friday's anti-gun rally in Helena. (photo: NBC Montana)
Two anti-gun groups backed by former New York City Mayor and media billionaire Michael Bloomberg held a rally at the state capitol in Helena on Friday to protest several bills that would expand the rights of Montanans who carry firearms.
Representatives of the Montana chapter of Moms Demand Action for Gun Sense in America and Everytown for Gun Safety gathered to express strong opposition to SB 143 (concealed carry on college campuses), HB 598 (Gun Owners Access to Justice Act), and HB 298 (allowing concealed carry in city limits without a permit) claiming that the proposals would make Montana a more dangerous place.
"It just seems insane to think that a person that is a convicted criminal or has serious mental problems or is a 17-year-old in college can be trusted with a pistol," Bozeman resident John McDaniel told MTN News.
Moms Demand Action was founded in the wake of the December 2012 school shooting at Sandy Hook Elementary School in Newtown, CT. Last year, Everytown was launched as an umbrella group by Bloomberg to oversee both Mom's Demand Action and the former mayor's other anti-gun campaign, Mayors Against Illegal Guns.
Overall, Bloomberg has pledged $50 million to Everytown and its subordinate groups to fight for stricter gun-control laws at the state and local levels.
Each of the three bills being protested by the Bloomberg groups has already generated a fair amount of controversy during the current legislative session. SB 143 — carried by State Sen. Cary Smith (R-Billings) — prevents the state board of regents from "infringing" on adult students' 2nd Amendment rights by having college campuses remain "gun free zones."
While opponents have called the bill "insane" and insist that college students — most of whom are old enough to vote and serve in the military — are not mature enough for the freedom to carry firearms, the bill does still allow for a number of restrictions, including a prohibition of firearms at on-campus events where alcohol is present, and the requirement that guns remain locked away when not in the immediate possession of its owner.
HB 298 — carried by Rep. Bill Harris (R-Winnett) would allow anyone allowed to possess a handgun under state or federal law to carry a concealed firearm within city limits. HB 298 has already passed both houses of the legislature, but faces an uncertain fate once it reaches the desk of Democratic Gov. Steve Bullock.
HB 598 — carried by Rep. Matthew Monforton (R-Bozeman) — would put a "yes/no" referendum before the voters in 2016 which states the right to bear arms "may not be restricted" unless the state provides a "compelling reason" to do so. It also provides for the payment of attorneys fees to the prevailing party in such a case.
While much has been made in state media about conservative "outside groups" seeking to influence legislation during the current Montana legislative session– most notably AFP Montana and their ties to the conservative billionaire Koch brothers, no media reports on Friday's rally reported Mom's Demand Action's or Everytown's financial and organizational ties to Bloomberg.