Aaron Flint
posted on March 06, 2015 08:26
:: 656 Views
Oh come on Timberlake– you're gonna tell us you don't know anything about this story?
Sen. Jon Tester (D-MT) is the head of Senate Democrats' fundraising arm, the Democratic Senatorial Campaign Committee (DSCC), and yet he is claiming that he has no knowledge of one of the top political stories of the week: Hillary Clinton's use of a private email server during her tenure as Secretary of State (on top of a series of other scandals)
CNN: Don't ask Dems about Hillary Clinton's emails

Everyone in Washington is talking about Hillary Clinton's email controversy — except Democrats in Congress.

The mere mention of Clinton's travails sent Democrats scrambling to avoid commenting, if they answered questions at all.

"I'm not up to speed on it. I'm really not," Sen. Jon Tester of Montana, who runs the Senate Democrat's campaign committee, told reporters. "Check back."
For our friends in North Dakota, check out what Sen. Heidi Heitkamp (D-ND) had to say:

"I don't know enough about what those rules are, honestly, to comment," said North Dakota Sen. Heidi Heitkamp.

Underscoring the seriousness of the issue, National Review's Jim Geraghty offered this in his "Morning Jolt" e-newsletter Thursday morning:

On Greta Van Susteren's show last night, ABC News political director Rick Klein said he was at a loss to come up with an innocuous explanation for Hillary's "home-brewed" system. There is no innocuous explanation. The whole point of it was to create an e-mail system that Hillary and her team would control completely, that would be beyond the range of federal record-keeping rules and laws and beyond the range of FOIA requests. If any message seemed embarrassing, politically inconvenient, or incriminating, she could erase it, and rest assured it was gone forever, beyond the reach of any investigator, FOIA request, or subpoena.

Of course, it wasn't particularly secure from hackers and/or foreign spies. And let's face it, if you're the Russians or Chinese — heck, maybe the Iranians, North Koreans, Cubans, or other regimes — if you're not trying to hack into the e-mail systems of American officials, you're not earning your paycheck.

We don't know if foreign intelligence services ever cracked the (apparently flawed) code and got to read Hillary's private e-mails. We do know that we would be fools to assume they hadn't. This prospect makes a lot of Obama's first-term foreign policy look a little different in retrospect. Was there any particular time when a foreign power seemed one step ahead of our policies? Did Moscow, Beijing, or other foreign capitals seem to know what we were thinking in our negotiations before we began? Any of our spies get burned, or sources of intelligence dry up? Was Hillary Clinton's e-mail effectively a leak all along?

Here's the original story from The New York Times: Hillary Clinton Used Personal Email Account at State Dept., Possibly Breaking Rules

Hillary Rodham Clinton exclusively used a personal email account to conduct government business as secretary of state, State Department officials said, and may have violated federal requirements that officials' correspondence be retained as part of the agency's record.

Mrs. Clinton did not have a government email address during her four-year tenure at the State Department. Her aides took no actions to have her personal emails preserved on department servers at the time, as required by the Federal Records Act.

On another note…I'm really diggin' Hillary's Kim Jong Un sunglasses…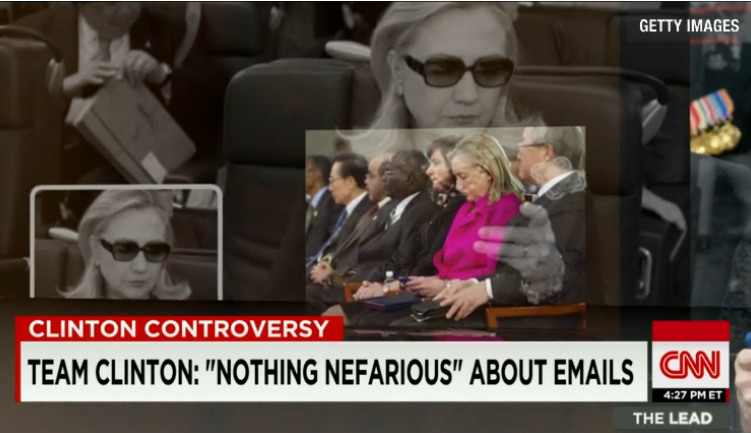 Screenshot is from CNN story linked to above.