Aaron Flint
posted on February 26, 2015 16:09
:: 656 Views
POLICY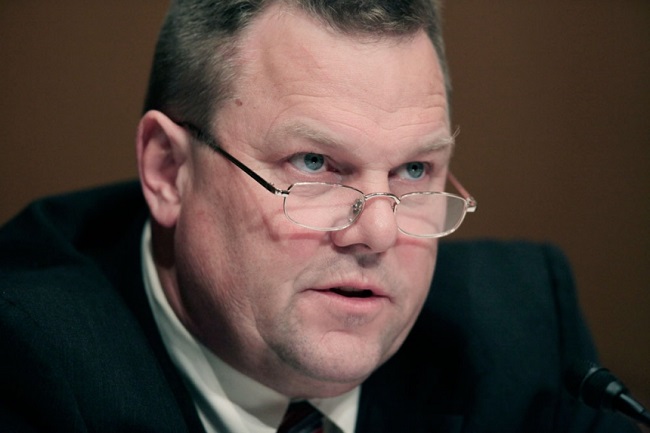 U.S. Sen. Jon Tester (D-MT) (photo courtesy of watchdogwire.org).
Despite years of campaign positioning against illegal immigration, touting votes against the Dream Act, and repeatedly assuring Montanans of his support for strong border controls, in the last few weeks U.S. Sen. Jon Tester (D-MT) has repeatedly sided with Senate Democrats in blocking Dept. of Homeland Security funding which excludes executive amnesty funding.
With both the House and Senate now pressing forward on bills which fully fund the Department of Homeland Security, but not President's executive amnesty plan, Tester is siding with the President and national Democrats in advocating for a possible government shutdown unless Obama's immigration measures are included in the final bill.
This action represents a change in position from just last fall when Tester appeared to oppose the President taking executive action on immigration.
When asked last November about his position on President Barack Obama's plan to unilaterally ease deportation orders for millions of immigrants currently in the United States illegally, the senator stated that rather than the President's plan he "would prefer that Congress act."
During the 2012 election season his position was even stronger with his campaign website stating unequivocally that his stance was "simple: people who wish to immigrate to the United States must follow the rules, and we must enforce them. That's why Jon opposes amnesty for illegal immigrants."
With a Friday deadline looming for a partial government shutdown at DHS, Democratic intransigence on illegal immigration threatens Montana border security by sending 30,000 DHS employees home immediately, and forcing more than 200,000 employees to work with possible delays in their paychecks. Montana shares over 500 miles of border with Canada which DHS agencies, including US Customs and Border Protection, maintain security oversight.
Northern border issues include a myriad of serious security issues including anti-terrorism operation, human trafficking prevention, drug interdiction, and natural disaster preparedness operations. Should Sen. Tester and Senate Democrats continue to block DHS funding, security operations could be significantly hindered.
President Obama's Homeland Security Secretary, Jeh Johnson, went on the record this week stating that "A shutdown of Homeland Security would have serious consequences and amount to a serious disruption in our ability to protect the homeland."
Rather than working to avert a possible security crisis, Senator Tester doubled down on President Obama's political talking points this week by simply pointing fingers at Republicans.
In a statement released by his office, Tester called the DHS funding package in its current form "completely irresponsible" and a threat to "our national security." The statement went on to say, "Congress has an obligation to keep the Department of Homeland Security running so we can secure our borders. Hundreds of Customs and Border Protection employees and TSA workers in Montana work hard every day to keep us safe. Now, many may be forced to stay home or work without pay – all because House Republicans want to play politics instead of securing our country."
A poll released Tuesday by Zogby Analytics on behalf of the Federation for American Immigration Reform showed that Montanans oppose President Obama's executive amnesty plan by a 71% to 24% margin. The data also showed that Montanans favored blocking Obama's plan through provisions in the DHS funding bill by a margin of 61% to 29%.