Aaron Flint
posted on April 09, 2014 14:34
:: 1158 Views
Although the Governor's fiscal note for the Obamacare Medicaid expansion in Montana has already taken hits for ignoring the real costs to the state budget, here's something that was included- Obamacare for prisoners. That's if the Medicaid expansion is approved by Montana voters this Fall, and then funded by the Montana Legislature next session.
From Gov. Steve Bullock's fiscal note on Medicaid expansion: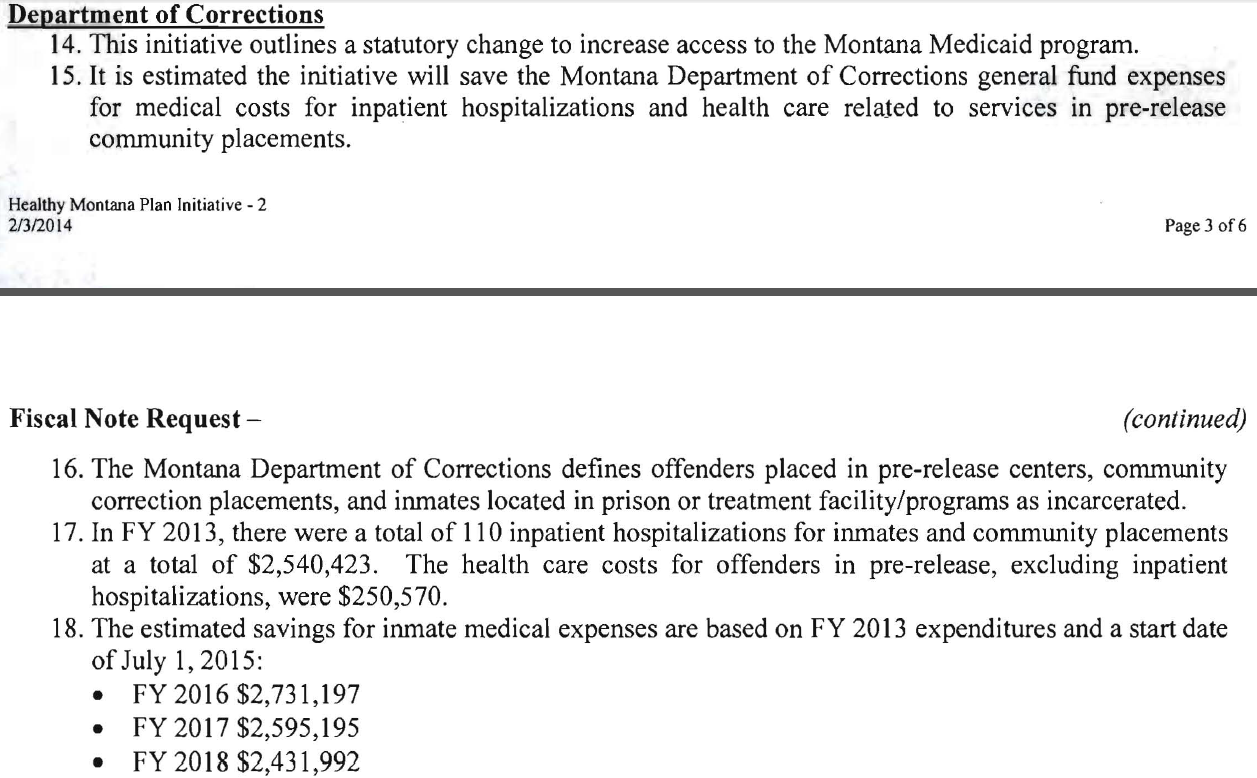 While the exact numbers are yet to be determined, here's what is already being reported in states which have already expanded Medicaid under Obamacare.
Courier-Journal: Louisville jail signs up exiting inmates for Obamacare
After three months in jail on a theft charge, Vincent Garcia had prepared last week to collect his wallet and keys and turn in his orange scrubs upon release.

But the 26-year-old will leave jail with something else — free health insurance.

Louisville Metro Corrections last week began holding daily sign-ups for exiting inmates, and Garcia was among those qualifying for the newly expanded Medicaid under the Affordable Care Act.

Senate Minority Leader Mitch McConnell of Kentucky said signing up those leaving jail or prison will add burdens to an already strained Medicaid program that is hard pressed to find enough doctors willing to accept Medicaid patients.
FoxNews.com: States Sign Up Inmates for Obamacare
The Obama administration often touts that people with pre-existing conditions and countless others can now get covered under ObamaCare. But there's another group that's starting to benefit from the law — prison inmates.

Currently, 26 states and the District of Columbia are proceeding with a Medicaid expansion which allows them to extend medical coverage to single and childless adults. Jail operators in at least a half-dozen of those states are then, using that criteria, extending coverage to inmates. The shift means the federal government would pay some emergency costs that used to be entirely covered by the states and counties — plus, inmates are starting to get coverage for when they leave.

Cook County, the largest single-site jail complex in the United States, has started more than 13,000 insurance applications since last April. Once prisoners there are booked, fingerprinted and assigned a cell, they meet with a worker from Treatment Alternatives for Safe Communities who helps them apply for Medicaid.
FoxNews.com: Gallup survey suggests sign-ups under ObamaCare not as high as White House says
A major new Gallup survey suggests the ObamaCare sign-up numbers are not as soaring as the White House claims.

The administration says 7.1 million have signed up for subsidized private plans through new insurance markets, while 3 million previously uninsured people gained coverage through the law's Medicaid expansion.

Why the huge difference? For starters, the administration's numbers include people who switched or were dropped from their previous coverage, as well as people who have not paid their first month's premium, and who would therefore still be uninsured.
Al Smith
Thursday, April 10, 2014 8:02 PM
We were honored to hear Doctor Ben Carson speak in Great Falls last Monday evening. The American people could do themselves a big favor by listening to the ideas of brilliant healthcare professionals like Doctor Carson when it comes to programs designed to provide, of all things, healthcare! Politicians have had a go at it and look at the mess it has caused. Just sayin!
In listening to Doctor Carson as he addressed an audience of some 1,400, one could not help but consider what might have resulted had he been elected our first black president. Just sayin!
Maybe he could be our next? Would sure beat most of the run-of-the-mill politicians now poking up their smiley face bobble heads.