Aaron Flint
posted on April 09, 2014 13:36
:: 1985 Views
Not only is the future of "reset" with Russia dead, it died the day US ambassador Michael McFaul arrived as the top American diplomat in Moscow.
"The reset ended, it ended a long time ago," said Ambassador Michael McFaul, who is back at Stanford University. McFaul recently stepped down as US ambassador to Russia.
On Wednesday's Voices of Montana statewide radio talk show, I asked Ambassador McFaul about the future of "reset" following the Russian actions in Crimea. Prior to the Olympics in Sochi, the Russian Ambassador to the US, Sergey Kislyak, said the idea that the departure of McFaul would represent an end to the reset in US-Russia relations was "far-fetched."
MCFAUL: "I don't want to contradict my good friend Sergey Kislyak…but it essentially ended the day I showed up in Moscow. And that was a coincidence, it wasn't on purpose. When Vladimir Putin decided to run for president again, he needed an argument for why to become president again. Remember there were protests in the street then against the government, giant protests- like hundreds of thousands of people. The regime and Putin himself were shaken by it. They were nervous, and so they needed an enemy- and that was us, that was the United States. They rolled out the old Soviet playbook, ran hitjobs on me personally, by the way, talking about how I was sent by President Obama to foment revolution in Russia."
AUDIO:
Click to Listen
(I should add that the preface to the question to Ambassador McFaul heard in the audio above comes from a PJMedia.com blog post, which was credited on air.)

Ambassador McFaul, a Montana native, noted that the Russian ambassador is a big hunter, and hopes to bring him to Big Sky country down the road.
McFaul was born in Glasgow, Montana. That's where his dad served as the high school band director. He then spent most of his years growing up in Butte before heading to Bozeman for his final two years of high school.
It was at Bozeman High School that he ended up debating alongside none other than Montana's current Congressman Steve Daines (R-MT).
MCFAUL: "The reason I got interested in Russia- then the Soviet Union- was because of that class, and I'll tell you honestly I wasn't that motivated in school at the time when I moved to Bozeman, and I was looking for the easiest class to get an English credit in. And my neighbor told me- take the debate class…and so I did."
The topic that year for debate? "How to improve US trade policy." The future ambassador, appointed by a Democratic President, and the future Republican Congressman focused on the Soviet Union. After high school, McFaul went to Stanford University, taking his first trip abroad in 1983 to the Soviet Union. Fast forward to 2006, and it was Susan Rice (now serving as National Security Director under President Obama) who first asked him to join the Obama campaign. He then worked for National Security Adviser Tom Donilon in the White House before being called to serve as US ambassador to Russia.
Click on the audio tab under the Voices of Montana home page to listen to the whole show. We talked about how Ambassador McFaul caught up with Great Falls native Josh Heustis, who played basketball for Stanford, after the NCAA tournament.
Plus, he talked about one of his best memories as ambassador- when it just so happened that a Montana band, Wylie and The Wild West out of Conrad, was playing a concert at the Spaso House mansion in Moscow. Click below to listen.
AUDIO
Click to Listen
Photo of the Wylie and The Wild West albums below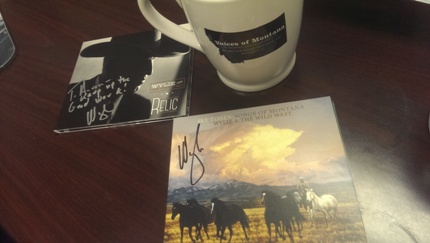 Also, there's concern over the new START treaty harming not only national security, but also the Great Falls economy. Click below to hear what he had to say regarding same-day front page headlines.
AUDIO
Click to Listen