Aaron Flint
posted on January 30, 2014 14:34
:: 11638 Views
American Prairie Reserve (APR) Managing Director Peter Geddes spoke to the University of Utah law school Thursday. His talk was titled- "American Prairie Reserve: Building America's First 21st Century Park in an Era of Government Retrenchment."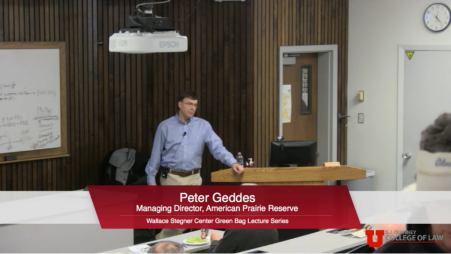 Geddes highlighted American Prairie's efforts to create a privately-owned wildlife reserve in central and northeastern Montana. "Some day for sure we will be south of the River," said Geddes, referring to the current bison reserve which stretches 100 miles from point to point north of the Missouri river near Malta, Montana.
Geddes said the reserve has the goal of becoming 1.5 times the size of Yellowstone National Park, and has been adding 30,000 acres a year on average. (Note- original post said the APR was currently larger than Yellowstone)
While bison have been the flashpoint in American Prairie's efforts in northcentral Montana, Geddes stressed that the reserve is "not a bison project." He added, "we care about the entire suite of biodiversity."
Here's another couple interesting notes- coming to a grassland near you: A Little Drone on the Prairie.
APR just signed a three year contract with a group called Adventurers and Scientists for Conservation. "So these guys…are out on the ground installing camera traps, walking tracks with handheld GPS, and we'll probably have some really cool battery-powered drones flying around this summer."
The man running that project used to run National Geographic's "critter cam" unit. "So we'll be really freaking out our neighbors by flying drones around up there," Geddes joked.
Click below to listen:
Click to Listen
Here's another interesting note- if the Keystone pipeline were to be approved, it would enter the United States in Phillips, County Montana (north of Malta). Geddes says TransCanada should pay American Prairie Reserve in order to mitigate the impacts of the pipeline in other parts of the state.
In follow up questions after the presentation, Geddes noted APR's efforts to reach out to the community, recognizing the nervousness of locals in the community who see the reserve's efforts to buy up local ranches as a threat to their way of life.
A spokesperson for S.J. Quinney College of Law at The University of Utah says the presentation will be archived at http://ulaw.tv/ It takes about one week to post .
Photo: Here's a picture of the $1,000 a night huts that major donors get to sleep in out on the American Prairie Reserve. Geddes told the University of Utah crowd that "most of our donors don't want to camp" so they built these facilities to accomodate.