Aaron Flint
posted on September 24, 2013 12:05
:: 4845 Views
Here was the dramatic front page of The Denver Post. There's just one big problem with the photo and the headline- that's not an oil spill, at least according to the Colorado Oil and Gas Association.
FRONT PAGE: Oil spilling into mix: http://t.co/s3VDadIwyW #coflood pic.twitter.com/lYJ2SWB3ZI

— The Denver Post (@denverpost) September 20, 2013
Here's an update from The Colorado Oil and Gas Association (COGA):
Monday, September 23, 2013 – 5:30PM

Synergy Resources, owner of the wellsite JH the Wolfson 26-6, reported below by the Denver Post, has confirmed that what appears to be oil in this picture is actually flood water and no oil or condensate spilled at this site. Synergy Resources is in the process of readjusting the equipment, and restoring the site.
They added this note Tuesday:
COGCC reports there are currently 8 notable spills due to flood related activities, totaling just short of 27,000 gallons of oil, or approximately the volume of 1/20th of an Olympic-sized swimming pool.

Steve Gunderson, director of the Water Quality Control Division, told Fort Collins' Coloradoan, "When the South Platte River, where most of the oil spills have been reported, flowed past Fort Lupton, it was pushing 67,000 gallons of water per second."…"20,000 gallons is a drop in a bucket in that kind of stream flow."

Of highest concern to public health officials are the miles of sewage plant pipelines that have been lost to the flooding in Estes Park, Loveland, and Evans. Ken Carlson, associate professor of civil and environmental engineering at Colorado State University also told the Coloradoan: "There is without a doubt raw wastewater in the Big Thompson." As for the two dozen gallons of oil flowing out of barrels into the South Platte, Carlson said: "I'm not worried about it."

Note: if anyone sees a clarified story from The Denver Post on the story, please share any updates.
Screenshot of original Tweet from @DenverPost: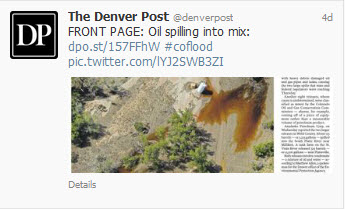 Vinny in Livingston
Tuesday, September 24, 2013 9:38 PM
Much ado about alleged oil and fracking fluid spills, but nothing but crickets when it comes to the Rocky Flats plutonium storage, which is in rail cars!
Rocky Flats is clearly listed in the NS list of food zone communities.
A flood thru Rocky Flats could make Fukushima seem like a dirty diaper change!