Today's Political Trough: Champ enters the ring- Missoula state senator announcing US Senate run, "The Wild Chef" chops up support for the roadkill legislation, an effort to bring Beretta and the other big guns to Montana, a playmate's remarks on Billings radio draws international attention, and much more…
Champ enters the ring, and The Washington Post takes note. Here's what Champ Edmunds (R-Missoula) released via Twitter: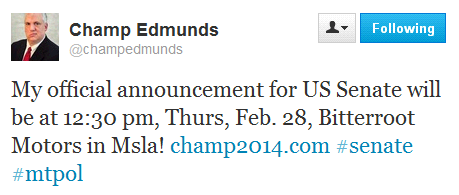 Edmunds called into our statewide radio show, Voices of Montana, on Thursday morning to preview his announcement. Click below to hear what he had to say:
Click to Listen
The Hill had this earlier in the week: (h/t Bob Brigham)
Polls show Baucus is vulnerable to a challenge in both the primary and general election, but he starts off with a big lead against both Edmunds and Stapleton, neither of whom are well-known statewide.
Speaking of Baucus, The Wall Street Journal mentioned Baucus in another editorial Thursday. The piece notes Baucus' soft treatment of the Treasury Secretary nominee:
Investment accounts in the Cayman Islands are no longer evil tax havens. Now they are a form of prudent investor diversification. Tax lawyers everywhere want to thank Senate Finance Chairman Max Baucus for his new forbearance.
Speaking of special perks, apparently certain corporations get free speech rights, while other corporations do not get free speech rights. From the AP:
The Montana Senate has endorsed a bill that would limit corporate campaign finance spending after changing the measure to allow news media outlets to continue publishing editorials during election season.
David Draper writes "The Wild Chef" at FieldandStream.com. When it comes to a roadkill bill in the Montana Legislature, he asks, "Would you cook highway backstraps?"
Despite HuffPo's snarky tone, salvaging roadkill is actually a common practice in many other states. For years, Alaska non-profit organizations could sign up to be on the call list to salvage meat from moose hit by vehicles. I'm glad to see Montana is getting onboard. In my mind, a couple of backstraps or the rear quarter of an elk or deer is a small payment for the damage caused by the accident.
I said this the other day, we need to get Beretta to move to Montana. Well, the Montana Shooting Sports Association's Gary Marbut says Beretta and several other gun manufacturers need to hear that message from the Montana Legislature.
Here's what he told MSSA members via e-mail:

I had an idea for a late bill, separate resolutions each for the House and Senate (separate because of Transmittal rules) inviting firearm and firearm accessory (think magazine) manufacturers in states passing laws hostile to them to "Come to Montana." The text of the House version of this Resolution is pasted below.

You may have heard that Remington is thinking of bailing out of its plant in New York (1,300 employees), Beretta is threatening to leave Maryland if the Legislature there bans magazines over 10 rounds (Beretta just got an Army contract for 100,000 M9 pistols and has 300 employees), and Magpul is planning to leave Colorado (because of Colorado's ban on standard-capacity magazines). There are others. I've been contacting these companies asking them to come to Montana, but I figure the invitation will carry more punch if it comes from the Legislature, thus the resolutions.
As the state-run media likes to mentione the amount of money that the NRA spends in politics, Dave Skinner asks about all of the money behind the anti-gun groups.
Here's his latest in The Flathead Beacon:
There's been plenty of reporting about the $32 million NRA spent in 2012 on politics (some was mine), but nothing so far about the $14 million political campaign in opposition, underway for almost two years. Of all political dark money, millions of the blackest is being spent by "charities," a veritable orgy of liars, guns and money – yet it isn't news?

Guess not … in fact, FSF has been left to reveal itself. Just days ago, CNN International published an opinion piece from FSF: "If You Back Gun Reform, Write a Check."

Write a check?
A Playboy Playmate's remarks on Billings radio draw international attention. Jason Harris of The Big J Show wrote on Facebook, "The story is getting some legs! TMZ, Daily Mail UK, and now US Weekly."
USmagazinehas this:

Kendra Wilkinson may no longer be a Girl Next Door, but the blonde bombshell will always have Hugh Hefner's best interests at heart. On Monday, Feb. 25, the married mother of one slammed the the Playboy mogul's new wife, Crystal Harris, during an interview with Montana's Big J Radio Show.

Citing their broken engagement (Harris called off their wedding five days before the ceremony in 2011), Wilkinson said she's wary of the 26-year-old's intentions. "I got pissed off when she hurt him and he can't go around thinking that people will automatically love her, especially after that," the Oxygen reality star said. "That pissed everybody off, that she would just leave him and dump him, use him and abuse him."
In case you were wondering, Crystal Harris is not related to Jason Harris.
In case you missed it, the Helena Airport fought to save their full body scanner, according to the AP:
"They showed up last night and we didn't let them take the machine," Mercer told the Independent Record newspaper on Friday.

The airport's millimeter-wave machine is among those the federal agency wants to remove to replace 174 full-body scanners being taken out of larger airports. The larger airports are losing their low-dose X-ray units because Rapiscan, the company that makes them, was unable to meet a June 2013 congressional deadline for software upgrades to show screeners less-revealing images of passengers.
Former Democratic Congressman Pat Williams is under fire for what some might say is a comment carrying a racial tinge to it (dog whistle?), and now- liberal activist groups are trying to spring to his defense with at least 2 petitions floating to support his nomination with the Montana Board of Regents.
Former Montana Democratic Party spokesman Martin Kidston has this. One detail left out, of course, is Williams' very close ties to the embattled former UM Vice President Jim Foley.
While the left (not all of the left, some are critical of his nomination) comes to Congressman Williams' defense for a comment he clearly made, a Tea Party leader from Billings has been under fire by the same groups for a Facebook post she says she never made.
The chairwoman of Montana's Yellowstone County Republican committee denied Monday that she posted a racist photo mocking President Barack Obama and said she won't step down, despite receiving dozens of calls for her resignation.

The photo posted last week by a Montana blogger shows an image purportedly from Jennifer Olsen's Facebook page of a box propped up by a stick with a watermelon underneath. The caption says "BREAKING NEWS: The Secret Service just uncovered a plot to kidnap the president."
While I know both the accuser and the accused in this particular story, I felt it was important to note that Olsen says she did not create the Facebook post. She added that she has been impersonated on Facebook on at least 2 separate occasions, and is seeking an investigation from Facebook.