Aaron Flint
posted on August 08, 2012 08:29
:: 2960 Views
A liberal special interest group is deliberately attacking the service of a retired US Navy SEAL, and former commander in SEAL Team 6, who has been speaking out against President Barack Obama.
As previously mentioned on this blog, State Sen. Ryan Zinke (R-Whitefish) has been critical of the president's national security policies, and what Zinke says are leaks of classified information by the Obama Administration. Rather than state why they disagree, a liberal special interest group called VetPAC has instead taken the route of questioning the 23 year service of a retired Navy SEAL, Sen. Zinke.
Here's what VetPAC's Dick Klass (Klass-less?) had to say about Zinke in an interview with Buzzfeed:
"We heard some things about this founder," Klass continued, referring to Zinke. "If a guy has had two combat tours and retired as a lieutenant commander, he did not have a brilliant career."
Klass cited an anonymous Pentagon official (what courage).
Meanwhile, one frequent commenter to liberal blogs back here in Montana, an environmental activist from Great Falls, is frequently and openly mocking the SEALs and SEAL Team 6- referring to them as "the barking seals" without any rebuke as of this posting from moderators.
Here's a screenshot of one of the comments: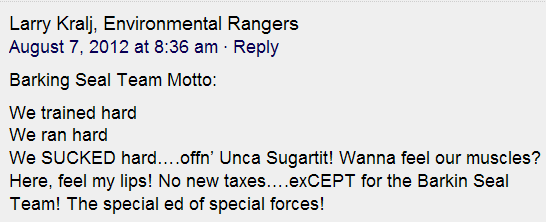 So what was the alleged beef? Here's more, from that same Buzzfeed article:
"There were ethics issues around his travel," a former Navy SEAL and senior Defense Department official told BuzzFeed. "He was using government travel to visit his home in Montana. He got caught. That's why he left the SEALs."

Zinke explained that he had wanted the SEALs to train in Montana–similar terrain to Afghanistan, he says–leading to what he calls "the incident with the travel claims."
It is no national security secret that Montana is an ideal training ground for a deployment to Afghanistan. Lee Newspapers and others have pointed this out in the past, as many military units from all over the United States come to Montana in order to train for overseas deployments.
The VetPAC spokesman says Zinke did not have a "brilliant career." What? He says the alleged travel issues happened in the late 1990's. Zinke, according to his bio, became a Commander of a Combined Joint Special Operations Task Force in the early 2000's. I'm no expert, but becoming a commander of a special operations task force certainly sounds like more of a reward for service rather than a punishment.
The turning of the spear towards Zinke by the left is also an odd turn of events. It was only a year ago when legislative Democrats were openly courting and praising Zinke. News reports highlighted his "independent" service in the Montana State Legislature. Will some of these same legislators now come to his defense?
PRIOR POST
Zinke's Special Ops PAC Goes National
A SuperPAC started by Montana State Senator, and former SEAL Team 6 Commander, Ryan Zinke (R-Whitefish) is now gaining national attention.
This piece posted at Politicker.com highlights Zinke's Special Operations for America" Political Action Committee. As of Wednesday it was also featured on the Drudge Report.
"The President has failed and he is jeopardizing the safety of our troops, their families and our National security for political gain. Obama has exposed the identity of special operations units, leaked classified information, and limited the rules of engagement of forces on the ground," said Mr. Zinke. "For those who have taken an oath to defend the Constitution against all enemies, both foreign and domestic, it is a call of duty to take back America from a Commander-in-Chief that is incapable of understanding the sacrifices that have been made for the values that have made America great."

Mr. Zinke was a member of SEAL Team Six, the elite unit that killed Bin Laden, from 1990 until 1993 and from 1996 until 1999. He held several titles including Task Force Commander. In 2004, In 2004, was named "Deputy and acting Commander, Combined Joint Special Operations Task Force-Arabian Peninsula in support of Operation IRAQI FREEDOM."