Aaron Flint
posted on February 24, 2011 15:33
:: 2458 Views
I had a great discussion with The Flathead Beacon's Kellyn Brown via Twitter this morning, and also had this question raised from one of our radio affiliates yesterday. The question concerned two recent polls concerning medical marijuana in Montana. Why the conflicting numbers on medical marijuana repeal?
First, here's what we released in our Flint Report/ 47 North Political Poll Wednesday: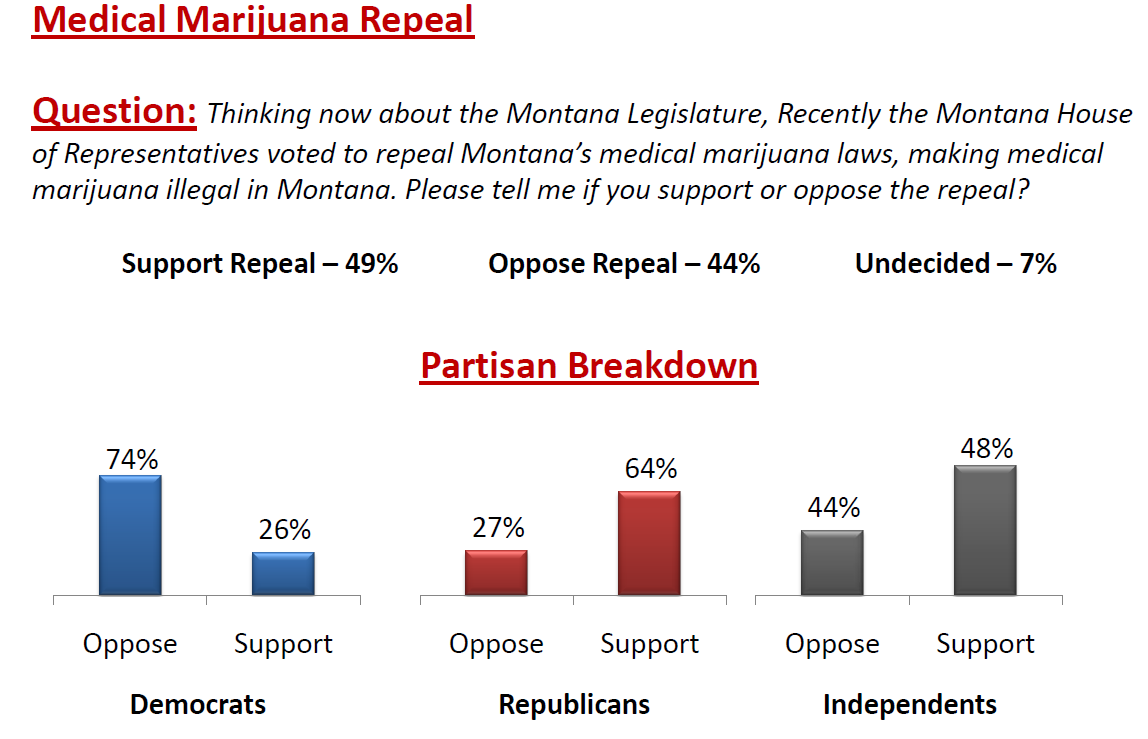 Then, as The Missoula Independent noted, Public Policy Polling also conducted a poll showing that only 20% of Montanans supported the all out repeal of medical marijuana in Montana.

So, why the conflicting numbers in poll results, especially considering the fact that our poll numbers in the Rehberg/Tester 2012 US Senate Race in Montana seemed to follow the PPP poll numbers on the Rehberg/Tester race?
Take a look at our question up above again. You'll notice it is a straight up question- do you support or oppose the repeal of Montana's medical marijuana laws? Now, take a look at the Public Policy Polling question asked on behalf of medical marijuana supporters, as linked to on The Missoula Independent's website: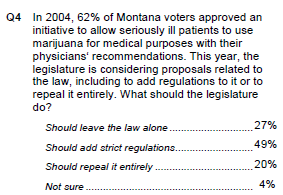 The timing of the PPP poll actually worked out perfectly with our Flint Report/ 47 North poll. What the PPP poll shows us is that if voters are given all the options laid out in front of them, and prepped with stories of people who might need marijuana for medical reasons, most will say that more strict regulations are needed in Montana. If given a straight up repeal or don't repeal question, nearly half support the repeal.
As I see it, these two polls together say two things. 1. Governor Brian Schweitzer (D-MT) could use the PPP poll as an argument in throwing his veto at a repeal bill currently advocated by Speaker of the House Mike Milburn (R-Cascade). 2. Speaker Milburn and the majority legislative Republicans in turn could also look at the 49% supporting repeal number and feel confident in simply pressing forward with an all out repeal bill.
The wildcard here: how the public perceives a medical marijuana regulatory bill. It's clear in both polls that Montanans believe something needs to be done to address what they believe is an out of control marijuana industry in the state. If those voters don't feel a regulatory bill is strong enough, they will support (or at least not be too concerned about) an all out repeal bill.
This is also why you have certainly heard the anti-marijuana groups stressing their message that new regulations will not work to bring medical marijuana under control in the state.
I'm surprised I haven't heard the "repeal and replace" argument that worked with the federal health care bill now be used to repeal medical marijuana laws. Then again, we're only halfway through the legislative session. And as I understand it, Milburn's repeal bill, along with regulatory bills by State Sen. Jeff Essmann (R-Billings) and Rep. Tom Berry (R-Roundup) all survived and will advance beyond transmittal. Will the Governor issue a clear veto threat if it looks like a repeal bill is moving forward? Or, will he just wait, let a repeal bill pass- veto it- and keep the current system in place so he can blame Republicans for not getting a regulatory bill on his desk?