If any of you are following some of your fellow Montanans on Twitter, you've probably noticed some of the great, scenic photos captured by some incredible small town photographers. Well, let's just say one small town photog is still keepin' it "Klassy," after a big time pro-rodeo photographer accused him of copying his style.
The Facebook rodeo feud culminated with this: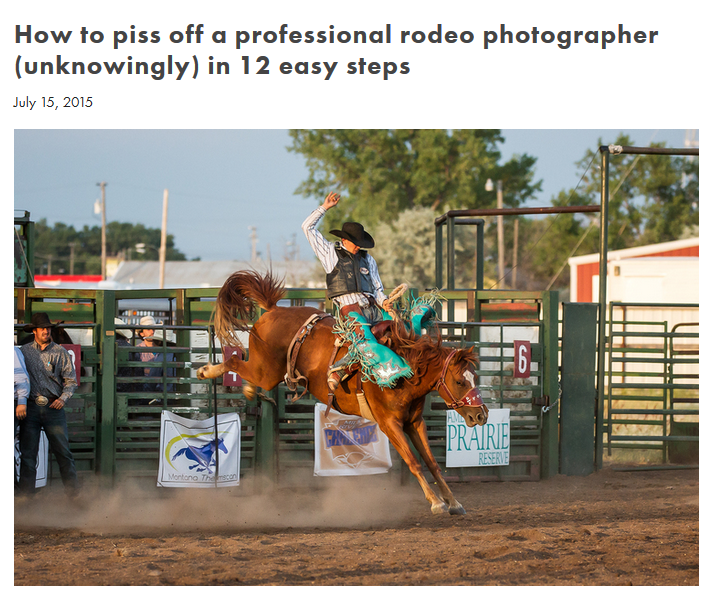 Here's an excerpt from the blog post by Havre, Montana photographer Todd Klassy: How to piss off a professional rodeo photographer (unknowingly) in 12 easy steps
It all started when I photographed my first rodeo Sunday night. It was the Milk River Rodeo Challenge at the Blaine County Fair. I thought it would be a fun event to photograph. And it was a lot of fun. When it was over I raced home to see what photos I had in the can. I edited most of them in the wee hours of the morning and then posted them online the following day. And they received a ton of views and a lot of positive comments–which of course makes you happy if you are a photographer. "Not bad for my first rodeo," I said. What's more, I can finally say at my next rodeo, "This isn't my first rodeo, you know."

And mean it.

So last night on Facebook a woman named Jackie Jensen shared my post with another man by the name of Matt Cohen. Not a bid deal. My rodeo photos on Facebook were shared 30 times and had about four dozen comments. Up until last night I had no clue who Jackie Jensen and Matt Cohen were. Like most of my other posts, I usually acknowledge kind comments with a "thank you" and the obligatory "like." But then Matt Cohen offered a snarky response. "Everybody's doing it," he said.

It turns out Jackie Jensen is a Professional Rodeo Cowboys Association (PRCA) rodeo photographer. And Matt Cohen is an award winning sports photographer and contributor to Sports Illustrated magazine. After viewing his work last night for the first time it was obvious that he is a talented photographer. But for all the talent he has, he is also 100% pure American schmuck.
Click the link above for the full back story. Klassy tells me that Cohen has since apologized. In the meantime, how many hits did his blog post receive?
@aaronflint lol A lot more than I expected. 79,000 clicks, 635 comments, 236 shares, 3,285 likes (across all shares), and 32,000 page views.

— Todd Klassy (@Todd_Klassy) July 20, 2015