Freshman Congressman Ryan Zinke (R-MT) delivers the national weekly Republican address. Meanwhile, are Dems grooming the Red Ants Pants founder to try and challenge Zinke in 2016?
But first…
Need more proof that @DeptVetAffairs is utterly dysfunctional? Wait times keep getting worse ? http://t.co/SbF7WT8Dfj pic.twitter.com/k2DaIfpH1N

— Pete Hegseth (@PeteHegseth) June 22, 2015
The New York Times: Wait Lists for Vets Even Longer Today Than Last Year
The number of veterans seeking health care but ending up on waiting lists of one month or more is 50 percent higher now than it was a year ago when a scandal over false records and long wait times wracked the Department of Veterans Affairs, The New York Times reported.

In the last year, the VA has increased capacity by more than 7 million patient visits per year, double what officials originally thought they needed to fix shortcomings, the Times reported. However, the newspaper added, department officials did not anticipate just how much physician workloads and demand from veterans would continue to soar. At some major veterans hospitals, demand was up by one-fifth, the paper reported.
VIDEO: Zinke Delivers Weekly Republican Address
U.S. Rep Ryan Zinke is criticizing Democratic lawmakers for blocking funding for a defense policy bill that passed the Senate this week.

He says Congress needs to make sure U.S. military troops have the proper equipment and training and clear rules of engagement in battle.
Are Montana Democrats grooming the founder of Red Ants Pants for the US House race? Is anyone interested in trying to challenge Zinke in 2016?
The Bozeman Daily Chronicle- Ants in their pants: political parties can't wait to attack each other
A few weeks ago, a Democratic insider said to keep an eye on Sarah Calhoun, the successful entrepreneur who created Red Ants Pants, a company in White Sulphur Springs that designs and sells workwear specifically for women.

Earlier this year, Calhoun hired Kathy Weber-Bates as her company's communications director, a job title she recently held in John Lewis' congressional campaign and before that with Sen. Max Baucus. Calhoun also hired Brianne Dugan as executive strategist. Dugan too previously worked for Democratic Sens. John Walsh and Max Baucus.

And Calhoun's team has been coordinating a statewide tour for Calhoun to promote the Red Ants Pants music festival.
The Red Ants Pants website has more background on Calhoun:
Raised on a farm in rural Connecticut, Calhoun was inspired to move to Montana by Ivan Doig's This House of Sky.
Photo from Red Ants Pants website (which also shows a picture of her with Republican Sen. Steve Daines):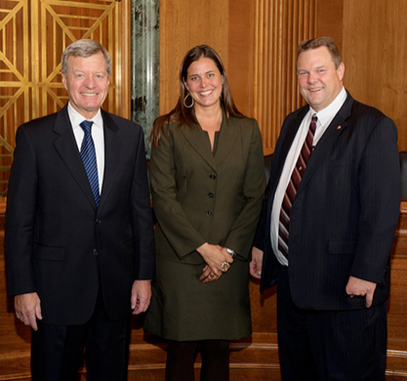 J. C. Kantorowicz – Great Falls
Tuesday, June 23, 2015 7:51 AM
A few random thoughts…..
It bears repeating and remembering that Jon Tester has been on the VA committee for what….. Eight years now? And things only get worse? Why does the VA need a lawyer corps? Why do we need Tester?
Perhaps I am naive but, there is a simple fix to veterans health care. Completely disband the VA and give all the vets a card similar to a Medicare card which can be used ANYWHERE at ANYTIME to receive health care free of charge from a grateful nation.
After Zinke's votes on approving the trade bill and to repeal COOL it appears I was right so many months ago when I said we should vote for Lewis and then get rid of him in two years.