Aaron Flint
posted on June 19, 2015 12:41
:: 1333 Views
Organizations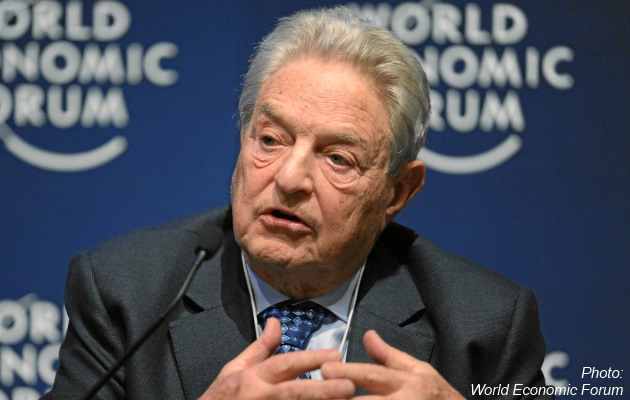 Left-wing billionaire George Soros
Despite a population of just over 1 million people and just 3 electoral votes, Montana continues to be a hot bed of spending for billionaire's and their political non-profit groups.
While much has been made in recent years about conservative and libertarian groups in Montana — such as Americans for Prosperity Montana — with connections to billionaire brothers Charles and David Koch, the recent efforts of a Washington D.C. based dark money group with connections to George Soros, and the travails of liberal Swiss billionaire philanthropist Hansjorg Wyss are bringing renewed attention to the efforts of high powered, wealthy out-of-state leftists.
George Soros
Perhaps the most well known liberal billionaire activist is George Soros. Soros' money supports many different left-wing causes across the nation and Montana.
In 2012, Media Trackers reported that Planned Parenthood of Montana was using Soros family money to support Democratic candidates. The Montana Budget and Policy Center, a Bozeman based liberal think tank, is an affiliate of the Soros-sponsored Center for Budget and Policy Priorities.
Earlier this month, Media Trackers – in conjunction with IdahoReporter.com – reported on the left-wing connections of a so-called "non-partisan watchdog" called Campaign for Accountability (CfA) and its parent organization Citizens for Responsibility and Ethics in Washington (CREW). CfA gained attention when it filed fraud complaints against Utah State Rep. Ken Ivory with the Attorneys General of Utah, Montana, and Arizona over Ivory's efforts to promote the idea of transferring certain federally held public lands to states in the American West.
A conservative group dedicated to exposing CREW has also documented at least $675,000 in cash given CREW from either George Soros himself or Soros tied projects, such as the Tides Foundation.
The American Prairie Reserve — which seeks to buy up northern Montana ranches and move bison herds onto the properties — also has direct ties to Soros: one of the group's board members is Soros Fund Management Chief Investment Officer Keith T. Anderson, who the Wall Street Journal called "Soros's money man." Anderson is listed also listed as a "private investor."
Michael Bloomberg
Former New York City Mayor and media mogul Michael Bloomberg is best known for his anti-2nd Amendment activism. Despite Montana's gun friendly reputation, Bloomberg's anti-gun organizations — Everytown for Gun Safety and Mom's Demand Action for Gun Sense in America — have been increasingly active in Montana politics.
Both organizations held a rally at the state capitol during the 2015 legislative session of oppose a number of pro-gun bills and continued to organize opposition to efforts to loosen firearms restrictions throughout the session. According to lobbyists filings with the Montana Commissioner of Political Practices, Everytown for Gun Safety Action Fund spent more than $64,000 on lobbying efforts during the 90 day session.
In addition to gun control efforts, Bloomberg money is also beginning to show up in environmental efforts in Montana. The pro-coal interest group Count on Coal Montana published information from IRS 990 forms showing that Headwaters Economics — another Bozeman thinktank that generally opposes coal development — has taken more than $100,000 from the Energy Foundation in recent years. The Energy Foundation is a non-profit that has received $1 million from the Bloomberg Family Foundation in 2013.
Tom Steyer
Headwaters, through the Energy Foundation, also has ties to cash from billionaire hedge fund manager Tom Steyer, who has gained increasing notoriety as he has pledged to donate hundreds of millions of dollars to left-wing causes. The Energy Foundation accepted $174,000 in donations from Steyer's Next Generation Foundation in 2011 and 2012.
Despite U.S. Sen. Jon Tester's (D-MT) claims that he doesn't "know Tom Steyer from a bar of soap," Steyer donated over $12,000 to Big Sky Senate Victory, an exclusively pro Jon Tester political action committee, during the 2006 election cycle. A February 2014 Washington Post article identified Tester as one of Steyer's personally favored "climate-concious candidates," highlighting Steyer's donations to Tester's 2006 campaign.
Hansjorg Wyss
Liberal Swiss billionaire and Center for American Progress board member Hansjorg Wyss has received much attention in recent weeks after The Daily Caller revealed that he had paid $1.5 million to a Colorado woman to settle sex abuse allegations. Money from Wyss' charitable foundation has proven quite important in Montana's environmental movement.
The Montana Wildlife Federation — a liberal environmental group that has been labeled by some as a "green decoy," or group that claims to represent the interests of sportsmen while promoting environmentalist causes, such as controversial new BLM rules regarding Northern Montana's hi-line — has collected over $1.2 million dollars in donations from the Wyss Foundation. Wyss has also recently been active with the The American Prairie Reserve, where, according to Aaron Flint of the Northern Broadcasting System, account for 3.5 percent of the group's funds, an amount likely around $2 million.
The Wyss Foundation also supports a scholarship –"Fellows and Scholars Program for the Conservation of the American West" — program with the University of Montana's Environmental Studies Program and College of Forestry and Conservation. The goal of the program is to train young environmental activists.
Media Trackers Montana is a conservative non-profit, non-partisan organization dedicated to promoting accountability in the media and government. Read more at mediatrackers.org/montana. Follow Media Trackers on Twitter @mediatrackersmt.