Organizations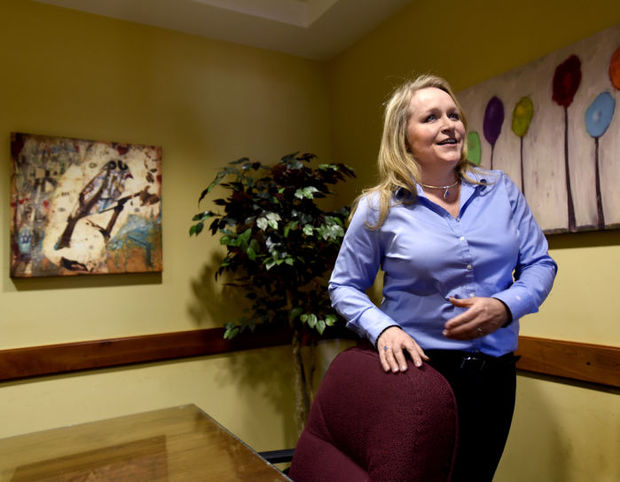 (Missoula County Attorney Kirsten Pabst is shown in an interview room. Photo courtesy of the Missoulian)
Democratic Missoula County Attorney Kirsten Pabst has been the subject of intense public and media scrutiny since the release of best-selling author Jon Krakauer's book, Missoula, which focuses on the issue of acquaintance rape in the Western Montana city that triggered a U.S. Dept. of Justice investigation.
It may come as a surprise, then, to find that recently hired Executive Director of the Montana Democratic Party, Nancy Keenan, was a donor and supporter of Pabst when she ran for election to the County Attorney post in 2014, according to filings with the Commissioner of Political Practices.
Pabst — who was elected as Missoula's chief prosecutor in 2014 — is one of the two parties, along with former Missoula County Attorney Fred Van Valkenburg, who is painted as most responsible in the book for missteps and degradation of rape victims by officials in Missoula by agencies ranging from the police department to the County Attorney's office.
The U.S. Justice Department investigated the Missoula County Attorney's office for its handling of rape allegations and investigations during the time period from 2010 to 2012.
Keenan is a long tenured Montana politician and served as Superintendent of Public Instruction from 1989 until 2001. Keenan then moved to Virginia where she worked with various liberal groups and eventually served as president of NARAL Pro-Choice America, an abortion rights advocacy group, and was even named one of D.C.'s 100 Most Powerful Women in 2006. Keenan returned to Montana in 2013 and was announced in April as the Democratic Party's new Executive Director.
The donation raises questions as to why as woman who spent a decade advocating for women's rights in Washington DC would support Pabst after she oversaw the office that was shamed after a Department of Justice investigation brought to light practices in the office that diminished the claims of sexual assault victims.
Pabst, as Deputy County Attorney, oversaw the office's division in charge of crimes of sexual misconduct during the 2010-2012 period in which the Department of Justice investigated the County Attorney's office.
Per their investigative report, from January 2008 to April 2012, the Missoula Police Department referred 114 cases to the county attorney's office, indicating the police thought there was probable cause and the case should be prosecuted. However, the MCAO under Pabst filed charged in only 14 of those cases, approximately 12% of the total referred by police.
Additionally, the Justice Department documented 350 separate cases of sexual assault reported during the same period. The report goes on to detail, "Women consistently told us that Deputy County Attorneys treated them with indifference or disrespect, and frequently made statements to women victims, advocates, and the public diminishing the seriousness of sexual violence and minimizing the culpability of those who commit it.
The report concluded, "the interactions with the County Attorney's office does have with victims of sexual assault often leave them feeling offended, disregarded, and disbelieved by prosecutors."
One example given in Krakauer's book involved the alleged rape of University of Montana student in 2011, who claimed she was violently penetrated by an acquaintance while sleeping, despite telling him earlier that they could not have sex.
When the incident was referred to the County Attorney's office, Pabst decided against pursuing charges due to lack of evidence. However she neglected to notify the alleged victim — which Krakauer asserts violated Montana law. Pabst now acknowledges this as a mistake and oversight.
After declining to pursue criminal charges, Pabst showed up to testify at the accused student's disciplinary hearing, where the alleged victim claims that she spoke on behalf of the accused. While Pabst disputes this, former University of Montana Dean of Students Charles Couture who oversaw the hearing called Pabst's presence at the hearing "totally inappropriate."
After resigning from her post in the County Attorney's office in 2012 to start her own law firm, she joined forces with the attorneys who were defending Jordan Johnson, star quarterback for the University of Montana Grizzlies, against charges he had raped an acquaintance. Johnson was later acquitted, with Pabst playing critical roles in the trial.
Krakauer's book interviews a juror from the trial who told him, "In no shape, way, manner or form was I comfortable with Ms. Pabst's brand of practicing the law. I would characterize it as bullying."
While partisan politics have largely stayed out of the discussion regarding the "rape epidemic" in Missoula, it should be noted that all the major players who Krakaeur names as responsible are Democrats. Missoula is generally considered one of the most liberal areas of the state.
While some Democrats on Twitter and bloggers — such as Don Pogreba of Itelligent Discontent – have criticized Pabst, major figures in the party have remained largely silent on Pabst's takeover of the Missoula County Attorney office.
Pabst has spent much of the last several months fighting her image portrayed in the book and the media. The Missoulian obtained a letter sent by Pabst to Doubleday, Krakauer's publisher, alleging "actionable libel" in the book, although she had not seen a copy at the time and was relying on questions sent to her by Krakauer before the book's publication.
Media Trackers Montana is a conservative non-profit, non-partisan organization dedicated to promoting accountability in the media and government. Read more at mediatrackers.org/montana. Follow Media Trackers on Twitter @mediatrackersmt.