So, when the Helena IR compiled a list featuring the 10 best facial hair photos in Montana politics…was that sexist? That's what a Missoula legislator has to say. Plus, don't you Montana lawyers have to go through continuing ed courses? Maybe the President and lawmakers should as well. And, are the wheels starting to come off of Lee Newspapers in Montana? Those stories and more are in this week's Political Trough.
But first- once US District Judge Brian Morris overruled Montana's definition of marriage, gay couples started going to courthouses and getting married. It had then been legalized, right? So, what if the US Supreme Court reinstates that definition? Would those officials who granted same-sex marriage licenses now be subject to prosecution for violating Montana's marriage amendment?
That's the question being raised in this must-read editorial.
The Daily Inter Lake: Is Motl on a political witch hunt?
Montana's commissioner of political practices, Jonathan Motl, has announced that he is resurrecting a complaint filed against GOP gubernatorial candidate Rick Hill in 2012.

To compare this case to a non-campaign related ruling for perspective, do you remember how quickly same-sex weddings were being celebrated in Montana after federal Judge Brian Morris ruled that the state's ban was unconstitutional? It was the very next day. Yet we doubt very sincerely that a married gay couple would be charged with violating any statute should the Supreme Court later determine that the Montana ban were legal after all.

Holding Rick Hill accountable for a law that has been thrown out by a federal judge is absurd on the face of it.
Meanwhile…it looks like we've got a full blown kangaroo court in the making here.
Bozeman Daily Chronicle: Billings attorneys take over Wittich political practices case; Commissioner Motl will be primary witness
Two Billings attorneys will begin working for the Commissioner of Political Practices in a lawsuit against Republican state Rep. Art Wittich of Bozeman.

Montana Commissioner of Political Practices Jon Motl named attorneys Gene Jarussi and John Heenan as the state's special attorneys general for the case scheduled for trial next year, according to documents filed Tuesday with the Lewis and Clark County District Court and other documents obtained through a public records request.

Jarussi has been a Montana trial attorney for over 30 years and is essentially the retired partner at the Bishop and Heenan law firm in Billings. In the past, Jarussi has made donations to numerous Democratic candidates, according to campaign finance records.
Is Lee Newspapers coming off it's wheels in Montana? That was a question someone had posed on Twitter.
JimRomenesko.com: Lee closes its Montana state bureau and cuts two veteran political reporters
From the comments section: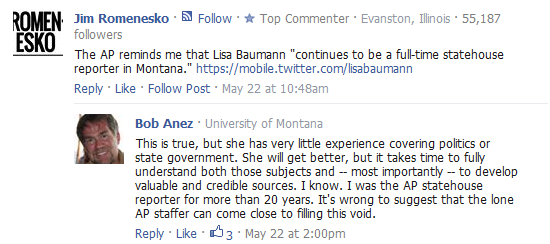 4&20 blackbirds: Mad Missoulian Sues Defectors and Other Stories
David Crisp covers how the story of Lee Newspapers closing its Capitol bureau wasn't covered by Lee Newspapers. News spread instead via social media. Ed Kemmick slightly amends Crisp by acknowledging the Billings Gazette did at least run two guest editorials and a letter to the editor.

And now we have the juicy account of a demoted publisher leading a coordinated defection from the Missoulian. Reported by David Erickson, writing for…the Missoulian. Go get 'em, Tiger!

In a civil lawsuit filed Tuesday in Missoula County District Court, Lee Enterprises Inc. seeks a temporary restraining order and a preliminary injunction against Jim McGowan, Tia Metzger, Brooke Redpath, Tara Halls and Megan Richter.
AP: Montana Democrats rev up 2016 statewide campaigns early
Democratic candidates for statewide office are getting an early jump on their 2016 election campaigns.

Monica Lindeen, Montana's term-limited state auditor, is already hitting the campaign trail this week in her bid to become the next secretary of state.
Yahoo.com: Russia 'reset' architect to next president: Don't try that again
Former U.S. ambassador to Russia Michael McFaul, a key architect of President Barack Obama's attempt to "reset" relations with Moscow, has some advice for the next president: Don't try that again.

"Don't say, 'We need another reset with Russia.' And I'm the guy that said that to the president the last time around in the Oval Office," McFaul told Yahoo News, describing his support for the effort to reboot relations with Russia in 2009.
McFaul is a Montana native.
KULR-8.com: Stillwater Mines Reaches Tentative Agreement to Avoid Strike
Stillwater says the labor union leaders who negotiated the deal are unanimously recommending their members to vote yes to the new deal.
Don't you Montana lawyers have to go to continuing ed courses? Maybe the Pres and lawmakers should too… http://t.co/ZWNnyEyAiM #MTPol

— Aaron Flint (@aaronflint) May 28, 2015
@aaronflint MT lawmakers who are lawyers are specifically excluded from CLE requirements.

— Mary Sheehy Moe (@MaryMoeMT) May 28, 2015
The Kicker
@EllieHill what was sexist about it? Were there some women that should have been on the list? #MTPol

— Aaron Flint (@aaronflint) May 28, 2015