Organizations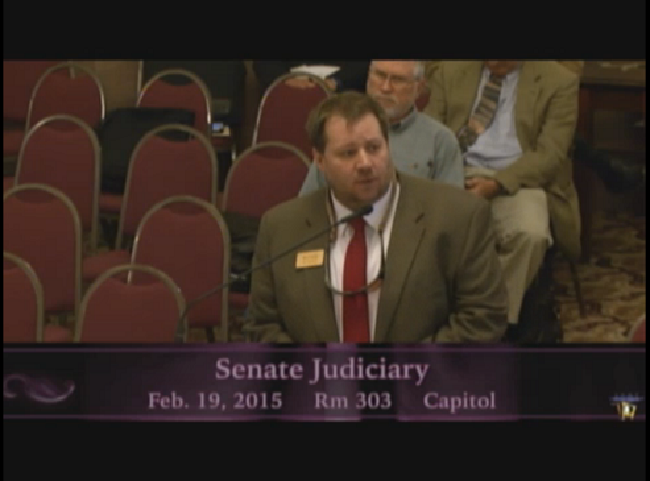 Ben Lamb speaks at the February 19 hearing of the Senate Judiciary Committee.
At a February hearing of Montana State Senate Judiciary Committee, several high profile opponents of proposals for more state control of federal multiple use lands stated that they believed that the federal and state government should be able to sell public land to private entities.
However, they emphasize that these statements regard support for small scale sales and transfers as part of the normal management of public lands and not massive sales or transfers.
The committee hearing was on SB 274, a bill sponsored by State Sen. Jennifer Fielder (R-Thompson Falls), that sought to prohibit the federal government from selling public lands in Montana. The public land transfer opponents were responding to a direct question from Sen. Jedediah Hinkle (R-Bozeman) about whether the federal government or state should have the right to sell public land.
"I believe that the federal government should have a right to sell land when needed, when it sees fit," stated Nick Gevock of the Montana Wildlife Federation.
Liberal conservationist Ben Lamb faced the same question from Sen. Hinkle. Lamb spoke against SB 274 at the hearing on behalf of the Montana Wilderness Association, however, he emphasized that he was speaking only on behalf of himself and not MWA when answering Hinkle's question.
"Therefore my personal opinion is, very simply land management is complex and the ability for the federal government to dispose of land as it's needed on a strategic basis whether it's the increased public access to other public lands, consolidate checker board, yes they should have the ability to sell that land," Lamb state.
In response to a follow-up question, Lamb then indicated that both private entities and government entities should have the right to participate in public land sales and transfers.
Earlier in the hearing, Tom France of the National Wildlife Federation had also stated that the federal government should have the right to sell public lands "where appropriate."
Dissatisfied with federal land management practices, a movement has grown in several western states calling on the federal government to transfer control of certain federal multiple-use lands to the states. However, opponents — such as Gevock, Lamb, and France — see the transfer idea as unconstitutional, unfeasible, and a kind of "trojan horse" for the sell-off of federal public lands to private interests.
The comments by Gevock, Lamb, and France have been seized by some conservative proponents of public lands transfers who point out that Gevock, Lamb, and France have all stated that they oppose the transfer idea because they want to "keep public land public."
"Mr. Chairman, members, we heard testimony just now from a member of the Montana Wilderness Association, Montana Audubon Society, and Montana Wildlife Federation, as well as the National Wildlife Federation opposing this bill that is an attempt to to ensure that our federally managed public lands are not sold off to anyone," Fielder stated in her closing testimony.
"We heard testimony from these organizations stating that it's okay for the federal government to sell land, they agree with that," Fielder continued.
Fielder then pointed out that very week many of the same individuals organizations had organized a rally at the capitol to oppose federal land transfers to states using the slogan "keep it public."
In an email to Media Trackers, Lamb stated that it was a "grossly inaccurate" to say that his testimony was in favor of "massive land sales," emphasizing that government entities needed to have mechanisms in place for small scale sales and transfers which are part of the normal management of public land.
"It's imperative to have the controls and mechanisms in place that allow for the actual management of public lands such as checkerboard lands, lands without any public access or lands that qualify under the Federal Land Management Policy Act of 1976," Lamb wrote. "Land management is complex and SB 274 & SB 215 were bills that represented bad land management policy, violated the United States Constitution or only served to further the goal of people who believe that the state should assume liability for 31 million acres of public land."
"You cannot reduce land management discussions down to simple gotcha politics or you end up just playing politics and not working for better management," Lamb continued.
Lamb is currently an independent contractor and formerly worked as Conservation Director for the Montana Wildlife Federation.
Media Trackers Montana is a conservative non-profit, non-partisan organization dedicated to promoting accountability in the media and government. Read more at mediatrackers.org/montana. Follow Media Trackers on Twitter @mediatrackersmt.