"If you think of yourself as a victim, you turn your fate over to someone else." That's what former Secretary of State Condoleeza Rice had to say during a question and answer session following her speech at the Provision International Missions Banquet in Billings, Montana over the weekend.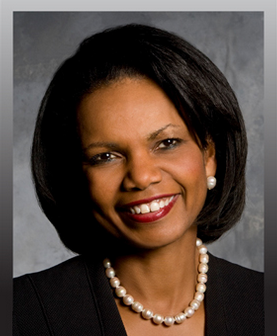 Rice, the first black female Secretary of State was asked about being a woman and being black. "Give people the benefit of the doubt," Rice said. "Don't react to every perceived slight. It may not be because you're a woman, or because you're black." (Talk about a stark contrast from First Lady Michelle Obama, who spent the weekend complaining about how hard it is being First Lady)
During her speech, Rice talked about the "witches' brew" that is race and poverty, and talked about kids like those in Baltimore who are being "warehoused" and sent to failing schools.
With polls showing Condi defeating Hillary Clinton in Iowa, will she run for President in 2016? "This is not my DNA," Rice responded to the moderator. "I love policy, but not politics."
Billings Gazette: Former Secretary Rice: American race and poverty need decoupling
Rice, the first African American woman to hold the position, and a national security adviser to President George W. Bush, said racial inequality in the United States is better now than it was in the segregated South of Martin Luther King Jr., or the Alabama of her childhood. However, speaking in Billings on Friday, Rice said poverty and equal access to education are still real burdens to America's minorities.

"That witches' brew that is poverty and race, people who got left behind, people who as kids can't get beyond really bad failing grades — I think that's where a lot of our problems are emerging," Rice said.
Meanwhile…
The Daily Caller: Luxurious Life As First Lady Takes Toll On Michelle Obama Because She Is Black, She Complains
Globetrotting, Ivy League-educated, Marchesa gown-wearing first lady Michelle Obama's commencement address at Tuskegee University on Saturday described the trials and tribulations she believes she has faced as the first black first lady in American history.

As of July 2014, the Obama family had already spent a whopping $44,351,777.12 in taxpayer funds on vacations. That dollar amount is obviously substantially higher now.
Does @MichelleObama Really Believe African Americans Have Been 'Frustrated and Invisible' for 'Decades'? http://t.co/QSebMXoQ3v

— National Review (@NRO) May 11, 2015