Aaron Flint
posted on April 28, 2015 12:58
:: 952 Views
The Billings Gazette editorial board told Gov. Steve Bullock (D-MT) that his bonding bill wasn't gonna fly. In fact, they told him it shouldn't fly. But now, as Bullock's effort to put $100 million on the state credit card crashed and burned, The Billings Gazette is trying to re-write their opinion page by lambasting House Republicans for not supporting bonding. Meanwhile, Gov. Steve Bullock and House Democrats have made it clear: they were done negotiating on infrastructure several days ago.
Here's the latest, as the Montana Legislature voted to adjourn Tuesday morning.
KTVQ-TV: Infrastructure bill stuck in legislative limbo
Senate Majority Leader Matt Rosendale (R-Glendive) noted that Democrats and the governor's office were not negotiating over the substance of SB 416, but were only trying to change votes.

Democrats agreed at least somewhat, with House Minority Leader Rep. Chuck Hunter (D-Helena), saying Saturday and again Monday that the negotiations in the Democrats' view, had already concluded and the bill represented their final offer.
Excerpt of press release from Montana GOP:
This isn't the first time that Bullock has used infrastructure as a pawn in his agenda. During the 2013 Legislative session, Bullock VETOED a critical infrastructure bill for Eastern Montana despite overwhelming bipartisan support in the Montana House (93-6) and Senate (48-2).

Bullock's partisan and fiscally irresponsible approach to infrastructure funding has no place in Montana. It's unacceptable that Bullock insisted on burdening future generations with debt instead of using the money Montana has in the bank to ensure our communities receive the resources they so desperately need.
Senate President Debby Barrett (R-DillON): Final budget talks should have been public
For example, under Senate Bill 416, western Montana is set to receive $76 million in funds for a variety of projects primarily in university and college cities. Communities in eastern Montana on the other hand have to submit grant requests and the maximum grant allowed is capped at $3.75 million. The inequity of this bill is not fair to the people of Montana, and smells exactly like a back-room deal.

There are many lessons to be learned from the 2015 legislative session, and I hope that my colleagues will remember how events transpired over the past few weeks. It's important for all legislators to remember that they are not elected to please the governor's office, and that is certainly not why I was elected. Crafting a smart and sustainable budget that is best for all Montanans is what we were elected to do, and I can say with absolute confidence that this is a task best performed in eye of the public.
*Note- I added the bold highlight in the quote above.
But by far, the greatest hypocrisy of the week comes from The Billings Gazette editorial board. Here's their editorial from one year ago:
Excerpt:
However, his proposal for $45 million in sewer and water grants is unrealistic. As he did during the 2013 Legislature, Bullock proposes that the state issue bonds to fund grants to Eastern Montana. Bonding is a steep challenge in any Legislature; state law requires bond issue approval by two-thirds of the lawmakers in both chambers. Many lawmakers, especially Republicans, have opposed the state issuing debt for anything. No major bonding bills passed the 2011 or 2013 sessions.

"I don't see this bonding passing," Ankney told The Gazette Wednesday. "That infrastructure up there needs attention. It's no secret I prefer to do it with cash."

If Bullock is committed to helping Eastern Montana, as he said, he needs to reach out to Republican and Democratic lawmakers to craft a fiscally responsible grant proposal that actually can pass the Legislature.
So…one year ago The Billings Gazette editorial board says it would be "fiscally irresponsible" to support bonding. So, what is the Gazette doing now? (Especially after one of their own reporters was threatened by the Bullock Administration) They're attacking Republicans for not supporting bonding. Well, at least the folks in the news department have the green light to wear flip flops in the newsroom…(just thank your editor)
By the way, full credit for the above connection goes to Tim Adams, who literally schooled the Gazette on their own Facebook page.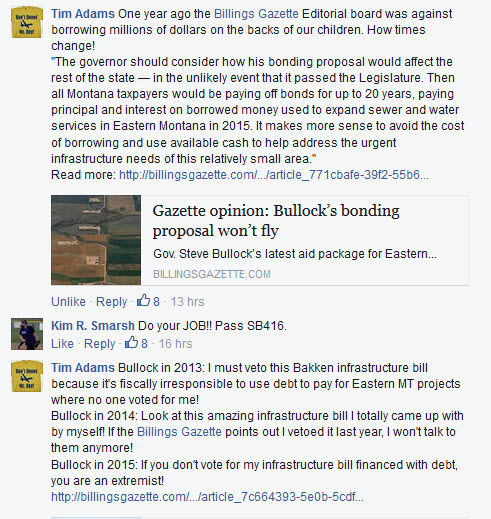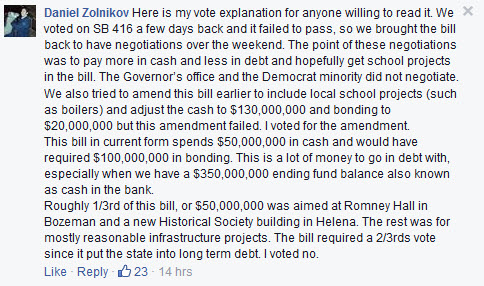 Caller from Kalispell: Maybe the Governor needs to take a @DaveRamsey class. Why put on credit card when u can pay cash? #MTPol #MTLeg

— Aaron Flint (@aaronflint) April 28, 2015
Caller from GFalls:Gov insisting on putting infra $ on credit card, b/c he anticipates hole in budget from Medicaid expansion #MTPol #mtleg

— Aaron Flint (@aaronflint) April 28, 2015
.@GovernorBullock's refusal to negotiate jeopardizes critical infrastructure funding for Montana communities #mtleg #mtpol

— MT Republican Party (@MontanaGOP) April 27, 2015
Gazette opinion: Bullock's bonding proposal won't fly http://t.co/hedWNffyqq (h/t Tim Adams) #mtpol #mtleg @billingsgazette

— Aaron Flint (@aaronflint) April 28, 2015
Maybe some of the state senators are close enough to the Gov to bring him back to the bargaining table? #MTPol #MTLeg

— Aaron Flint (@aaronflint) April 27, 2015