Aaron Flint
posted on April 22, 2015 14:03
:: 566 Views
http://mediatrackers.org/montana/2015/04/22/former-naral-president-appointed-lead-montana-democrats
Organizations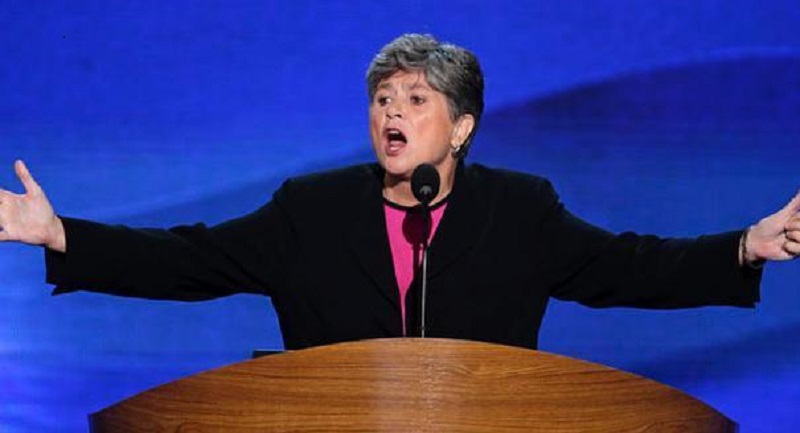 NARAL Pro-Choice America President Nancy Keenan speaks at the 2012 Democratic National Convention (photo courtesy of Politico).
Montana Democrats reached back into their past last week with the appointment of far-left, staunch pro-abortion advocate, Nancy Keenan, as the party's new executive director.
Keenan, who has served multiple terms in the Montana House of Representatives and as the state's Superintendent of Public Instruction, is best known for her career as an abortion rights advocate.
After losing a bid for Montana's lone U.S. House seat against Former Rep. Denny Rehberg in 2000, Keenan joined the staff of the Washington D.C. based, anti-Christian activist group People for the American Way (PFAW). PFAW was originally founded in the 1980's as a left-wing attack dog against the Christian right and the group made a name for itself attacking prominent Christian religious figures of the time.
In 2004, Keenan was appointed national president of NARAL-Pro-Choice America, the country's flagship abortion advocacy group. The pro-abortion stance has been a recurring theme in Keenan's career and she is one of Montana's most outspoken "pro-choice" advocates. She has repeatedly cited witnessing unplanned pregnancies by her friends in Catholic school while growing up as a primary motivation for her views.
At a 2008 commemoration on the anniversary of Roe v. Wade, she recalled memories of friends getting pregnant while attending Montana State University and how she and others "gave them money" so they could travel to Mexico to receive abortions. Polling data taken from 21-24 March of this year indicates that nearly 60% of Americans feel that abortion should only be legal under strict limits or not legal at all.
Keenan was a speaker at both the 2008 and 2012 Democratic National Conventions and, as reported by Media Trackers, generated controversy by stating that "women in America cannot trust [Republican Presidential Candidate] Mitt Romney."
In 2013 Keenan joined the staff of Washington D.C. based political consulting firm Hilltop Public Solutions. Media Trackers has extensively documented Hilltop's ties to far-left Democrat figures including members of President Barack Obama's political team, top aides to liberal New York City Mayor Bill DeBlasio, and a host of radical environmentalist organizations.
Hilltop is currently the subject of a Montana Commissioner of Political Practices investigation into the role the firm played in illegally coordinating independent expenditures with the campaign of Montana Governor, Steve Bullock's 2012 election campaign.
Keenan's appointment comes on the heels of Montana Democrats nominating a far left-wing candidate Amanda Curtis as their 2014 nominee for U.S. Senate, which signals a party that is embracing an increasingly left-wing outlook.
Friday, May 01, 2015 9:36 PM
Since the democraps have human sacrifice as the highest rite for the worship of their tin god of Big Gummint, it only makes sense that they'd appoint a High Priestess of the Church of Murdered Babies to head their socialist efforts.
….just thinking about those ghouls makes me want a shower.