Aaron Flint
posted on April 17, 2015 12:16
:: 1236 Views
See the tweets and more, by clicking here.
Policy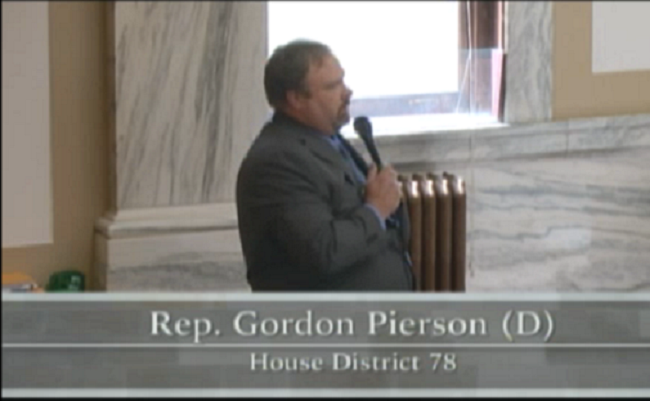 During Wednesday's intense floor debate in the Montana House of Representatives on the complex and controversial CSKT Water Compact, State Rep. Gordon Pierson (D-Deer Lodge) drew an ominous comparison when he called the compact the "Obamacare" of Montana.
"This compact is complex. I've dubbed it the Obamacare of Montana." Pierson stated during the lengthy floor debate. "There's no question about that."
Pierson also called the compact "the bane of my existence for the past 4 years."
The compact — SB 262 — is a negotiated agreement between the State of Montana, the United States, and the Confederated Salish & Kootenai Tribes (CSKT) that establishes the extent of tribal water rights in Western Montana. While both Gov. Steve Bullock (D) and Attorney General Tim Fox (R) have signed off on the agreement, the state legislature must still give its ratification.
The compact remains among the most contentious issues in recent memory in Montana, particularly Western Montana. Opponents argue that the agreement will have a major negative effect on the water rights of non-tribal irrigators and other agricultural producers. Many also see the compact as a backdoor attempt give the federal government greater control over water in Montana.
Proponents accuse opponents of "fear mongering" and argue that the compact would provide stability as it would finally settle questions going all the way back to the 1855 Hellgate Treaty. They also argue that, without a compact, the tribe could use language in the Hellgate Treaty to claim water rights far beyond the extent laid out in the compact.
Much like President Barack Obama's signature healthcare law, the compact is lengthy, with SB 262 being 140 pages — very long for a piece of state legislation in Montana. This led to multiple opponents worrying about passing that "hadn't been read" or "thoroughly vetted."
"How many of you have read this?" Rep. Mark Noland (R-Helena) asked the body during debate. "How many of you attended the compact hearing on Saturday?…How many of you attended some of the compact hearings around the state?"
Also, like Obamacare, the compact's passage was subject to parliamentary maneuvering after SB 262 received an adverse committee report in the house, which usually requires a three-fifths majority to overturn. However, moderate Republicans repeatedly voted with Democrats to overrule Speaker of the House Austin Knudsen and the House rules committee to bring the bill to the floor on a majority vote.
While Pierson noted the compacts' controversy and complexity, it did not stop him from voting for the measure, which passed on a 53-47 vote on both 2nd and third readings.