Aaron Flint
posted on February 06, 2015 13:10
:: 1350 Views
A newer story is now available, and can be found by clicking here.
UPDATE
Former Fort Peck Tribal Councilman Stoney Anketell called in today our statewide radio talk show, Voices of Montana, on Monday morning to tell folks why he supports the project.
Click below to hear what he had to say:
Click to Listen
Here's an additional statement from Taylor Royle, spokesperson for Make It Right:
"We've been working in Montana for the last two years at the request of the Fort Peck Tribes. We're committed to providing high-quality homes for families in need on the Fort Peck Reservation – that's why we've put our time, money and effort into the project. We're honored to continue to work with the tribes and look forward to completing the houses later this year."
INITIAL POST
It sounds like the sun may not be shining on Hollywood celebrity Brad Pitt's solar and sustainable housing efforts on The Fort Peck Indian Reservation in Montana.
According to Pitt's Make It Right Foundation website:
The solar-powered homes will have 3-4 bedrooms and 2-3 bathrooms and be available to tribe members whose income levels are at or below 60% of the Area Median Income. A percentage of the homes will be dedicated to senior adult and disabled veteran housing. Homeownership will be structured through a Low Income Housing Tax Credit Rent-to-Own program with ownership transferring to the tenant after 15 years of renting.
Now, The Fort Peck Journal is asking this question: Is Make-It-Right wrong for the Fort Peck Tribes?
The Tribal Council passed a resolution to have the tribal attorneys advise the Tribes about the consequences of ending the relationship with the Make It Right Foundation because of unanticipated costs and lack of management and communication.

Councilman Garrett Big Leggins, who made the original motion, said that he felt like the Make It Right Foundation misrepresented themselves to the Tribes because the last administration publicly proclaimed that this would cost the tribal government nothing.

If the Tribes don't build they stand to lose millions and a ruined reputation. Madison (board member of Integrated Solutions) said the Tribes will lose out on 20 homes, $539,888 in no developer fee for repayment, the RUS project for wastewater ($2.3 million), and $6 million in construction funds from the TIGER Grant. Also, the Tribes name will be ruined in regards to tax credits.
– See more at: http://www.fortpeckjournal.net/2015/01/30/is-make-it-right-wrong-for-the-fort-peck-tribes/#sthash.vwSlargb.otjSaQsP.dpuf
Below is an example of a Make-it-Right building in Louisiana, courtesy of the Make-It-Right website.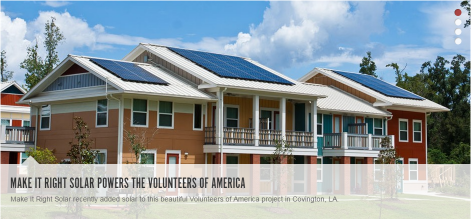 The Times-Picayune of New Orleans had this report back in July of 2014.
For architecture fans, the Montana development offers the opportunity to see Make It Right-style homes designed for a cooler, more arid prairie environment.

Pitt's Make It Right began as an altruistic effort to rebuild one of the most flood-ruined neighborhoods of New Orleans. Since 2008 a part of the Lower 9th Ward near the Claiborne Avenue Bridge has blossomed with 100 new homes.

In recent years, Pitt's organization has taken on somewhat similar projects in Kansas City, Missouri, and Trenton, New Jersey. As of June, there was only one Make It Right home under construction in New Orleans.