While the out-of-state-funded dark money environmental groups oftentimes get all the media attention, I thought it was important that we actually pass the microphone to the local elected officials. Today, we heard from all three Lincoln County Commissioners on our statewide radio talk show Voices of Montana.
The commissioners recently sent a letter to Sen. Steve Daines (R-MT) with their ideas on federal land management (or, you might say federal land mismanagement) reform.
Part 1 of today's show can be heard by clicking here, and part 2 can be heard by clicking here.
Meanwhile, as the feds won't allow Northwest Montana counties access to timber, check out the impacts of the failure to fund the Secure Rural Schools (SRS) program. Ron Catlett has the story for Montana Media Trackers.
POLICY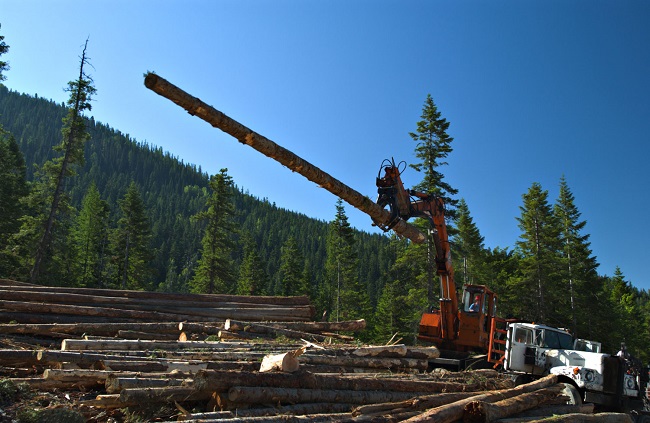 photo courtesy of amdoc.org
ARTICLE HIGHLIGHTS
Cuts to the Secure Rural Schools Program are leaving several heavily forested Western Montana Counties in dire fiscal straights.
Opening more federal timber land to logging could offset the lost revenue and provide much needed economic activity, however, federal timber policies continue to hold back the timbe industry.
Cuts to the Secure Rural Schools (SRS) program combined with federal timber policies that restrict harvesting are leaving some forested Western Montana counties in dire fiscal straights, with few options other than to cut services and raise taxes.
In an e-mail to Media Trackers, Montana State University Extension Agent for Mineral County Kevin Chamberlain stated that his county was looking at about $1.2 million in lost revenue from the federal SRS program, which is equivalent to 15 percent of the county's budget.
"Right now it looks like $1.2 million which is 15% of the Mineral County budget," stated Chamberlain. "We are unclear what this means yet. If I were to guess, all non-mandated services will be cut, followed by deep cuts in mandated services and a projected Five-fold increase in property taxes for the private landowners of Mineral County."
SRS is a program to provide money to counties with large amounts of federal timber land that is untaxable and not in production. The federal government owns 82 percent of the land in Mineral County. In most Western Montana counties, the feds own more than half the land. However, Congress failed to reauthorize the $300 million program as part of the "cromnibus" budget compromise late last year.
Qualifying Montana counties received $20 million in SRS funding in 2014 according to a Flathead Beacon report.
Chamberlain noted that the "five-fold increase" in property taxes would have no impact on his county's largest property owner.
"Unfortunately, the Five-fold increase cannot be passed on to the entities [the federal and state governments] responsible for 90% of the land in Mineral County, US Forest Service with 82% and The State of Montana with 8%," Chamberlain said.
Mineral, along with Sanders and Lincoln Counties in Northwest Montana have the three of the four worst unemployment rates amongst Montana's counties at 9.8 percent, 10.5 percent, and 11.5 percent, respectively, according to data from the Montana Dept. of Labor and Industry. The seasonally adjusted unemployment rate for the entire state was 4.2 percent in December of 2014. Those three counties also have poverty rates above the state average and remain amongst Montana's poorest counties according to U.S. Census Bureau data.
Economic growth in Western Montana continues to lag behind Eastern Montana, which has been buoyed by the Bakken oil boom and a strong market for agricultural products. This is especially true of rural Western Montana communities that previously relied on timber for their economic livelihood until a combination of a soft timber market and federal policy — often influenced by liberal environmental groups — greatly cut back timber production.
Opening more federal lands to logging could provide much needed jobs for struggling communities in the western portion of the state and offset the lost SRS revenue. Chamberlain told Media Trackers that most would prefer the timber harvesting to continued reliance on federal dollars.
"We would rather have the logging, healthy forests and lower hazardous fuels than SRS," said Chamberlain.
Accessing federally owned timber, however, remains one of the biggest problems faced by the Montana timber industry according to Todd Morgan, director of Forest Industry Research at the University of Montana's Bureau of Business and Economic Research (BBER).
Speaking Tuesday with Aaron Flint on "The Voices of Montana" radio program at BBER's annual Montana Economic Outlook Summit Billings, Morgan said that federal policies that restricted access to timber for harvesting is "the big issue" for the timber industry in western states. He also noted that private and state timber lands were much more responsive to market demands for timber.
"Wood supply? Timber supply? That's the big issue in Montana and Idaho, and a lot of the interior west states," Morgan stated. "But, particularly here in Montana we have a high proportion of federally managed land. The U.S. Forest Service owns quite a bit of the timber, and it makes it challenging."
"The agencies don't respond to market signals like private landowners do, but most of the timber inventory in the state is on public land, on Forest Service land. The state DNRC lands are better able, more quickly able to respond to markets," he continued.