Aaron Flint
posted on February 20, 2015 08:50
:: 1312 Views
UPDATED POST FEAT AUDIO W/ MARCO LITTIG IS BELOW
From the guitar hero in Missoula, to JK Simmons, Michael Keaton, and more…it's all in "A Montana Mint Guide to the Oscars."
Topping the list: (screenshot from Montana Mint page)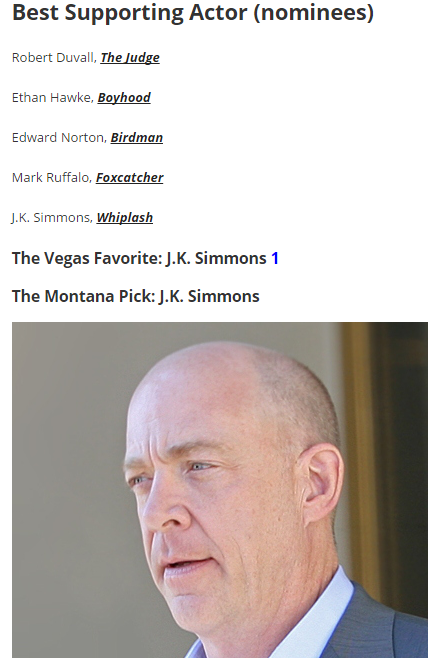 As for Best Actress, The Montana Mint selects Reese Witherspoon.
We had to reallllly stretch for this one. Reese Witherspoon is nominated for the film Wild, which is based on Cheryl Strayed's memoir "Wild: From Lost to Found on the Pacific Coast Trail." The true story focuses on Strayed's decision to hike the Pacific Crest Trail alone in order to focus herself following the death of her mother and a recent divorce. Her ex-husband in the film (and in the book) is "Paul," which is a fake name Strayed used to protect the identity of her real ex-husband. The real ex-husband turns out to be Missoula man Marco Littig. You can read his thoughts on the movie here. BOOM!
Here's the profile piece on the "guitar hero" from Missoula, Montana in the UK Daily Mail:
EXCLUSIVE: The real hero of Reese Witherspoon's new movie Wild: How the cheating wife who inspired star's comeback was saved from the brink of heroin addiction by the husband who refused to give up on her

Guitar hero: 'Paul' is a hero in Cheryl Strayed's story and new film Wild, staying steadfast and strong as his wife's life unfolds. In real life Paul is Marco Littig from Missoula, Montana
I spoke with Marco Littig Friday morning in advance of the Oscars.
Click below for the full interview:
Click to Listen
Here's a clip where he says he is no hero:
Click to Listen
And here, he describes why the book may be better, but adds that the cinematography should give an Oscar to the Rocky Mountain West:
Click to Listen
Guitar hero: 'Paul' is a hero in Cheryl Strayed's story and new film Wild, staying steadfast and … http://t.co/BoglX3wpOg via @MailOnline

— Aaron Flint (@aaronflint) February 20, 2015
And for Best Actor, The Montana Mint selects Michael Keaton, who has a home in Big Timber. By the way, I've heard from locals that Keaton is a great guy who even takes to the fire lines if there happens to be a fire at the neighbor's place. That being said, we may be torn on Best Picture and Best Actor, as our friend Scott McEwen, the co-author of American Sniper Chris Kyle's biography has made a few trips to Montana and should be back soon.
Click here for the full list.