Aaron Flint
posted on February 11, 2015 13:32
:: 1363 Views
Instead of discussing the CSKT Water Compact, we could've probably spent the entire hour on our statewide radio show this morning discussing yoga pants.
But, as it turns out, the legislator who was reported to have supported a ban on yoga pants says he was just joking, according to NBC Montana. However, the AP Reporter- Alison Noon- tells me that it was clear to her that Moore was not joking (more to follow later today). The quote came after Moore introduced legislation to try and prevent things like "The Naked Bike Ride" from occurring in Missoula.
Moore called NBC Montana to say he was misquoted by the Associated Press. He says a comment he made that yoga pants and men's Speedo-style swim briefs should be illegal in public was an off-the-cuff joke and is not part of this bill.
So, was he joking or not? Without seeing video we can only go off of the he-said/she-said. However, I can tell you that after having conversed with Rep. David "Doc" Moore (R-Missoula) in the past- he is certainly one of the best in the state when it comes to joking around about political news.
Just under a month ago, I referred to him on Facebook as "the King of the Meme" after he dropped this reference in regards to a Missoulian headline concerning the Mayor and morbid obesity coverage: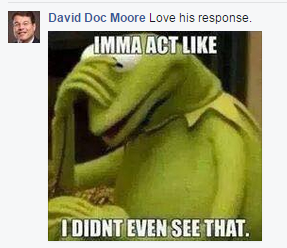 After I called him "the king of the meme," he then added this one: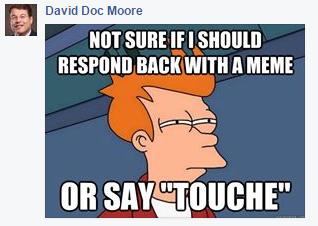 Here's what else is interesting: the Left was all aTwitter comparing Moore to the Taliban, part of the "War on Women." Hmmm…so a guy who has a 100% rating from the abortion rights group NARAL is part of the "war on women?" Ron Catlett made that point for Montana Media Trackers.
@TheMT_Cowgirl "TEA Party" with a 100 percent rating and primary endorsement from NARAL @prochoiceMT? #MTpol #MTleg http://t.co/fL9XfeW7ZN

— Ron Catlett (@RonCatlett) February 11, 2015
One Republican operative wondered why the AP seemed to be so focused on stretching the coverage of yoga pants, and asked if the Associated Press even bothered covering the big news about the GOP alternative plan to Medicaid expansion that was announced Tuesday.
Either way, the bill to crack down on the Naked Bike Ride was tabled unanimously Wednesday in Helena.
@Sanjay_Talwani still think it's a bad bill regardless, but thank you for clarifying that factual point that most are ignoring #mtleg #mtpol

— Kyle Schmauch (@KyleSchmauch) February 11, 2015
But, as Chicago Mayor Rahm Emanuel would say, never let a good crisis go to waste…you can still get discounted beers in Missoula today thanks to the ginned up controversy. (And, as a reminder, he never actually introduced a bill to ban yoga pants)