Aaron Flint
posted on October 03, 2014 13:27
:: 1046 Views
We lost a great American this week. The legendary Colonel Sam Roberts died in his hometown of Missoula, Montana. "Colonel Sam," as he was known by anyone who met him, was a strong supporter of the University of Montana Army ROTC program. The Republican party stalwart was also well known in Montana's political circles. At one point in his military career, he ended up briefing 4 different US presidents. Prior to World War II, Colonel Sam played football for the University of Montana Grizzlies.
Here's a bio for Colonel Sam posted at a University of Montana ROTC web page: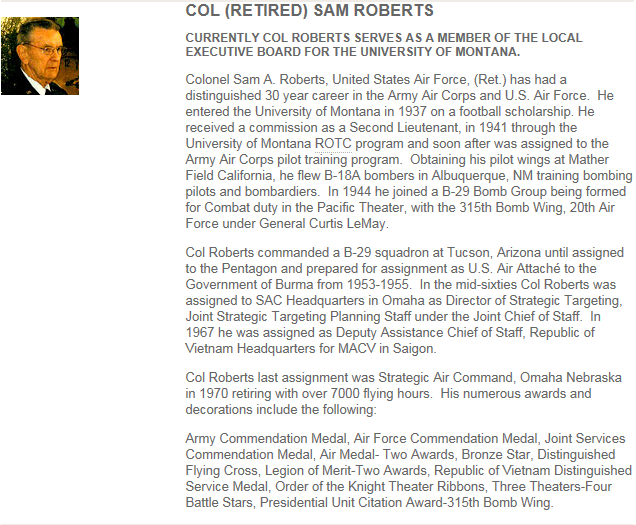 Will Deschamps, Chairman of the Montana Republican Party, posted this information to Facebook:
UPDATE ON COL ROBERTS FUNERAL ARRANGEMENTS!

Col Sam Roberts, USAF retired, will have his rosary on Monday 6 Oct, evening at 1900 hours, Garden City Funeral home, Mullan road, that's 7:00 PM for civilians.

Funeral Mass will be held Tuesday, 7 Oct., at St Francis Xavier Church, 420, West Pine, Missoula at 1030 hours, 10:30 AM,

Interment will be at the Western Montana Military Cemetery, South Ave West, behind Big Sky High School after Mass.

A reception will be held at Garden City Funeral Home after the Cemetery service. Col Roberts will be interred with full military honors.