Aaron Flint
posted on October 14, 2014 12:54
:: 1412 Views
The election isn't over yet, but Politico already has retired Navy SEAL and Republican US House candidate Ryan Zinke (R-MT) listed as "who to watch in House class of 2014."
And it's not just Politico that is taking notice. In an exclusive interview, I spoke with former Vice President Dick Cheney during his visit to Montana on Monday. Cheney was in Billings to headline a fundraiser for Zinke, a former commander at SEAL Team 6. After the event, I spoke with Vice President Cheney as we drove across town in a Ford pickup. Click below to listen to the full interview- first heard on our statewide radio talk show Voices of Montana.
Click to Listen
Click to Listen
(For those who can't listen to links above, click here to listen on our podcast page)
Montana has only one member of the US House of Representatives. Usually it takes decades of service in the House to gain any sort of national recognition or influence. However; given Zinke's career background and reputation as a Navy SEAL and time at SEAL Team 6, it seems pretty obvious to Politico and others that Zinke will gain instant notoriety on Capitol Hill.
From Politico: Who to Watch in House Class of 2014
Another soon-to-be national security voice: Ryan Zinke, a Montana Republican and a former commander of Seal Team Six, the same special forces unit later made famous in the killing of Al Qaeda leader Osama bin Laden.
Photo: Aaron Flint interviews former Vice President Dick Cheney at the Northern Hotel in Billings, Montana. October 13, 2014.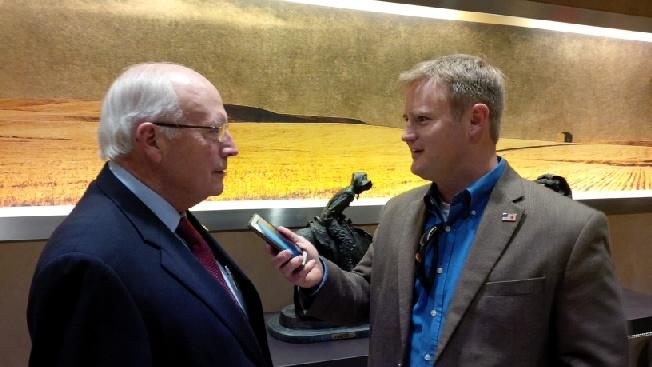 Dave Skinner
Tuesday, October 14, 2014 7:41 PM
Good catch, Aaron.
vinny in Livingston
Tuesday, October 14, 2014 10:00 PM
If Zinke thinks Dick Cheney is so popular in Montana that he can give his campaign a bump, Zinke doesn't know the Patriot movement very well, which is the 10% where this election will be decided.
I think Cheney was a mistake.
J. C. Kantorowicz – Great Falls
Friday, October 17, 2014 8:03 AM
Thank God for Dick Cheney! Have you ever thought about where this country would be without his service?
Randy Vogel
Tuesday, October 21, 2014 10:46 AM
Dick Cheney is an absolute Patriot, and anybody who doesn't believe that doesn't know Cheney, or doesn't know his entire history of service to this country. Anybody can call themselves a Patriot, but you have to look at their background, service and actions in totality, not just cherry pick something you don't agree with them on. Saying Cheney is not a patriot is like saying the NRA is nothing but a corporate shill, not concerned about the 2nd Amendment. I've disagreed with the NRA, but still agree with what they've done to preserve our firearms heritage.