Aaron Flint
posted on October 27, 2014 08:10
:: 1841 Views
UPDATE: US House candidate Ryan Zinke (R-MT) will also be in attendance at the rally with Dr. Ben Carson.
INITIAL POST
Dr. Ben Carson, a renowned neurosurgeon and potential 2016 presidential candidate, is headlining a rally in support of Steve Daines' (R-MT) US Senate campaign in Montana Tuesday night.
Carson made national political headlines after he delivered a National Prayer Breakfast speech considered critical of the Obama administration, as the President was sitting two chairs away.
Dr. Carson first visited the Big Sky state as the keynote speaker to the sold-out Provision International banquet. This will be Dr. Carson's 4th trip to Montana in the past year, but this will be his first trip to Montana for a political campaign rally.
See below to get the full details, and find out how to purchase tickets for the event. I'll be giving away two free tickets on air during Monday's Voices of Montana. Dr. Carson will also be joining me on the air during our statewide radio talk show Monday. (UPDATE: Congrats to Carrie in Billings for winning the tickets to the event)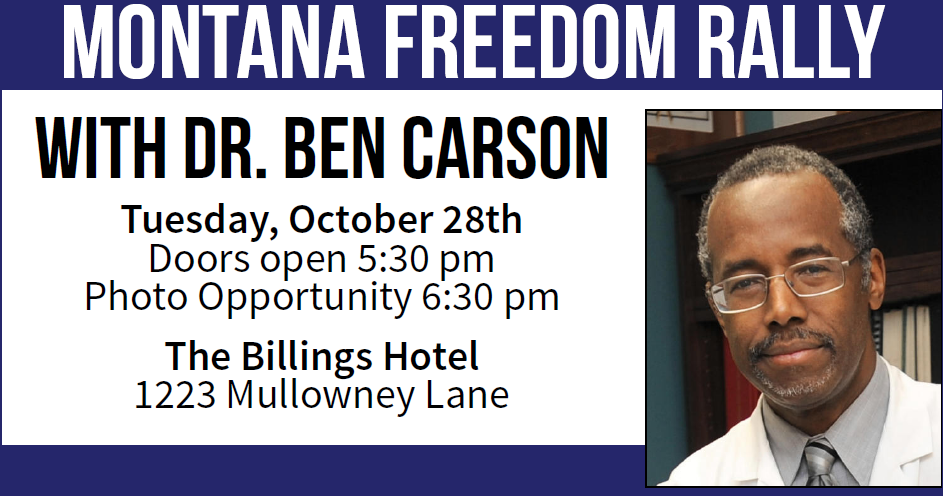 Interested in attending? Karen Pfaehler with the Daines campaign has this:
If folks live in Billings, we encourage them to stop by the office at 703 Grand Ave and buy their tickets there – – the shortest line on Tuesday will be the line for people who already have their tickets – – they will just present their ticket and get a reserved seat assignment.

We are encouraging folks to come early for the best seats and then visit the food trucks for a bite to eat — Trucks we'll have are Jimmy's Greece Pit, Cajun Phattys, Big guy BBQ and maybe Stacked in Montana. YUM!

If they can't get to the office – no problem, have them go on line – www.stevedaines.com/carson, or call the RSVP number: 406-534-9265 and they can purchase tickets there –
The lines shouldn't be too long for anyone!