The Governor of Montana releases a sage grouse plan that will impact oil and gas drilling. Harry Reid defends an effort to limit free speech as an effort to restore free speech. Millennial employment sits at 15 percent. Planned Parenthood opposes a GOP plan to expand access to contraception (Yes, you read that right). And, the NRA endorses US Senate candidate Steve Daines (R-MT). Those stories and much more are in this week's Political Trough.
But first, for those of you who missed it…a photo of Chicago's Democratic Mayor Rahm Emanuel and the Illinois Republican gubernatorial candidate in Paradise Valley, Montana generated some headlines.
Will Rahm Emanuel and Bruce Rauner's past relationship spin the governor's race? http://t.co/atjTfkq4gR pic.twitter.com/bBu07XL8bB

— Chicago Tribune (@chicagotribune) August 29, 2014
That photo came from Dave Lewis, who had this piece in The MT Pioneer: Chicago Media Connect Rahm Emanuel to Paradise Valley and Bruce Rauner
His real reason for calling though was Emanuel's connection to part-time Paradise Valley resident Bruce Rauner, former CEO of private equity firm GTCR, current Illinois Republican candidate for Governor, and the guy who helped Emanuel make $18 million (they say) in just a few years when Emanuel had zero business experience.

The thing is, Rauner is a Republican, one who has contributed to Emanuel's political career, and Emanuel is, of course, a Democrat, and the two are close friends who vacation together at Rauner's Paradise Valley home (Rauner, by the way, is financially successful, to put it mildly, worth hundreds of millions of dollars).

The Tribune reporter, though, needed corroboration of a connection between Rauner and Emanuel, and evidence that Rauner and Emanuel vacation together in Montana. As it turned out, searching my files, I had that evidence—an image from that August 2010 evening of Rahm strolling happily down the path to the then PVG, bottle of Napa in hand, Bruce Rauner in tow. The photo will soon run in the Chicago Tribune along with the story.
The Chicago Tribune also has coverage of a recent debate between Rauner and Gov. Quinn in Illinois.
While most Montanans wouldn't get too excited about a visit to the Big Sky state by Rahm Emanuel….maybe Bruce Rauner can bring former Chicago Bears coach Mike Ditka with him on his next trip.
Chicago Sun Times: Mike Ditka teams up with Bruce Rauner in new ad campaign
"You know what I like about you Bruce?" Ditka says to Rauner. "You attack the special interests. Bam! Hit them right in the mouth."
Meanwhile, for the US Senate race in Montana…the NRA just sent out this press release:
Fairfax, Va. – On behalf of our five million members across the country, the National Rifle Association Political Victory Fund (NRA-PVF) is proud to endorse Steve Daines for United States Senate in Montana.
Based on his leadership on Second Amendment issues, Daines has earned an "A+" rating from the NRA-PVF in the November 4, 2014 election. An "A+" is the highest possible rating and is reserved for legislators with an excellent voting record on critical NRA issues who have also made a vigorous effort to promote and defend the Second Amendment.
"Steve Daines is one of the most outspoken defenders of our Second Amendment rights," said Chris W. Cox, chairman of the NRA-PVF. "When President Obama and Michael Bloomberg tried to pass their gun control agenda, he was on the front lines fighting against it. Like his fellow Montanans, but unlike his opponent in this race, Steve embraces freedom and rejects government infringement of their rights."
Daines has stood up to the Obama-Bloomberg gun control agenda, including their so-called "universal" background check system that would criminalize the private transfer of a firearm between life-long friends and many family members. Additionally, he opposes Obama's anti-gun nominees for the U.S. Supreme Court, such as Sonia Sotomayor and Elena Kagan. Daines also opposes any treaty by the United Nations or any other global organization that would impose restrictions on American gun owners.
"We can count on Steve Daines to stand up for our constitutional freedoms in the U.S. Senate," added Cox. "On behalf of the NRA's five million members, I want to thank Steve for his steadfast support of the Second Amendment and urge all NRA members, gun owners and sportsmen in Montana to vote Steve Daines for U.S. Senate on November 4."
-NRA-

AP: Montana Governor Releases Sage Grouse Plan
Gov. Steve Bullock on Tuesday ordered restrictions on oil drilling and other activities blamed for driving down sage grouse populations as Montana falls into step with states across the West rushing to head off federal intervention for the ground-dwelling bird.

Montana Petroleum Association executive director Dave Galt said his group prodded the state to adopt a smaller no-occupancy zone after the council's recommendations were announced in January. He said oil and gas companies still would have to curtail some their work in order to comply.

"It's going to impact everyone. But we believe, based on the experience in Wyoming, that we can still operate under these conditions," Galt said.
Oil & Gas Journal: CHS plans revamp of Montana refinery
US farmer-owned cooperative CHS Inc. plans to invest $406 million to boost efficiency and increase diesel production at its 55,000-b/d Laurel, Mont., refinery.

The upgrade also will involve modifications to an existing hydrocracker that, in addition to aiding increased diesel output, will equip the refinery to process a more flexible slate of crudes and reduce production interruptions at the site.
Politico's Morning Energy: BRENT FLIRTS WITH $100 A BARREL, AT 16-MONTH LOW
The Wall Street Journal writes: "Global oil prices ended Monday at the lowest level in more than a year as Chinese and U.S. data spurred investors to bet demand wouldn't rise fast enough to absorb new supply. Oil markets have been in decline since mid-June, with booming production, primarily in the U.S., outweighing worries that crises in the Middle East and Eastern Europe could disrupt supply distribution. Now traders are concerned demand won't keep up. … Brent crude, the global oil benchmark, fell 62 cents, or 0.6%, to $100.20 a barrel on the ICE Futures Europe exchange, the lowest closing price since May 1, 2013. Earlier in the day, the contract traded as low as $99.36 a barrel." WSJ: http://on.wsj.com/1qAZqa4
– Steve LeVine writes in Quartz: "Russian president Vladimir Putin, for instance, needs an oil price of roughly $110 to $117 a barrel to cover state expenses. With some fiscal finagling, he can weather bad days like these, as long as they don't last for long." http://bit.ly/1w9b7Iz
Meanwhile, at the pump: Gasoline prices slipped slightly since last week, down fractions of a penny to $3.44 per gallon on average in the U.S., according to AAA. That's down four cents from a month ago and 13 cents from the same time last year, and prices are projected to continue dropping as the summer driving season ends and refineries switch to cheaper winter blends. AAA also noted that West Texas Intermediate crude closed at $92.66 per barrel yesterday, the lowest price since January.
An earlier Morning Energy report:
Oil exports: Don't expect action on this before the midterms, but momentum is likely to continue building as Republicans eye control of the Senate and a coalition of oil companies – including ConocoPhillips, Hess, Continental Resources and Marathon Oil – begin a lobbying push to lift the ban, as the Wall Street Journal reported last month (http://on.wsj.com/1tvYHYH ). One obstacle to action is a lack of cohesion among Republicans on whether the ban should be lifted. "We have to make sure it won't impact the price at the pump, and until we make that determination, I'm not on board," Sen. John Hoeven told the Journal.
AP: GOP Committee Sues to Close Montana Primaries
Ravalli County Republicans sued the state Monday in an attempt to require voters to register with the GOP in order to participate in the party's primary elections.

Attorney Matthew Monforton of Bozeman: "What we're seeking are the kinds of primaries that most other states have in which Republicans select their own nominees," he said.
HotAir.com: Planned Parenthood opposes GOP plan to expand access to contraception. No, really.
Planned Parenthood claims it is a neutral advocacy organization focused on advancing the needs of women and safeguarding their interests. On Monday, Planned Parenthood shed this façade when they came out against proposals which would increase access to contraceptives. Why? Some Republicans have come out in favor of them. It is the clearest indication yet that Republican triangulation on an issue central to the "war on women" meme is succeeding beyond Republicans' wildest expectations.

Recently, a handful of prominent Republican candidates and officeholders have embraced a proposal which would allow select forms of pharmaceutical birth control to be purchased over-the-counter and without a prescription. Planned Parenthood's reasoning for their opposition is that the public and not the state would have to pay for it.
TheBlaze.com: Harry Reid says amending the Constitution to regulate political speech is really about 'restoring freedom of speech'
Senate Majority Leader Harry Reid (D-Nev.) argued Monday that the Democratic effort to amend the Constitution so Congress can impose limits on political spending by companies is really about "restoring freedom of speech for everyone in America."
Some other interesting reads across the web…
The Heritage Foundation: The Way Forward in Iraq
Twitchy.com: News of Chick-fil-A founder's death brings out the hate
MichelleMalkin.com- Obama: Amnesty move would be so popular that delaying it until after the election is the responsible thing to do
In his Meet the Press interview, Obama said his possible amnesty executive action is SO POPULAR and in such demand (it's got "folks across-the-board supporting it") that he's going to delay it until after November's elections so they have time to get it just right:

How magnanimous of Obama to delay a move he says will be incredibly popular among voters so as to not unfairly tilt the scales in the Democrats' favor in November. His generosity knows no bounds.
Washington Examiner: Millennial unemployment 15 percent
The latest employment numbers have been digested by the millennial lobby Generation Opportunity which pegged August unemployment for all aged 18-29 at 15 percent, including those who have given up looking for work.
Patrice Lee, director of Outreach at Generation Opportunity, said, "15 percent of young people are still out of work and it's no secret why — government is too big, spending levels are too high, and opportunities for us are limited. As we continue to work hard to create opportunities, politicians in Washington continue to impose policies that harm us."
Finally, to end the Political Trough on a lighter note…check out the photos from this year's "What the Hay" contest in Central Montana at MontanaBaleTrail.com.
Here's a couple of this year's entries: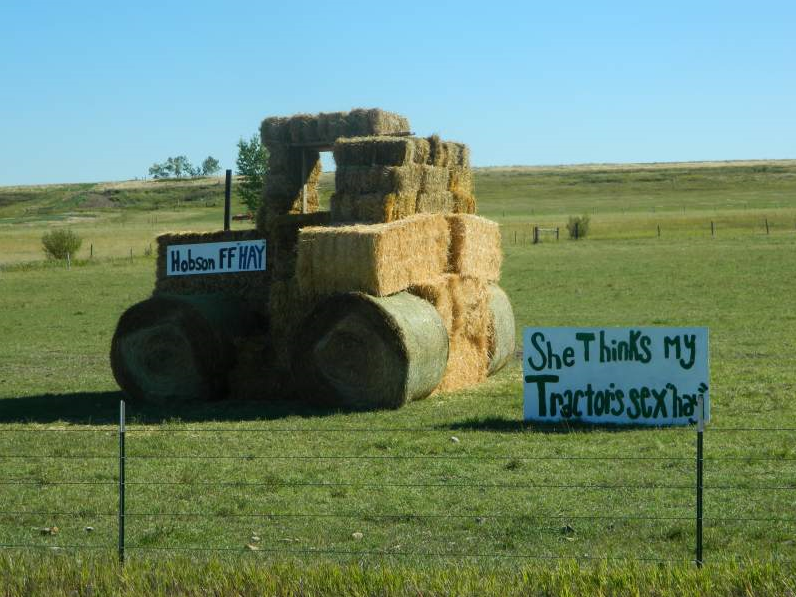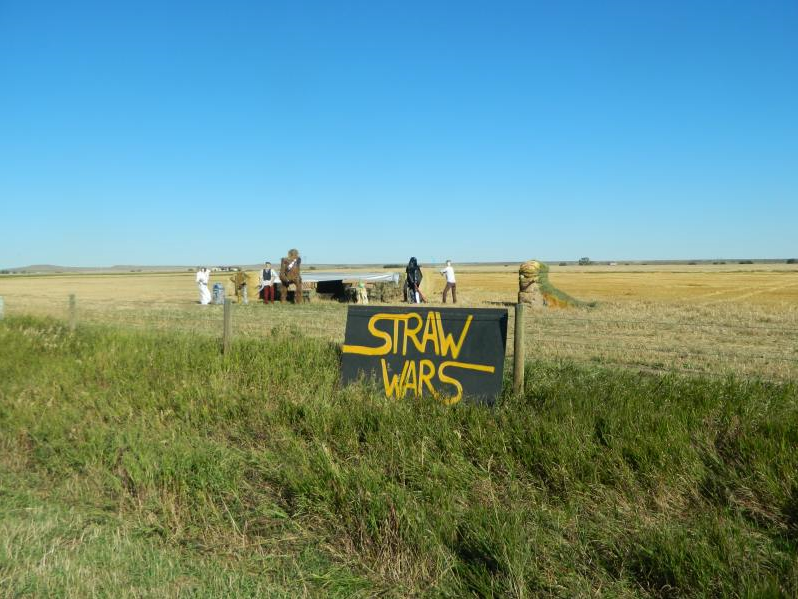 The Great Falls Tribune noted:
About 50 statues greeted an estimated 7,000 visitors this year, organizers said, and the trails' typically lonely two-lane highways were packed with cars, motorcycles and at least one school bus full of gawking attendees. A MidWay Caf-Hay provided a pit stop between Hobson and Utica, and a book sale and petting hay-zoo with smaller, kid-friendly sculptures attracted crowds to Hobson, population 200 most days.
KRTV even offered their own displ-hay:
Started in 1990, "What The Hay" has grown from a friendly competition between two neighboring ranchers into a full-blown, major tourist attraction. In 2003, it was named Montana's Tourism Event of the Year, and last year the 20th anniversary edition saw over 50 beautifully sculpted entries.