Fresh worries for Democrats this week, as new polling shows the president and the Democratic Party losing support among black Americans and women. Kanye West channels Joe Biden, as he attempts to force a couple audience members with disabilities to "stand up." Democratic US House candidate John Lewis snubs a pro-coal jobs event in Billings, Montana, as Republican US House candidate Ryan Zinke says, "We are not going to power our nation on pixie dust and hope." The liberal blog Daily Kos offers up new interactive legislative maps for Montana. Two former BLM officials are charged with fraud, while Colorado's Governor appears to be stacking the deck against fracking. And, if you're a farmer, rancher, or small businessman- I'll give you the most concerning headline of the week.
Those stories and much more are in this week's Political Trough, but first- Democratic US Senate candidate Amanda Curtis (D-Butte) finally speaks out on Iraq….well- kind of.
After weeks of news stories pointing out her inability to answer basic questions about her position on issues such as illegal immigration and President Obama sending more troops to Iraq, Curtis' campaign has now released a prepared statement, as KPAX-TV reports:
Daines' Democratic opponent, Amanda Curtis, said in a statement that ISIS has absolutely no respect for human life, and "must be dealt with."

"However, before I approve of the President's plan he must more clearly outline an exit strategy so our military has clear goals, a clear plan and the equipment they need to get the job done and get home yesterday," she said. "Too many of our brothers and sisters haven't come home from the region – we deserve to know what we're getting into."
Washington Examiner: Poll- Blacks, Democrats Abandoning Obama
President Obama, plagued by growing disapproval ratings, is now losing support from his liberal base as the country appears to have given up on his administration and Washington, according new polling data.

One reason, according to Zogby Analytics: Jimmy Carter-style malaise is settling in.
Senate candidate Curtis (D-MT) apparently agrees that economic malaise has set in. Although, she still supports the president and her party's policies which have been running the country all these years. And, what do her words say about the Dems US House candidate John Lewis (D-MT) who has been a top staffer to "senior Senator" Max Baucus who chaired "the powerful" US Senate Finance Committee?
Here's what she had to say in The Montana Pioneer out of Livingston: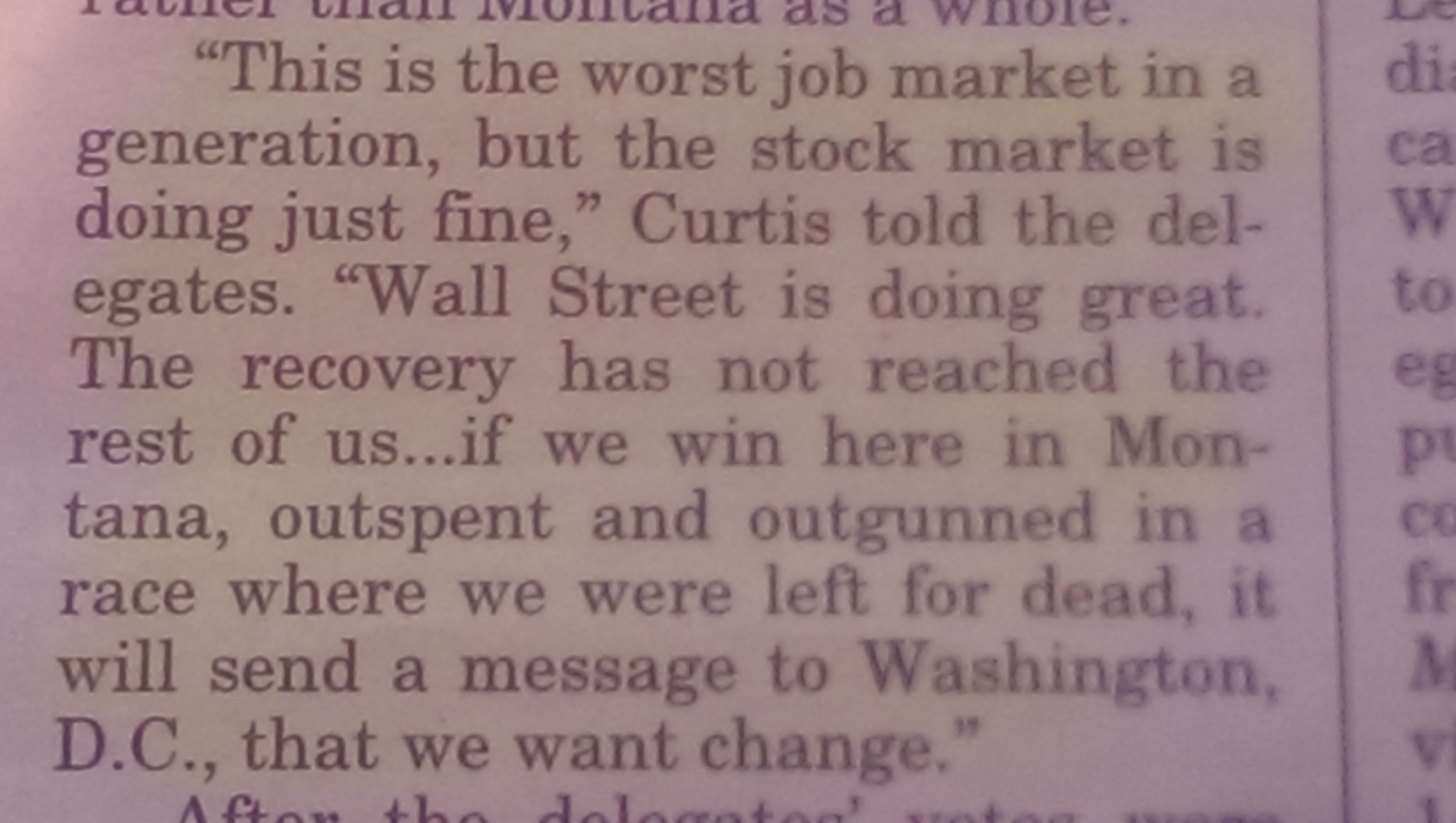 The Wall Street Journal- The Gender Gap: Warning Signs for Democrats
Democrats have a lot to worry about in the midterm elections but one of their sturdiest bulwarks against a GOP rout in the fall has been support among women. They have held significant leads over Republicans among women by a number of polling measures.

But the latest Wall Street Journal/NBC News Poll has some warning signs for Democrats who are counting on women to help them weather a tough political climate.

The poll also found that women's feelings about the Democratic Party have soured, as 39% expressed positive feelings toward the party, down from 44% in June. And their support for Obama is also eroding — especially on foreign policy, with only 33% approving of his handling of foreign policy compared with 46% a month ago.
Daily Kos (a liberal blog): Interactive Legislative Maps for Montana
Montana is one of the few states that will have new district lines in effect for 2014, with redistricting largely being handled by a bipartisan commission. Because these lines haven't been used yet, some districts are vacant and colored in gray, while others match up two legislators of different parties. Therefore, those in the very lightest shade of blue went for Romney and have a split delegation while those in the lightest red were split delegation Obama districts.

Obama won 19 districts to 31 for Romney while four Democrats represent Romney districts and one Republican sits in an Obama seat, with an overall Republican majority of 29 to 21. Romney carried the median seats by an average of 57 to 40 which was four points to the right of the state. State senators server four-year terms with only half the chamber up each cycle, while all legislators are term-limited to eight years in a particular chamber.
Lee Newspapers- Flathead, Ravalli: Still largely suburban and rural – and hard-core Republican
Flathead has become Montana's fourth-most-populous county, and Ravalli has now overtaken Butte-Silver Bow as the seventh-largest county by population.

Sen. Bruce Tutvedt, R-Kalispell, said the closing of sawmills in the Flathead in the past two decades and the shutdown of the Columbia Falls Aluminum Co. plant wiped out hundreds of union jobs, severely undercutting the strength of the Democratic Party.

"When they took those timber jobs away, those union jobs, for all of those people, in favor of grizzly bears and wolves, and they went to jobs flipping burgers, we went red," he said.
Lee Newspapers- Where rural Montana votes Democrat: Indian country
Republicans rule the political roost in most of rural Montana, but there's one part where they don't: Indian country.

In the last four presidential elections, the Democratic candidate won all four of these counties nearly every time. The only exception has been Blaine County, where George W. Bush won a narrow victory over his Democratic rivals in 2000 and 2004.
AP: Daines seeks to woo Indian Country voters
Since 2013, he has pushed legislation to promote energy development on the Crow and Northern Cheyenne reservations, invited Fort Belknap and Fort Peck reservation leaders to testify in congressional hearings and introduced a bill for federal recognition of the Little Shell Tribe of Chippewa Cree Indians.

Now that Daines is running for U.S. Senate, it remains to be seen whether those efforts will result in votes from Indian communities that skew heavily Democratic. But with Democratic U.S. Sen. John Walsh out of the race, and Butte schoolteacher Amanda Curtis hurriedly building her new campaign, Daines may have an opportunity to gain votes.
Lewis Snubs Coal Appreciation Day Event
If John Lewis is trying to run as a moderate concerned about jobs…he certainly missed a huge opportunity over the weekend, as the career staffer to Sen. Max Baucus (D-MT) snubbed the Coal Appreciation Day event in Billings.
Billings Gazette: MetraPark crowd helps celebrate coal's role in Montana economy
"We are not going to power our nation," congressional candidate Ryan Zinke told the 700 or so people attending Saturday's Coal Appreciation Day, "on pixie dust and hope."
Todd O'Hair, senior government affairs manager for Cloud Peak Energy:
Cloud Peak Energy spent $23 million on goods and services in Billings, and paid $55 million in state taxes. The company produced 18 million tons of coal last year, about 45 percent of the coal dug in Montana.
Also in the news: Lewis offers debt-reduction plan
"Montanans won't take John Lewis' budget plan seriously because he was a top staffer to the chief architect of Obamacare — the president's trillion dollar failed health care law, " said Zinke campaign spokeswoman Shelby DeMars, referring to former Sen. Max Baucus.
KBZK-TV: Daines, Curtis agree to debate in Billings
The agreement, struck Friday evening, will be sponsored by the MTN television network, Yellowstone Public Radio, Montana State University-Billings and The Billings Gazette. The debate will be broadcast live and live streamed on the Internet.

The debate will take place from 6 p.m. to 7 p.m., at Petro Theater on the campus of MSU-B. Details about admission will be released at a later date.
The most concerning headline of the week for any of you small business folks, or farmers and ranchers comes from The New York Times: Building Legacy, Obama Reshapes Appellate Bench (h/t The Drudge Report)
Democrats have reversed the partisan imbalance on the federal appeals courts that long favored conservatives, a little-noticed shift with far-reaching consequences for the law and President Obama's legacy.

For the first time in more than a decade, judges appointed by Democratic presidents considerably outnumber judges appointed by Republican presidents. The Democrats' advantage has only grown since late last year when they stripped Republicans of their ability to filibuster the president's nominees.

With so many of the administration's policies facing legal challenges, the increased likelihood that those cases could end up before more ideologically sympathetic judges is a reassuring development to the White House. Nowhere has this dynamic been more evident than at the District of Columbia court, which is considered the second most important appeals court in the nation, after the Supreme Court.
From Politico's Morning Energy: TWO FORMER BLM OFFICIALS CHARGED WITH FRAUD
The Billings Gazette reports: "Two former high-level federal Bureau of Land Management officials who worked in Virginia, including a deputy state director from Montana, have denied criminal charges accusing them of defrauding the government in an employment scheme. A federal indictment filed in U.S. District Court in Great Falls accuses Larry Ray Denny, 66, of Box Elder, and John Grimson Lyon, 60, of Clifton, Va., of devising a scheme in which Denny continued to receive his $112,224 annual salary and benefits as a BLM deputy state director even though he left and never returned to his job. Rather, Denny relocated to Montana where he contracted with the Chippewa Cree Tribe for drilling and consulting work. Prosecutors also allege Denny claimed sick leave and regular pay while gone from his BLM job but that bank records showed he visited various golf courses and traveled to Las Vegas, Arizona and around Montana." Billings Gazette: http://bit.ly/1wk9R2C
Watchdogwire.com: Colorado's Legislative Advisory Fracking Commission Named
Governor Hickenlooper has announced the membership of the special fracking commission, and it appears designed to provide political cover for additional restrictions to Colorado's already-tough fracking laws, while protecting the interests of the well-off and politically-connected.

Watchdog Wire has already detailed the governor's campaign connections with developers who opposed TIF reform this last session, prior to his veto of that bill. In addition, the governor has admitted the access of large donors to policy-making decisions.
From the Montana Chamber of Commerce: US SENATE VOTE TO RESTRICT EMPLOYERS
The US Senate is scheduled to vote on S. 2199, the so-called "Paycheck Fairness Act" Monday, September 15th. If enacted, the bill would significantly restrict the way employers compensate their employees. The Society of Human Resource Managers (SHRM), of which the Montana Chamber is a member, urges you to email our US Senators Jon Tester and John Walsh and ask them to oppose S. 2199. SHRM has a proud record of working to end gender discrimination in the workplace; S. 2199 is the wrong approach.
The Small Business Entrepreneurship Council (SBEC) delivered a letter to the US Senate stating, "Common practices that a court could find unlawful under S. 2199 include providing premium pay for professional experience, education, shift differentials or hazardous work, as well as pay differentials based on local labor market rates or an organization's profitability. This level of government intervention in management decisions is unwise and unprecedented in our country and is why The Washington Post, The Boston Globe and the Chicago Tribune have found the Paycheck Fairness Act a flawed approach. The Paycheck Fairness Act is a trial lawyer's dream come true."
SBEC encourages you to contact your U.S. Senators at 202-224-3121 and urge them to VOTE NO on this effort to tie the hands of small business owners in compensating and rewarding their employees.

Politico Playbook: JOURNALISTS DRINK THE MOST COFFEE
Dylan Byers: "A new study from the UK firm Pressat finds that journalists consume more coffee than those in any other profession. 'The highest consumers, sinking over four cups daily, were those with stressful careers: journalists consumed the most, followed closely by police officers and teachers,' [the survey reads]. Out of the 10,000 professionals surveyed, '85 percent said they drink at least three cups of coffee a day, and nearly 70 percent admitted that their working ability would be affected without a daily mug of coffee." http://politi.co/1tJ85WG
Was rapper Kanye West channeling Joe Biden?
The Blaze.com: Kanye West tells fan in wheelchair to "stand up"
http://www.ijreview.com/2014/09/177691-kanye-west-pulls-joe-biden-stand/
IJReview.com: Kanye West Pulls a Joe Biden
But even Joe Biden didn't send out a security guard to verify if the lame could walk. The Daily Mail reports that Kanye did, complaining:

'This is the longest I've had to wait to do a song, it's unbelievable,' before sending bodyguard Pascal Duvier into the arena to check whether the person was in fact in a wheelchair- which they were.

'The crowd was also yelling that he was in a wheelchair but he waited for Pascal's confirmation,' the witness said, while others said the crowd made 'wheelchair motions' to alert the singer to his mistake.
The kicker…according to MTV:
One audience member had to wave his prosthetic limb before Kanye told him "'Okay, you fine!"