Before I leave you for a little while, here's a few interesting articles and viewpoints to leave you with.
First up, the "top talker" as Politico might say- the head of the union representing teachers in Montana is defending the plagiarizing appointed Senator John Walsh (D-MT) who is up for election this Fall.
All this as his opponent, Rep. Steve Daines (R-MT), launches a new campaign ad with what Montana State University political science Professor David Parker says has quite the subtle message to it.
Plus, what were former Washington Redskins football players doing on an Indian reservation in Montana? More concern for Montana ranch families, as The American Prairie Reserve hits the 300,000 acre mark. Those stories and much more are in the latest Weekend Wrapup.
@efeaver: "I'd rather be for a part-time plagiarist than a full-time creationist." #MTpol http://t.co/T2duILquCV

— Ron Catlett (@RonCatlett) July 30, 2014
Top Talker, from Montana Media Trackers- Montana Union Boss: Plagiarism Better than Creationism; Teachers union leader defends plagiarizing Democratic US Senator
Montana's largest teacher's union, MEA-MFT, is sticking up for appointed U.S. Sen. John Walsh (D-MT) and attacking his opponent Republican Congressman Steve Daines as a plagiarism scandal threatens to sink Walsh's campaign.

"I'm going to plagiarize now a comment made to me yesterday, this is a direct quote, 'I'd rather be for a part time plagiarist than a full-time creationist,'" Feaver quipped.
You may offer your own headline for the latest Lee Newspapers: "Breaking Up is Hard to Do"
Lee Newspapers- Walsh: Voters should look at entire record
The revelation came as Walsh prepared to roll out his "Bring Jobs Home Act," a bill to close tax loopholes for U.S. companies exporting American jobs. The bill, which isn't likely to receive the necessary support from House Republicans to pass, also offered a tax credit to U.S. corporations who returned off-shored jobs to America. The bill passed 93-7, but it was Sen. Debbie Stabenow, D-Mich., who rolled out the bill without Walsh at a press event July 22, the day before the plagiarism story was published. Stabenow told Roll Call that Walsh wanted to attend the event but had a scheduling conflict.

The Montana media, scrambling to catch up with the New York Times plagiarism story, paid little, if any, attention to the Bring Jobs Home Act, which Walsh seemed to be setting up as a philosophical contrast between himself and his election challenger U.S. Rep. Steve Daines, R-Mont.
Even if the Montana media decided to pay attention to that "Bring Jobs Home Act" stunt, they would be wise to also pay attention to the facts. (Not to mention that this is merely the latest in a string of issues facing the Walsh campaign)
The facts? Factcheck.org has even stated that the claim coming from Walsh and Montana Democrats is false:
Daines did help Procter & Gamble expand in China in the 1990s, but the company says Daines was not involved in strategic corporate decisions. Moreover, the implication that expansion in China came at the expense of U.S. jobs is unsupported.
Meanwhile, Daines is out with a new campaign commercial:
Daines not so subtle jab @JohnWalsh https://t.co/GgT7NL7eBT #mtpol #mtsen

— David Parker (@dparkermontana) July 31, 2014
ChicagoNow.com: Senator Walsh, PTSD didn't cause you to plagiarize your lack of character did
The civilian world, including the news reports on this unfolding story, fail to grasp the significance of the charge of plagiarism and the dishonor in his causative claims of PTSD. Universities everywhere take plagiarism seriously, but such a charge is a criminal, actionable offense in the military under the Uniform Code of Military Justice. This is a fact that Senator Walsh, as an officer of the United States military certainly knows and knew at the time.

Online comments and chat rooms have blown up with stories from those who served with and under this then Colonel. The tamest can be described along the lines of, 'well, that makes sense. It explains and exemplifies his style of command'.

Thanks to John Walsh, questions about a veteran's honor and honesty can be added to the assumptions and fears about veterans. According to Walsh, PTSD caused him to be incapable of acknowledging and citing sources for his master's thesis, to include the conclusion, which was lifted wholesale from other published sources. The simple truth here is both actions – plagiarizing his thesis and blaming PTSD – are marks of his character. Unsurprisingly this is another common refrain from those who served with and under him.
Ouch…and this happened at The National Press Club (is it Taco Bar Friday yet?)
Is that Clint Eastwood talking to Walsh in the missing chair? (Screenshot from America Rising YouTube page)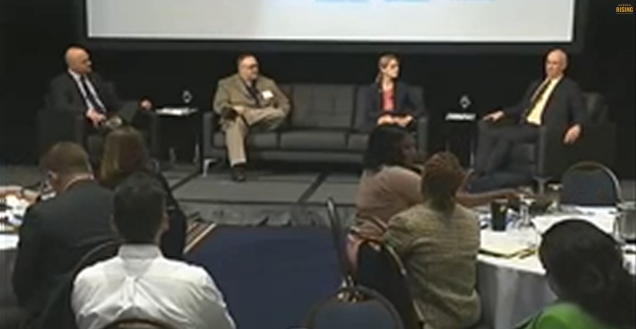 And now, in other news…
Montana Family Foundation: VanDyke Back On The Ballot
After months of delays, political maneuvering, and shameless partisan tactics masquerading as court proceedings, it's finally "Game-on" in the race for the Montana Supreme Court. Back in May we told you about a lawsuit, filed by four delegates to the 1972 Montana Constitutional Convention, to have Lawrence VanDyke, a candidate for the Montana Supreme Court, removed from the ballot.

VanDyke, for his part, said that he was glad to be back on the ballot, but has a big deficit to make up in terms of fundraising. At last count, VanDyke's cash on hand was $4,400 to Mike Wheat's $68,000. VanDyke said that his fundraising hit a brick wall when Judge Menahan declared him ineligible, but he is ready to work hard and make up for lost time.
USA Today: Ex-Redskins players meet and greet Montana tribe
Mark Moseley, a former Washington NFL placekicker, told members of the Chippewa Cree Tribe in council chambers Tuesday that the club's team name is meant as a sign of respect for Native Americans.

Mark Moseley, a former Washington NFL placekicker, told members of the Chippewa Cree Tribe in council chambers Tuesday that the club's team name is meant as a sign of respect for Native Americans.

Dusty Henderson, 7, sat in the audience wearing a gold Washington team cap with burgundy bill and the team's feathered 'R' logo. His grandfather, Richard Sangrey, the tribe's chief of staff and a Denver Broncos fan, suggested that perhaps the ex-players might like to sign Dusty's cap. Schreiber produced a Sharpie and the ex-players all autographed the cap while the boy grinned.
@aaronflint American Prairie Reserve hits 300,000-acre mark with 22,000-acre acquisition. http://t.co/QxnWBEHCO2 #agriculture #Montana

— Haylie Shipp (@HaylieShipp) July 31, 2014
Flathead Beacon- Skinner: Why Land Transfer Might Work
Two weeks ago, the Beacon featured "The Fate of Federal Lands," exploring a question more and more Montanans are asking: Should federal lands become Montana trust lands?

This is a serious question. 25 years ago, it wasn't. Why change? Federal public lands were ours to use and enjoy, for play and work. "Land of Many Uses," the signs said. Remember? Remember what real multiple use was like?

Now, I can understand why Greens want the status quo at all costs. Status quo gives even the worst radicals vast and unaccountable veto power. Because greens are so vital to the electoral hopes of Montana Democrats – well, Democrats want the status quo, too.
This one's a little dated, but worth your while nonetheless.
KMMS Radio (Bozeman): Conversation With Dinesh D'Souza, Author & Film Maker, On The Morning Show [AUDIO]
By the way- D'Souza and Bigfork producer Gerald Molen will be in Bozeman sometime this fall…stay tuned.
Fox-TV in New York City: Bloomberg anti-gun ad drawing attention (h/t The Drudge Report)
The handicap symbol gets an update in New York http://t.co/aI4o8dqaRC pic.twitter.com/RfocxDPuil

— Washington Post (@washingtonpost) July 29, 2014
A good friend of mine in high school, who happens to use a wheelchair, always wore a button that said "No Pity." Let me just say that, on the face of it, I am a big fan of this new design…